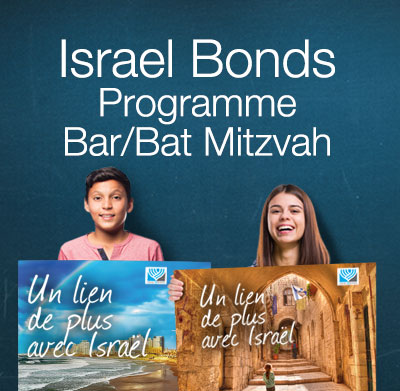 Programme scolaire des Israel Bonds
Lancé en 2002, ce programme destiné aux écoles juives offre aux élèves en âge de célébrer leur Bar/Bat Mitzvah la chance de devenir des investisseurs directs dans l'État d'Israël.
Depuis le début du programme, les élèves des écoles juives de l'Ontario ont investi plus de 2 millions de dollars dans les Israel bonds.
L'idée de marquer l'étape importante de la Bar/Bat Mitzvah par la mitzvah de Binyan Ha'aretz – bâtir la terre d'Israël – gagne en popularité ces dernières années.
Les jeunes investisseurs qui participent à ce programme expriment souvent leur fierté de savoir que leurs Israel bonds font d'eux des partenaires d'une nation qui repousse les frontières de la science par ses innovations vitales en haute technologie, écotechnologie, technologie propre et biotechnologie.
Élèves et parents trouvent enrichissant de renforcer une nation qui partage tant d'idéaux et de valeurs avec le Canada – le respect de la vie humaine, une démocratie ouverte et dynamique, et un engagement inébranlable envers l'édification d'une société propice à l'épanouissement de la paix et de la prospérité.
Comment fonctionne le programme Bar/Bat Mitzvah?
Each participating family agrees to contribute a fixed amount that is designated for that year's Israel Bonds Bar Bat Mitvah Program.
Here is one example. Amounts may vary from school to school based on preferences of the organizing committees: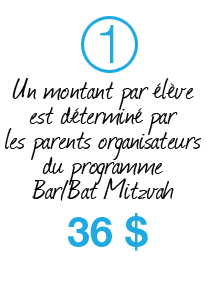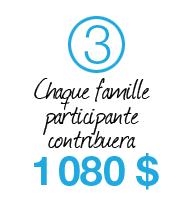 Quoi de mieux que la promesse d'un Israel Bond pour célébrer une Bar/Bat Mitzvah?
The State of Israel benefits from every single individual investor
Students are united in a meaningful commemoration of their Bar/Bat Mitzvah year
Students are empowered by being direct investors in the State of Israel
Students learn about investing and the importance of saving money
Pour plus d'information, veuillez contacter notre représentante pour ce programme :
Marnie Burke
Directrice, Inclusion communautaire
T 416.789.3351 x 144
marnie.burke@israelbonds.ca