Thank you for volunteering your time and energy!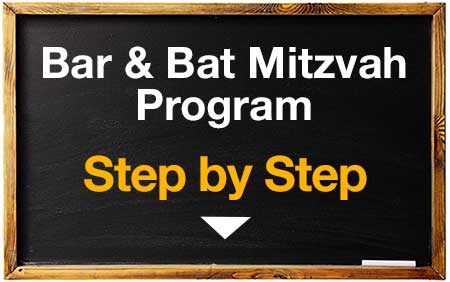 1

Arrange a convenient date for a presentation to the students and/or parents by an Israel Bonds Representative

2

Send an introductory email to the parents with:

Link to the Israel Bonds Bar & Bat Mitzvah Program (israelbonds.ca/barbat)
Instructions on how to participate in the program co-signed by an Israel Bonds Representative along with a participation form
3

Send a follow up email to the parents of participating students with a deadline for completing the participation form and collecting payments.

Final payment will be submitted to your Israel Bonds Representative.

4

Once all payment and information has been collected and forwarded to Israel Bonds, send a thank you letter to the parents for their participation co-signed with your Israel Bonds Representative.
5

Here is what you need to submit Israel Bonds:

A complete list of the participating students (by email). You can download the following link to a sample spreadsheet.
Payment(s) from all participants (by mail or in person).

PLEASE NOTE:
Cheque(s) should be made payable to the "State of Israel"

Israel Bonds/Canada-Israel Securities, Limited
Attention: Bar & Bat Mitzvah Program
1120 Finch Ave W., Suite 801
Toronto, ON M3J 3H7

1.866.543.3351 | schoolprogram@israelbonds.ca

6

Once the bonds are purchased, each participating student will receive:

A customized certificate from Israel Bonds with the student's name along with a complete list all participating classmates' names (see sample certificates below).
A confirmation statement from Computershare Trust Company of Canada (the State of Israel's fiscal agent).

7

Arrange with your Israel Bonds Representative an appreciation party date when the certificates can be distributed to the class.
Choose one of the following Israel Bonds Bar & Bat Mitzvah program certificates for your school:
Click or touch to enlarge
Please note, the certificates are printed on 8.5 x 11 hard stock glossy paper.
Envelopes are provided.