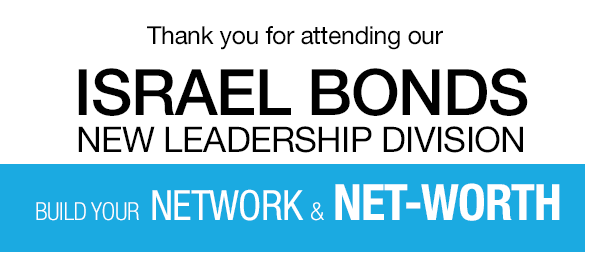 "That was probably one of the best speaking sessions
I have ever sat through.
They made it so simple!"
Special thanks to our amazing panel of presenters: Mathew Jacobson, Financial Advisor at BMO Nesbitt Burns, who spoke about the basics of an investment portfolio; Jonatan Dan, New Accounts Associate at Questrade, who presented strategies on entering the markets; Dina Weltman and Alana Engelberg, from Crowe Soberman LLP, who enlightened us about the differences between RRSPs and TFSAs; and  Daniel Sourani, Manager of Digital at Wealth Innovation, TD, who spoke about the first steps people should take once they decide to invest.
We would like to extend our appreciation and gratitude to our Toronto New Leadership co-chairs, Aliza Fagen and Rob Handelman; and our event chairs, David Gasch and Nathan Ladovsky. Thank you for putting together this wonderful event!
We look forward to seeing you at future events!