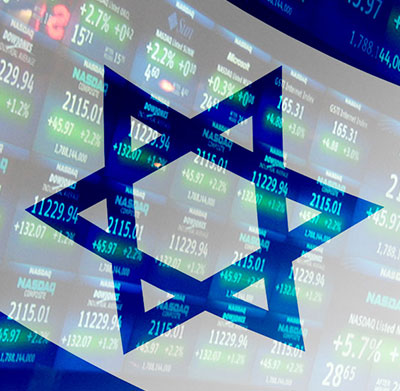 Candy giant Mars and Jerusalem Venture Partners are teaming up to build a food tech research hub In Israel
Mars, the $35 billion maker of M&Ms, Snickers and Iams pet food, and Jerusalem Venture Partners are creating a research and development center in Israel dedicated to scaling and commercializing tech solutions that touch any aspect of the global food system, from farming to nutrition. The research center – the first Mars has opened in Israel - will give funds to Israeli startups and work with academic researchers at institutions, such as the Hebrew University, the Weizmann Institute, the Technion, Migal and Tel Hai College, Forbes reported on May 15, 2019.
---
Fitch affirms Israel at 'A+' with an outlook of 'stable'
Fitch Ratings affirmed Israel's long-term foreign currency issuer default rating* at 'A+' with an outlook of 'stable' on March 25, 2019. The Bonds organization takes special pride in Fitch's reference to "an active diaspora bond program" factoring into its assessment. Bonds President & CEO Israel Maimon said, "Our dedicated leadership and staff at every level are gratified to be a part of Israel's economic resilience, and we will continue to build on a legacy that, since 1951, has provided Israel with over $42 billion in worldwide sales."
(*Israel bonds are not rated).
---
Standard & Poor's affirmed Israel's AA- credit rating - the highest rating the Jewish state has ever received
The credit scoring agency cites the nation's prosperous and diverse economy, external balance sheet and flexible monetary policy framework as reasons for the confirmation, reported by The Jerusalem Post on February 4, 2019. Prime Minister Benjamin Netanyahu hailed "another achievement for the Israeli economy," following S&P's affirmation of the credit rating first received in August 2018 as a "very strong expression of confidence" in the country. Finance Minister Moshe Kahlon called the announcement "further proof of the strength of the Israeli economy and its global status." (Israel bonds are not rated)
---
Amazon finalized deal to buy Israeli startup CloudEndure for $200 million
CloudEndure, which provides business continuity software solutions for disaster recovery, is not the first or the biggest Israeli acquisition by the e-commerce giant. In 2015, Amazon acquired Annapurna Labs for $360 million, which became the center for developing chips used by Amazon Web Services, its cloud-computing unit. Additionally, Amazon also has a smaller research and development unit in Israel working on its cashierless supermarkets, as well as another group working on computer vision for smart speakers. This most recent deal in Amazon's storied past with Israel has been finalized in January 2019 and is expected to be promptly announced, according to Haaretz.
---
U.S.-Israel fund to invest $7.3 million in new joint innovation projects
The Israel-U.S. Binational Industrial Research and Development (BIRD) Foundation approved funding of eight new projects in January 2019 to be jointly developed by U.S. and Israeli companies, according to The Times of Israel. New investments will include educational and agricultural technology, energy, digital health, medical devices, and homeland security. "It's satisfying to see how varied are the projects submitted to the BIRD Foundation with diversity in sectors, size of U.S. companies and their geographical location, enhancing BIRD's impact, for mutual benefit of the U.S. and Israel," said Phillip Singerman, associate director for Innovation and Industry Services at the U.S. National Institute of Standards and Technology and co-chairman of BIRD's board of governors, following the announcement.
---
Israel is outperforming Europe and the OECD with accelerating growth
The nation's gross domestic product has been rising at an average annual rate of 3.69 percent since 2000, inflation has been negligible at 1.57 percent, and unemployment has fallen to half of its average for the period of 7.4 percent.
With a population of 8.4 million people, the Jewish state has outperformed its European counterparts. Israel's GDP growth of 69 percent, since being upgraded to developed-market status in 2009, is more than 17 times what Austria accomplished and almost three times what Switzerland achieved, according to data compiled by Bloomberg and highlighted in an op-ed entitled 'Israel's Economy Is Too Strong to Argue About' on January 24, 2019.
---
Israel ranked as world's fifth-most innovative economy in the 2019 Bloomberg Innovation Index
The Jewish state moved up five spots from last year and surpassed Singapore, Sweden and Japan in the process. After the index was published on January 22, 2019, Israeli Prime Minister Benjamin Netanyahu tweeted, "Israel is a rising global power!"
---
Israel's record shattering 2018 in investment capital, acquisitions, and exports
Its game-changing tech sector continued to transform the world. International excitement over Startup Nation can be gauged by the fact that Israeli companies raised nearly $6.5 billion in investment capital in 2018, establishing a new record, as stated in Globes (January 1, 2019). Moreover, four of the 15 largest acquisitions in Israel's history were made last year. Technology also played a key part in a year in which exports totaled $110 billion, yet another record noted in Israel Hayom (December 31, 2018).
Additionally, as reported in CTECH by Calcalist (January 1, 2019), Israel's 2018 GDP growth is expected to average 3.2 percent, and, while somewhat lower than 2017, this still ranks first among all OECD countries. It is a significant accomplishment that, at one time, would have seemed inconceivable.
All this, and so much more, springs forth from a land, that according to a survey published last year, ranked 100 on a list of the world's 100 most populous countries.
---
Israel's startups have raised over $4 billion in the first eight months of 2018, well on course to beat last year's record of $5.24 billion
The country's startups raised nearly $300 million in August and an estimated $650 million in July, according to IVC-ZAG. This sum can be added to the more than $3.1 billion that Israeli startups raised in the first half of 2018, on track to beat last year's record, as reported by Globes.
---
Israel gets NIS 17.6 trillion valuation
The State of Israel is officially worth more than 17 trillion shekels or NIS 17,638,763,277,054 to be precise, Finance Minister Moshe Kahlon revealed on August 14, 2018 as he opened trading on the Tel Aviv Stock Exchange (TASE).
---
Israeli high-tech firms raised $1.61b in Q2/2018
July continued the strong fundraising trend of the three previous months in #Israel, led by $125 million for retail-tech company Trax Image Recognition, following on the heels of an IVC Research Center report revealing that Israeli high-tech companies raised $1.61 billion in 170 deals in Q2 of 2018.
---
Standard & Poor's gives Israel its highest-ever rating
The ratings agency cites steady growth, improved fiscal outlook in decision to upgrade Jewish state's credit score to AA- according to The Times of Israel (August 2018). Prime Minister Benjamin Netanyahu hailed the upgraded rating as "a reflection of the strength of the Israeli economy." In a statement after S&P announced the move, Finance Minister Moshe Kahlon said, "In the last three years, the Israeli economy has soared to the best macro data in its history. The confidence expressed in us by the strongest economic bodies in the world enables us to continue to grow the economy." (Israel bonds are not rated)
_______________________________________
Moody's raises rating outlook for Israel
Moody's has joined Standard & Poor's (S&P) in raising its rating outlook for Israel from 'stable' to 'positive.' According to Globes, Moody's states the change means that there is a good chance that Israel's rating will be upgraded in the next 12-18 months, for the first time since 2008. If the raised outlook does result in an upgrade, the rating, currently at A1, will rise to Aa-, the article went on to read. Minister of Finance Moshe Kahlon said, "The rating outlook upgrade is further evidence of the strength and stability of the Israeli economy. All the data indicate that the economic policy that we are pursuing, including a free and responsible economy alongside strengthening the middle class and poorer sections of society, is the right way." (Israel bonds are not rated)
_______________________________________
Israel first-quarter 2018 GDP revised up to annualized 4.5 percent growth, reported by Reuters.
This growth, faster than previously forecasted, was boosted by gains in consumer spending, investment and export, the Central Bureau of Statistics said in a second estimate.
Source: https://www.reuters.com/article/us-israel-economy-gdp/israel-first-quarter-gdp-revised-up-to-annualized-4-5-percent-growth-idUSKBN1JD0BL
_______________________________________
Life Sciences Industry in Israel Soars. 
A comprehensive report by Israel Advanced Technology Industries and PwC on the life sciences industry in Israel has shown dramatic growth. The sector currently has 1,450 active companies compared to 800-900 five years ago. A record $1.2 billion was raised in 2017 from local and foreign funds, public offerings, investments by private equity funds, and support from the Israel Innovation Authority. The capital raising was 40 percent higher than in 2016 and 400 percent more than a decade ago. According to the report, $656 million was raised in rounds of more than $20 million last year, compared to $452 million in 2016.
This increase was significant because larger financing rounds enable drug companies to conduct advanced clinical trials and companies with less complex medical devices to build marketing apparatuses.
Source: http://en.globes.co.il/en/article-life-science-investment-in-israel-soars-1001236085
_______________________________________
Volkswagen Opens Tel Aviv Innovation Center. 
German carmaker Volkswagen (VW) opened a Tel Aviv innovation center to promote the development of autonomous vehicles, new mobility services, and tailor-made solutions. The VW campus will be a co-working space called Konnect, and will provide local partners and mobility-based startups direct access to the Volkswagen group for business collaborations as well as support in mentoring and consulting. Volkswagen Group chief customer officer Peter Harris remarked, "I am a strong believer in the technological innovations being developed within the Israeli market and I am convinced that they can help us reach our goal of being one of the global market leaders in sustainable mobility. Konnect is another step in expanding our activities in Israel and will help our portfolio of brands engage with the Israeli start-up ecosystem."
Source: https://www.timesofisrael.com/volkswagen-officially-opens-tel-aviv-campus-to-tap-into-mobility-technologies/
_______________________________________
Israel officially surpassed Japan in gross domestic product (GDP) per capita, Prime Minister Benjamin Netanyahu reported in June 2018.
Israel enjoys GDP per capita of $42,120 – which is calculated by dividing the country's total economic output by its number of people. In contrast, Japan's GDP per capita is $40,850.
The prime minister added that unemployment was at an all-time low, or at 3.7% in February 2018. Many economists deem it a state of "full employment" – when the economy is such that all eligible people who want jobs can get one.
_______________________________________
Israel's economy marked another unusually strong quarter of growth in the first three months of 2018 as consumer spending, imports and investment soared, according to the Israeli paper Haaretz.
Gross domestic product grew an annualized 4.2% rate in the January-March period, the Central Bureau of Statistics reported on May 16 in a preliminary estimate. That was well ahead of the 3.9% average pace forecast in a Reuters poll of economists and marked the third straight quarter of expansion in excess of 4%.
Moreover, the CBS revised up its fourth-quarter gross domestic product growth estimate to an annualized 4.4% from 4.1%.
_______________________________________
Intel submitted detailed plan for $5 billion plant expansion in Israel.
The plan, submitted in May, involves a major overhaul of the chip manufacturer's Fab 28 plant in the town of Kiryat Gat. Intel said it was responsible for $3.6 billion of Israel's exports in 2017, which represents about 8% of the country's total tech exports. The company also said its plants have produced $50 billion worth of goods throughout their entire lifetime. Local investments and acquisitions have totaled $35 billion. "Intel and Israel are a wonderful story of a partnership that started in 1974," Intel's top executive in the country, Yaniv Garty, said in a statement.
_______________________________________
A report from the International Monetary Fund (May 2018) confirms strong economic growth for Israel.
The IMF praised the nation's solid job market, government investment in infrastructure, and Israel's strong economic growth. According to the report, the Israeli economy grew by 3.4% over the course of 2017, led by local demand and improved global economic growth. In recent years, unemployment has dropped steadily and at the beginning of 2018 dropped below 4%, which supported an average rise in salaries of 3.3% across the board.
_______________________________________
The Israel Export Institute and the Economy and Industry Ministry announced in May that the rapid growth that characterized Israeli exports in 2017 is continuing in 2018.
In the first quarter of 2018, exports of goods except diamonds rose by 6.5% from the same period in 2017, reaching $12.6 billion. Total exports of goods including diamonds totaled $14.5 billion in the first quarter, an increase of 1.6% from the previous year.
_______________________________________
In a statement issued April 17, 2018, credit rating agency Fitch Ratings has affirmed Israel's grade of 'A+' with a stable outlook.
"Israel benefits from high financing flexibility, has deep and liquid local markets, good access to international capital markets, an active Diaspora bond program [emphasis added], and US government guarantees in the event of market disruption," the agency noted.  Israel's economy was also acknowledged in the report as having a "robust macroeconomic performance and solid institutional strength" and was recognized as being "diverse and advanced" due to its "well-developed institutions and education system."
The Bonds organization is proud to be a vital partner in the fortification of Israel's economy and is appreciative of all Israel bond investors for helping to reach this accomplishment. (Israel bonds are not rated).
_______________________________________
A $15 billion deal in 2018 to export Israeli gas to Egypt brings the formerly resource-poor Jewish state a step closer to becoming an energy exporter to the most populous Arab country.
The contract will "position Israel as a central player in the regional energy sector," remarked Israel Energy Minister Yuval Steinitz.
_______________________________________
Intel to invest $4.5 billion in Israel in 2018.
"Intel has decided to invest billions of dollars in Israel in 2018," Minister of Finance Moshe Kahlon told the Knesset Finance Committee Sunday. Intel previously invested $6 billion in 2016 and 2017 to expand and upgrade its plant in Kiryat Gat, making it one of the world's most advanced chip fabs.
_______________________________________
Standard & Poor's (S&P) holds Israel's rating at investment grade, with a positive outlook.
S&P, the provider of independent credit ratings, issued a report in February 2018 reaffirming Israel's credit rating at third-highest investment grade with a positive outlook, stating it expects Israel's economy to remain strong. "The ratings are supported by Israel's prosperous and diverse economy, strong external balance sheet, and flexible monetary framework," S&P highlighted in the report. (Israel bonds are not rated).
_______________________________________
Israeli exports for 2017 expected to pass $100 billion for the first time.
A preliminary report on Israeli export activity for 2017 shows a 5% rise in total exports of goods and services, with a 3% boost in industrial exports, a 2% jump in agricultural exports, a 7% increase in export of high-tech services and a 20% improvement in Israeli exports to the European Union.
_______________________________________
Israel signs first-of-its-kind agreement with Japan to facilitate Japanese investments in Israeli companies.
In December 2017, a delegation headed by Israel's Minister of Economy Eli Cohen and eleven Israeli cyber firms reached a deal which aims at increasing bilateral trade between the two countries, allowing Israeli advanced manufacturing companies to work with companies from Japan, a nation home to the world's third largest economy.
_______________________________________
DowDuPont, conglomerate of two major U.S. corporations formed in 2017, expanded operations in Israel in the same year.
"Israel is one of the economies with the swiftest growth in the world and many of Israel's companies are leaders in technologies and services that will help companies and communities to prosper worldwide," said Dow Chemical Co. EVP and president of Dow Europe, Middle East, Africa & India, Heinz Haller at a ceremony in Tel Aviv in October 2017.
_______________________________________
Intel has completed the first stage of the $15.3 billion purchase of Mobileye, an Israeli technology company that specializes in producing sensors and cameras for autonomous cars, as of August 2017.
The acquisition is expected to accelerate innovation for the automotive industry and positions the global microchip giant as a leading technology provider in the fast-growing market for highly and fully autonomous vehicles.
_______________________________________
BlackRock, Inc., an American global investment management corporation based in New York City which oversees $5.4 trillion in assets, opened its first office in Israel in 2017, tapping into the country's engineers and programmers to help improve the firm's global platform in a changing asset-management indus­try.
_______________________________________
Israeli high-tech companies closed 104 deals in 2016 worth $10 billion, up 12% from 2015, according to the IVC - Meitar High-Tech Exits Report.
The figure includes 93 mergers and acquisitions worth nearly $8.8 billion, including the $4.4 billion Playtika acquisition, eight buyouts that generated $1.22 billion and three small IPOs totaling $15.1 million.
_______________________________________
With a growth rate standing at 1.8 percent, the highest in the Organization for Economic Cooperation and Development, Israel's population topped 8.7 million on Erev Rosh Hashanah 5777.
Israel's birth rate was 3.11% on the year, with 181,405 babies being born, and the country saw 27,000 people move to Israel over the last year of whom 25,000 were new immigrants.
_______________________________________
In a statement issued August 4, 2017, credit rating firm Standard & Poor's raised the outlook on Israel's debt profile to "positive" from "stable," and held Israel's debt rating stable at A+, which means it could raise the grade a notch in the next two years.
"The rating action reflects our opinion that Israel's improved fiscal framework and strong economic growth could enable further progress on fiscal consolidation over the next few years," the agency remarked.
The Bonds organization takes pride in the role it has played in strengthening Israel's economy and thanks every Israel bond investor for helping to make this achievement possible (Israel bonds are not rated).
_______________________________________
View the most recent Government of Israel Ministry of Finance Office of the Accountant General Investor Newsletter here.
(The information contained herein has not been approved by Israel Bonds nor does Israel Bonds make any representations as to its accuracy. Israel Bonds is not acting as underwriters, advisors or consultants to the entities referenced herein and has not done any analysis of their financial conditions or prospects. We encourage you to engage your lawyers, accountants and business advisors before you make any investments.)