SEE & SHARE EVENT PHOTOS BELOW
Israel Bonds New Leadership Toronto – together with the Consul General of Israel in Toronto and Western Canada – welcomed close to 75 participants on March 22, 2023, as Rabbi Bernath featured a beautifully curated selection of Israeli wines to taste. He took us on a wine tour through the Upper Galil, Lower Galil and the Judean Hills, as we sipped refreshing whites and rosés and luscious, red wines. The sound of Israeli music echoed in the background as we toasted to Israel's 75th birthday.
L'Chaim!
Click or touch photos to enlarge and share
Photos courtesy of Liora Kogan
Aliza Fagen and Leah Shainhouse
Madison Bettle
David S. Gasch
Gonen Hollander
Jody Klein
Sharon Marcushamer
Shay Nulman
Tyler Pertman
Eliav Shaked
Michael H. Tweyman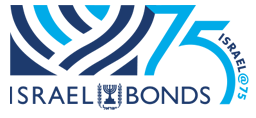 Canada-Israel Securities, Limited is registered as an Exempt Market Dealer.