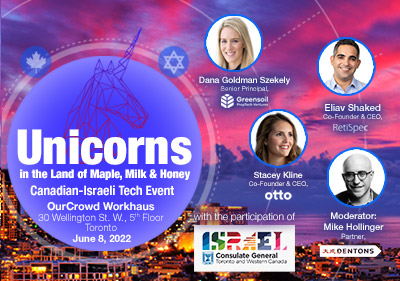 "In-person events are back! It was so great connecting with over 60 young professionals to engage with an impressive panel of entrepreneurs and venture capitalists on the Canadian and Israeli tech ecosystems, and to further strengthen our connection to the State of Israel.
Thank you to our wonderful panelists, event co-chairs Gonen Hollander and Eliav Shaked, our amazing New Leadership Council and the incredible staff for helping make our first New Leadership back-to-in-person event since 2019 a success! I can hardly wait for our next Israel Bonds New Leadership event and to further growing Israel Bonds' engagement with New Leaders."
– Aliza Fagen
Member of the Board & Chair, New Leadership Toronto
"New Leadership events such as these truly reinforce the reality that modern Israel is a dynamic hub of innovation, a global epicentre of dynamic creativity and a financial destination worthy of our attention and our investments. Israel is truly a 'Unicorn' nation and our panellists made it clear that having a stake in Israeli innovation is partnering with a country that, by almost any measure, is a resounding economic success story.
For over seven decades, the Israel Bonds program has been, and continues to be, an integral part of Israel's achievements.
Thanks to everyone involved who helped make this event a success. Special thanks to the Consul General of Israel, Idit Shamir, for joining with us and bringing greetings from the State of Israel."
– Raquel Benzacar Savatti
CEO, Canada-Israel Securities, Limited / Israel Bonds
Click or touch photos to share
Photos courtesy of Nate Pavlotski