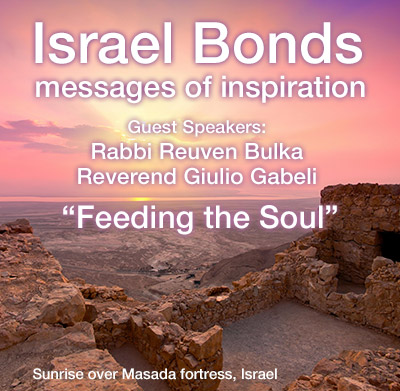 On April 23rd, Israel Bonds held an event featuring messages of spiritual and practical inspiration from Rabbi Reuven Bulka & Reverend Guilio Gabeli.
In opening remarks by Raquel Benzacar Savatti, CEO of Canada-Israel Securities, Limited/Israel Bonds, attendees were made aware of the continued relevance of Israel Bonds: "I'm often asked, given that Israel has truly become a leader among the nations, if Israel Bonds are still needed. To this I say, absolutely - and now more than ever. Not simply because of the economic fallout that the world is seeing today. For every Israel bond that is purchased, the State of Israel sees a clear message that we in the Diaspora care.  Israel Bonds are a bridge of confidence and trust between the people of Israel and all of us."
Rabbi Bulka shared his thoughts on how we can grow during our time at home in social isolation, saying "What we can do is take the time that we have now to contemplate all the blessings we have in life that we would have, under normal circumstances, taken for granted…we now have an opportunity to turn on our appreciation agenda"
"I've often said about those who don't appreciate Israel that if G-d forbid Israel disappeared, then you would know how much you appreciate it…Today we gain so much from the knowledge that Israel is working feverishly in order to come up with vaccines and cures for this pandemic.  I am fully confident that whatever does come out, a lot of it will come out from the Holy Land because of their dedication to life… that's what Israel is all about, has been all about, since its inception, because it's rooted in our tradition of the love of life."
Reverend Gabeli expressed his philosophy of purpose, mindfulness and balance: "I'm fascinated with eagles … the wonderful thing about eagles is that they succeed in times of storm by actually soaring above the stormy weather. I believe that that is something that you and I can do if we trust in G-d. Worrying does not take away tomorrow's troubles – rather, it takes away today's peace. In fact, worrying kills your passion, it kills your zest for life, it suffocates your dreams for a brighter future…Don't allow worry to grip your heart."
In closing remarks, Albert Lo, Chair of the Canadian Race Relations Foundation and a member of the Israel Bonds Advisory Council in Vancouver, said, "Thank you for your inspiring words. Your uplifting messages in these very distinctive days were very inspiring and heartwarming, and we thank you so very much. We wish you both continued good health, stay safe and we look forward to the day when we can be all together in person. Thank you to Israel Bonds for organizing this wonderful event, we hope you all enjoyed it and hope you will continue to participate in future events brought to you by Israel Bonds."

Thanks to all speakers, including Lorraine & Daniel Bastien, co-chairs of the Israel Bonds Interfaith Advisory Council in Montreal, and Jeff Joseph, a member of New Leadership in Montreal.
Rabbi Reuven Bulka is a prominent writer, broadcaster and activist based in Ottawa. A former co-president of the Canadian Jewish Congress, he has served as Rabbi of the Congregation Machzikei Hadas in Ottawa, Ontario since 1967, and is now the Rabbi Emeritus. The founder and editor of the Journal of Psychology and Judaism, he has contributed many scholarly and popular articles to the Association of Mental Health Clergy Forum, Humanitas, Journal of Ecumenical Studies, and the Journal of Humanistic Psychology, among others. He also serves as the current Honorary Rabbinic Chair for Canada-Israel Securities, Limited/Israel Bonds.
Reverend Giulio Lorefice Gabeli is Lead Pastor at Westwood Community Church in Vancouver and the National Director of the Canada Celebrates Israel Network (the Canadian Liaison of the Knesset Christian Allies Caucus) and is dedicated to promoting friendship and cooperation with political governments, as well as facilitating dialogue between Christian & Jewish organizations with the State of Israel. Reverend Gabeli also serves as the Director of Hope Vancouver and Chair of Voices Together, an umbrella ministerial organization that serves the Association of Christian Ministries of Greater Vancouver.