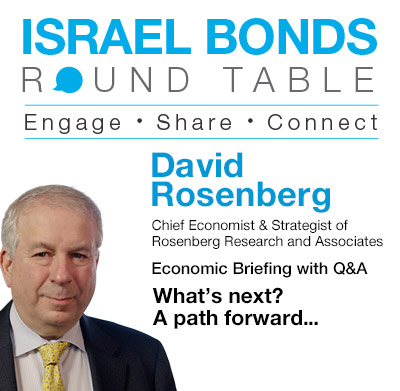 Israel Bonds Briefing with David Rosenberg draws over 300 guests nation-wide
"I would also be buying long duration government bonds - I imagine Israel Bonds would fit that bill."
On Monday, April 27, David Rosenberg, "Canada's most famous economist*" delivered a timely economic briefing to over 300 guests who called in from across the country – a strong indication that Canadians are keenly interested in insightful economic analyses at a time when Canadian Provinces are announcing tentative plans for phased re-openings of their economies.
Introduced by Barry Zagdanski, a member of the Israel Bonds international board of directors, Rosenberg covered a range of economic issues and scenarios in the weeks and months to come.
"The fact is, we morphed into a financial crisis because we went into this recession not prepared at all for a health event, and also because we are up to our eyeballs in debt at every level of society. Balance sheets simply were not equipped to deal with a recession of any kind, and that is what has produced so much of these perverse market effects, excess of leverage. I have warned about this for years. The bubbles don't create the recession as much as the recession exposes the bubble. We will see that firsthand in residential real estate.
"This time, the culprit - and I've talked about this for some time in my publications and interviews - was the corporate debt bubble and that's now come home to roost.  In Canada, it's not only a corporate bubble, it's also a household debt bubble", said Rosenberg.
"What the world looks like after this crisis ends, is truly anyone's guess. I will say with 100% clarity that it's going to look a lot different than it did before. I think a lingering fear  of the return of the pandemic is going to fundamentally alter lifestyles and will have a profound influence not just on the way that we live, but  also how we conduct ourselves in our business and our commercial lives.  Work at home is certainly going to be a more dominant force.
"I was struck by the PEW research survey, which showed that half of the people who had been working in an office don't intend on going back to the office. If that poll has any forecasting ability, the implications are obviously negative for office real estate, probably negative for cars as well. But if you look at the bright side, it's positive for all the stuff we are using for the work-at-home trend that we're in right now. Internet infrastructure, computer hardware, video conferencing…so I think looking forward, there's going to be a sharp reduction in travel to work, travel in general.  Delivery services have now become essential, so there's a budding bull market right there and that's all being reflected in the stock market.
"The one exposure you want to have in your personal accounts is gold.  I am also more than happy to be buying things that have a reasonably spaced yield. In an inflationary environment, I want to be owning investments that generate a reliable and recurring cash flow screen.
"So, I would include to the gold portfolio a short duration, high quality investment grade corporate bond. I would also be buying long duration government bonds - I imagine Israel Bonds would fit that bill."
Raquel Benzacar Savatti, CEO of Canada-Israel Securities, Limited/Israel Bonds, speaking about the importance of connecting with Israel through investments in Israel Bonds, said,
"Israel bonds are known as a strong investment that have been part of many of our clients' investment strategies. Today, over 25% of our business comes from financial advisors who regularly invest in Israel bonds on behalf of their clients' RRSPs and TFSAs. Our rates are competitive and today, you can buy Israel bonds online.
"These are unprecedented times and Israel is unique in having the Israel bond program. Now more than ever, the state of Israel needs to know that we in the Diaspora remain committed to supporting Israel.  Every investment in Israel bonds sends that message to Israel"
In closing remarks, Barry Zagdanski said, "Israel and her people are very resilient as most of you know and have seen over the past many years. The nation is resilient, as are its people.  Add to that the last 70 years of a perfect record of repayment on Israel bonds.  Israel bonds are part of my portfolio. They've always been reliable; they've always been great."
*The Globe and Mail, January 10, 2019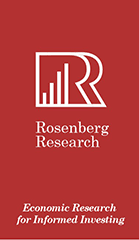 David Rosenberg is the Chief Economist & Strategist of Rosenberg Research and Associates, an economic consulting firm he established in January 2020. He and his team have as their top priority providing investors with analysis and insights to help them make well-informed decisions. David received both a Bachelor of Arts and Master of Arts degree in Economics from the University of Toronto. Prior to Rosenberg Research, David was Chief Economist and Strategist at Gluskin Sheff and Associates from 2009 to 2019.
From 2002 to 2009, he was Chief North American Economist at Merrill Lynch in New York, during which he was consistently ranked in the Institutional Investor All-Star analyst rankings.  Prior thereto, he was Chief Economist and Strategist for Merrill Lynch Canada, based out of Toronto, where he and his team placed first in the Brendan Wood survey of Canadian economists for ten years in a row.
All photos used with permission of the speaker.
Canada Israel Securities, Limited ("CISL") invited this presenter to make a presentation as part of this event but has not done any analysis or investigation of the financial condition, business prospects, technology or any other matter relating to any investment opportunities discussed by him. CISL makes no representations, warranties or assurances regarding these opportunities. Before you make an investment, you are strongly encouraged to retain your own legal, accounting and business advisors. CISL has not and will not serve as an underwriter, advisor or consultant to any of the investment entities discussed and is receiving no payment from any of these entities relating to this presentation. All photos used with permission of speaker. 2020 E/OE