Over 140 Attend Annual General Meeting 2020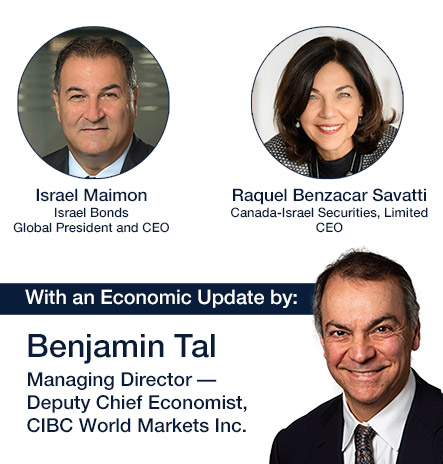 Canada-Israel Securities, Limited held its 2020 AGM on May 27, to hear from Israel Maimon, the Israel Bonds Global President & CEO; Raquel Benzacar Savatti, the CEO of Israel Bonds in Canada; and featuring guest speaker Benjamin Tal, Managing Director – Deputy Chief Economist, CIBC World Markets Inc.
Robert Issenman, member of the board for both Israel Bonds in Canada and Israel Bonds internationally, welcomed guests to this first-ever Israel Bonds AGM in a virtual format. Aliza Fagan, member of the board for Israel Bonds in Canada and Co-Chair of the New Leadership division in Toronto, introduced renowned economist Benjamin Tal. A brief Q&A session was moderated by Daniel Gal, co-chair of the Montreal New Leadership division.
Israel Maimon thanked everyone for their continued support of Israel Bonds and the State of Israel, saying, "The fact that you joined this event means that you support Israel Bonds and the State of Israel, especially in this period, is so important. You have a great share in how Israel looks today through your Israel bonds investments.
"Israel entered this COVID-19 crisis in a strong economic position. I would say that Israel is in the best economic position to face the pandemic and, of course, the economic situation that follows.
"The State of Israel is our mutual home. Just as we are taking care of our households, we need to secure and take care of our beloved Israel - this is our obligation to our only Jewish Home."
Raquel Benzacar Savatti presented an overview of sales, including sales realised through the 1-year old eCommerce website, which enables clients to buy Israel bonds online. "Online sales have been the catalyst for a surge in new purchasers of bonds."
Benzacar Savatti went on to provide a high-level overview of the mandate of Israel Bonds, "Our vision is that every member of our community becomes stakeholder in the State of Israel with an Israel bond." In concluding her presentation, she reiterated recent remarks made by the Director General of the Ministry of Finance for the State of  Israel: "Israel bonds acts as a safety net for the State of Israel. Its not just a financial benefit – it is also a tangible way of showing the State of Israel that we, in the Diaspora, are committed to Israel. Every investment in Israel bonds sends that message. I hope you keep this in mind when you're considering your next investment."
Benjamin Tal gave an insightful overview of the current economic landscape in Canada. "We have to try to put this madness in perspective. It is not easy, but we can make some educated guesses and see what makes sense and what doesn't."
"The question is, what is this? Is this a recession? Is it a depression?
"It is not a recession in the sense that its not behaving like a normal recession, because we caused it. We decided to slow down the economy, and to shut it down. It is also not a depression, because in a depression, you are in free fall, there is nothing beneath you – you lost your job – good luck. This is not the case now.
"This crisis has an end game. This end game of course is a vaccine. By the time we have a vaccine, or a treatment, this crisis is basically over. What we are doing now, all of us, is simply buying time between now and then."
Addressing the Canadian job market, Tal went on to say "Some people say we're all in it together, were all in the same boat...No. We are not. The vast majority of people who lost jobs are low income Canadians. They are the number one casualty. Part timers and full timers that are payed below average wages are basically eighty percent of job losses. Many of them are women. It is not equal.
I suggest that what we are seeing now from the government is the putting together of the plumbing for Canada's future social assistance system. I would not be surprised if the $2000 CERB, that is now given to the 50% of the unemployed who cannot get EI, will turn into some sort universal basic income system. We are putting the infrastructure together for our social assistance program in the future and we don't even know it."
Turning his attention to the stock market Tal said, "The stock market is behaving like nothing happened. We saw almost a 'V-shape' recovery. And the question is why? Clearly the stock market is not reacting to the economy - you cannot have a 'V-shape' recovery with the economy falling by 40%. The stock market is reacting to the reaction by the FED and the Bank of Canada. This stock market has been conditioned for many years now, to trust the FED. The FED and the Bank of Canada are the first, 'we have unlimited ability to print money, and save the day, to Inject liquidity into the system, to make sure that you are fine.' As long as its not inflationary, they will continue to do so. As long as they can do that, the stock market is not panicking.
"I think it's very important to put into perspective, when it comes to this crisis, that we have to separate the discussion into two. One is before the vaccine - we are seeing some sort of an on-and-off economy with some volatility, and two, post-vaccine, an environment in which we will be recovering into recessionary territory, and then we will see the light. In between, we have to remember one thing; This is not a depression. This crisis has an endgame, and what we are doing now, is simply buying time until we reach that point.
Speaking to how this will affect the real estate market in major Canadian Cities, Tal explained, "If you look at the next 4 or 5, or 6 years, I think this market will remain relatively strong. We simply will have a break of a year, where prices and activity can go down and rental activity will slow down. I think that will be a good thing, not a bad thing, bringing some sanity to this very expensive market."