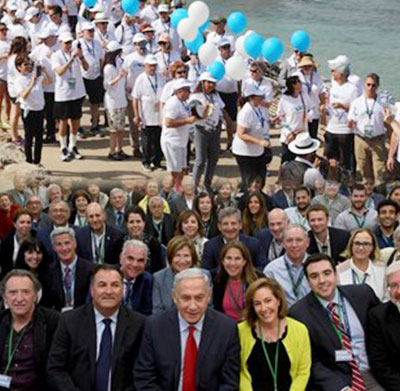 Gilad Sharon: Reflections on an Icon's Legacy
By James S. Galfund
Recently, I had the opportunity to spend time with Gilad Sharon. The son of the legendary general and former prime minister was in New York for speaking engagements on behalf of Development Corporation for Israel/Israel Bonds – the global enterprise embraced by his late father – as well as to discuss plans for the projected Ariel Sharon Center for Leadership.

Gilad Sharon meets with Israel Bonds New Leadership at Bonds' New York headquarters
(Photo: Shahar Azran)
Gilad speaks of his father – whom David Ben-Gurion hailed as "the greatest field commander in the history of the IDF" – with emotion and pride. "He was a very special man. People appreciated what he did for his country."
In reflecting on his father's life, he says Ariel Sharon was not only defined by his battlefield heroics, but also by his passion for farming, a passion that Gilad, too, came to share. Gilad was born on a moshav and grew up on the family farm in the Negev. As a result, "agriculture became my first love."
And just as he learned about farming as a child so, too, did he gain an early sense of his father's almost mythic stature. "I became aware at a young age," he conveys, recalling dinner conversations that often revolved around military and security matters. Gilad also remembers, at age seven, the dramatic moment when his father left to fight in the Yom Kippur War.
He cites Sharon's bold crossing of the Suez Canal in that conflict, with the goal of "breaking the spirit" of Egyptian forces, as an example of his father's philosophy on victory: "He didn't like winning by points – he wanted to win by a knockout."
Years later, Ariel Sharon met the architect of the 1973 surprise attack, Egyptian President Anwar Sadat, and Gilad recounts the historic meeting. "Sadat told my father, 'We tried to catch you," to which my father replied, 'You can catch me as a friend.'" Gilad says the former foes remained "close friends" until Sadat's assassination.
As prime minister, Sharon was guided by his belief that "the higher you climb the mountain, the further you can see." Gilad explains this precept motivated his father "to do what he believed was best for the country." This included his controversial decision to disengage from Gaza. "He didn't become prime minister to sit down," Gilad asserts. "He wanted to effect change."
Sharon was particularly concerned about the unity and future of the Jewish people. "From the age of 17," Gilad articulates, "he was guarding the lives of Jews. Everything he did was to protect the Jewish people."
Consequently, a foremost priority for Sharon as prime minister was forging "strong ties between Israel and the Diaspora." Sharon often manifested his efforts to connect with international Jewry through interaction with visiting Israel Bonds delegations.
In those meetings, Sharon expressed his thoughts on Jewish continuity. Once, when asked by a Bonds delegate how they could help Israel, he responded without hesitation: "Remain Jewish."
This is a priority for Gilad as well. In a May meeting with Israel Bonds New Leadership at Bonds' New York headquarters, he conveyed a similar sentiment, telling participants, "When I see talented young leaders tied to Israel – which symbolizes both a religion and a nation – it makes me happy and proud."
Gilad honored his father through his 2011 book, Sharon: The Life of a Leader, which he began when Sharon was hospitalized with the massive stroke that eventually took his life. The book took four and a half years to complete.
Today, Gilad, who continues to manage the family farm, is focused on perpetuating his father's memory through the proposed Ariel Sharon Center for Leadership. The facility, he promises, "will show Jewish heroism to future generations."
The center will be located in Ariel Sharon Park, a signature undertaking by the late Israeli leader, who spearheaded the transformation of a once-toxic landfill outside Tel Aviv into a "green lung" that is now a globally acclaimed model of sustainability.
Gilad is enthusiastic about the response to the center, citing "the enormous amount of love" for the Israeli icon. He points to the fact that "thousands of people – IDF units and busloads of Israelis – visit his grave."
His goal for the Ariel Sharon Center for Leadership is to "share my father's legacy with the world. He has done so much," Gilad states emphatically, "that his life could fill 100 biographies."