Worldwide Sales Approached USD $1.3 billion
December 31, 2017
On December 31, Development Corporation for Israel/Israel Bonds closed the books on 2017, with U.S. sales exceeding $1.112 billion. For the fifth consecutive year, investments eclipsed the $1 billion mark.
Additional sales came from Canada-Israel Securities, Limited/Israel Bonds Canada and from Development Company for Israel (International) Ltd., which sells Israel Bonds in the United Kingdom, France, Germany, Mexico and Brazil.
Since the first Israel bond was issued in 1951 total global sales have exceeded USD $41 billion.
Admiration for the Bonds enterprise came from the highest levels of Israel's government. Prime Minister Benjamin Netanyahu praised Israel bonds as both "a financial instrument and a fraternal instrument, a bond of brotherhood and sisterhood with the Jewish state, for Jews and non-Jews alike." Finance Minister Moshe Kahlon cited the organization's "incredible and historic contribution to the State of Israel."

Prime Minister Benjamin Netanyahu praised Israel bonds as both "a financial instrument
and a fraternal instrument, a bond of brotherhood and sisterhood with the Jewish state,
for Jews and non-Jews alike" in his 2017 Prime Minister's Club address in Miami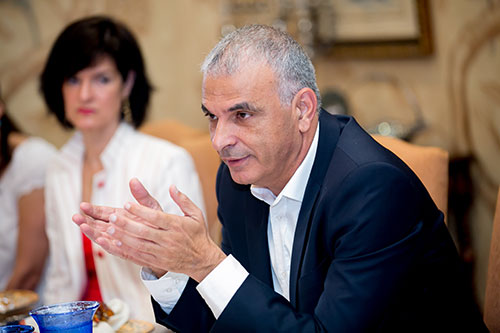 Finance Minister Moshe Kahlon at an Israel Bonds event in July 2017 in Washington, DC
(Photo: Freed Photography)
Additionally, Warren Buffett, who earlier in the year participated in his second event for Israel Bonds in less than seven months, told a New York audience, "The purchase of Israel bonds is a sound investment and a deserved endorsement of a remarkable country."

Warren Buffett tells a New York audience Israel bonds are "a deserved endorsement of
a remarkable country" in June 2017 (Photo: Shahan Azran)
In commenting on the 2017 sales, Bonds President & CEO Israel Maimon said, "I want to thank each Israel bond investor at every level, individual and institutional alike, for their faith in Israel and its strong economy. As Israel looks to its 70th anniversary, our loyal client base is helping to lay the foundation for ever-greater achievements."
He added, "I express my deep appreciation to our dedicated lay leaders and staff. The results of the past year would not have been possible without them, and I am grateful for their devotion to the Bonds mission and the State of Israel."