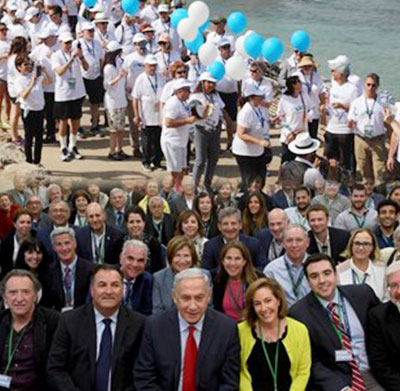 Israel Maimon: "It was a Privilege to Play a Role in an Incredible Chapter in Israel's History"
For Israel Maimon, the Israel Bonds 70th anniversary delegation was a welcome chance to showcase his country to leadership from North America, Latin America and Europe.
It was also an opportunity for the Bonds President & CEO to reflect on the sacrifice that enabled Israel to reach 70, as well as his personal part in guarding and protecting the Jewish state. He was particularly introspective during the delegation's participation in a solemn Yom Ha'zikaron ceremony at the Golani Brigade memorial in northern Israel. In addressing grieving families at the memorial, Israel said, "I want you to know the hearts of 200 Israel Bonds delegates from three continents go out to you."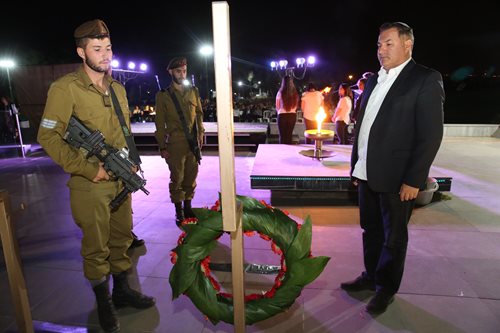 Bonds President & CEO Israel Maimon, joined by his son Jonathan, lays a memorial wreath honoring soldiers of the Golani Brigade who sacrificed their lives for their country 
Israel, himself a former Golani Brigade officer, is proud of the role he has played in keeping the nation secure. Like most Israeli 18-year-olds, he went directly into the Israel Defense Forces after graduating high school. When asked to give three preferences for his service, Israel responded, "Golani, Golani, Golani." He was attracted to the Golani Brigade not only as an elite fighting unit, but also, he explains, "as a brotherhood."
Israel recounts that he engaged in "dozens of missions in enemy territory in Lebanon." He moved steadily up the ranks, ascending to company commander.  Israel also taught the squad commanders course, training "upcoming Golani commanders how to lead, prepare attacks and be ready for all kinds of combat —in fields, in tunnels, in villages."
Following four years of active duty, Israel became an operations officer in a reserve brigade. Now a major, he planned missions and directed combat operations.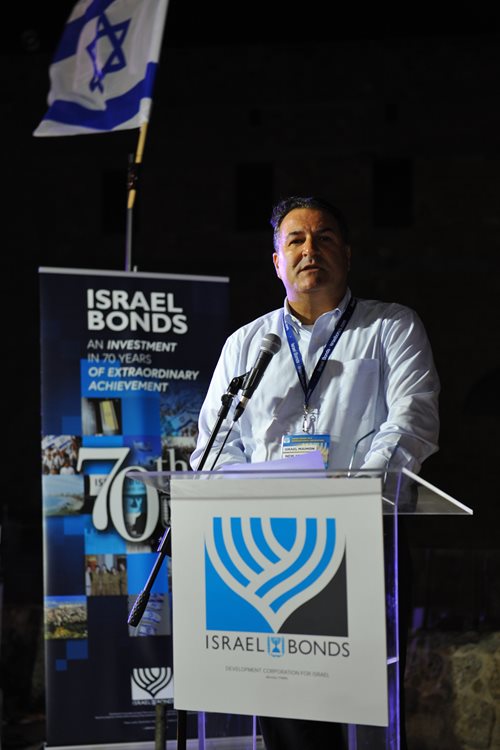 At the opening event of the Bonds 70th anniversary delegation, Israel Maimon tells delegates, "my service to Israel has been an essential part of my life's journey." 
Although his IDF service encompassed missions of vital importance, his most critical contribution to Israel's security came during his tenure as government secretary. He first entered the government in the cabinet of Ariel Sharon, continuing under Ehud Olmert following Sharon's massive stroke.
On September 6, 2007, the Jewish state ended an existential threat when it destroyed a Syrian nuclear site just months away from becoming operational. However, successive governments maintained a policy of denial for nearly 11 years, which ended in March 2018 when Israel officially asserted responsibility.
Finally able to publicly discuss his role in the efforts leading up to the reactor strike, Israel shares that he was at the epicenter of the crucial operation.
"The bombing," he explains, "was the culmination of intensive, super-secret cooperation between the Mossad, which obtained detailed intelligence, and the IDF, which utilized Special Forces and classified resources for a complex, highly dangerous mission to collect evidence. This was orchestrated by the security cabinet headed by Prime Minister Olmert, whom I proudly served as government secretary."
Israel Maimon engages in a moment of quiet reflection at a memorial for 73 IDF soldiers killed in a helicopter collision in 1997 
Deeply involved at the highest levels, "I was officially assigned by Prime Minister Olmert, Defense Minister Barak and Foreign Minister Livni to interface with the Prime Minister's Office, the Defense and Foreign Ministries, the IDF, the Mossad and other relevant agencies to prepare a communications plan for the attack."
Israel emphasizes, "You cannot embark on such a high-stakes mission without a well-thought out communications plan. So, for many weeks, I worked to develop strategic communications based on highly classified information."
He was tasked with deciding not only what the government should say in the aftermath of the attack, but, he points out, "what not to say.  Remember, Israel deliberately refrained from taking credit to avoid enflaming the region via a Syrian counter-strike."
What he recalls above all else was "the almost unbearable tension that filled the room as jets took off for Syria. The tension was soon replaced by overwhelming pride as we applauded the mission's ultimate success."
In looking back, "I give deserving credit to Prime Minister Olmert and his cabinet for this amazing achievement. It was an honor and a privilege for me to play a role in this incredible chapter in Israel's history."
Today, as a new generation determinedly secures Israel's borders, he is especially proud that his son Jonathan is a Golani soldier in his own right, currently serving as a platoon sergeant.
Contemplating the remarkable path he has followed, Israel Maimon concludes, "My commitment to Israel's security, both in the government and as a member of the Golani Brigade, has been an essential part of my life's journey."
(Photos: Doron Golan, Yossi Zamir)