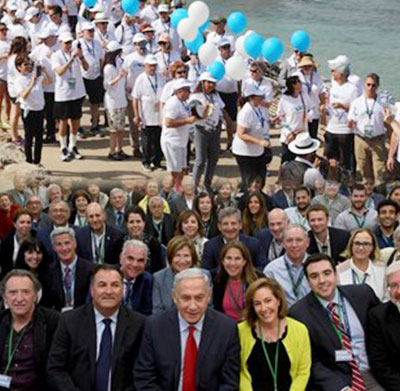 David Naftaly: "I am in Awe of What Israel has Created"
David and Ruth Naftaly made their first visit to Israel 34 years ago, and, recalls David, "I will never forget the strong emotions we felt upon touching down at Ben-Gurion Airport. We both cried tears of joy."
To David, the heartfelt response was pre-ordained, because, as the Baltimore resident explains, "I was born November 29, 1947 - the same day as the UN partition vote leading to Israel's independence. Our paths," David reflects, "have been intertwined ever since."
He says this from the perspective of more than 25 subsequent trips to Israel, the most recent as a participant on the Israel Bonds 70th anniversary delegation, accompanied by Ruth and their daughter and son-in-law.
Being in Israel for its 70th anniversary "was a miracle. Each time we come back, we feel stimulated by meeting with the people who are now building 'Start-Up Nation.' The country is an economic powerhouse, but," he says,"Israel's morality is the greatest source of pride to me. Israelis have chutzpah, but they also have an unbelievable moral compass."
David and Ruth Naftaly (directly behind Prime Minister Netanyahu) and the Bonds 70th anniversary delegation join the prime minister for a group photo (Photo: Prime Minister's Office)
For David, a major highlight of the delegation was "reuniting with friends we met on Israel's 50th, 60th and now 70th anniversary, knowing we share a common passion for this wonderful democracy, a treasure few are lucky to have." Celebrating Yom Ha'atzmaut with "Jews from around the world and our mishpucha in Israel was," he recalls, "an emotional high."
Asked to cite Israel's most storied accomplishment over the course of seven decades, he reflects, "How can you pick just one? Israel has overcome so many challenges, including generations of Israelis fighting the good, moral fight. Yet with this reality, Israel leads the world in technology, and this is so mind-blowing I can't adequately put it into words."
David also expressed pride in "experiencing the impact investments in Israel bonds have had on Israel's development. Every time I return, I am in awe of what the country has created." His connection goes back to his bar mitzvah, when he received his first Israel bond. Ruth received Israel bonds for her confirmation as well.
David and Ruth Naftaly celebrate Yom Ha'atzmaut at the Israel Bonds gala 70th anniversary party in Tel Aviv (Photo:Yossi Zamir)
Subsequently, the couple gave Israel bonds to their children, and became active with the Bonds organization not only as investors, but as lay leaders as well. Ruth was involved with the Women's Division, and David served as chair of Maryland Israel Bonds and as a member of the national board of directors.
Beyond financial returns, David believes "the yield we get from investing in Israel bonds is knowing we have helped, in our own small way, to give Israel the tools to continue to build a vibrant economy. Also, to know I'm supporting a nation where any Jew from anywhere will be accepted without conditions makes everything I do worth every minute. It is a labor of love, and I express my deepest appreciation to the Israel Bonds organization for this privilege.
"Nothing," he states emphatically, "is more important to me than our homeland."