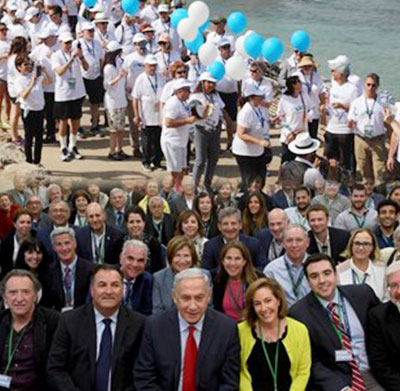 Andrew Hutter, MD: "The Spirituality of Jerusalem is Special and Cannot Be Replicated Anywhere Else"
From the time when he was a young child, Dr. Andrew (Andy) Hutter and his family have been impassioned devotees of the Jewish state. Having first visited in 1978, then with his wife Barbara in 1999, Andy has made at least 25 trips since then and describes each journey as "returning home, to a place where history and our tradition began."
Every time Andy arrives at Ben-Gurion Airport, he finds the experience uniquely special, and defines each voyage as "exciting and exhilarating."  Regardless of the purpose of his mission, the New Jersey-native and esteemed orthopedic surgeon makes it a point to stop at the Western Wall every single time, because, as he explains, "no trip is complete without a visit to the Kotel." Andy's deep connection to Israel enables him to share in the spirituality of Jerusalem, as he reveals it allows him to "recharge his battery," and further elucidates that it is "something that cannot be replicated anywhere else on earth."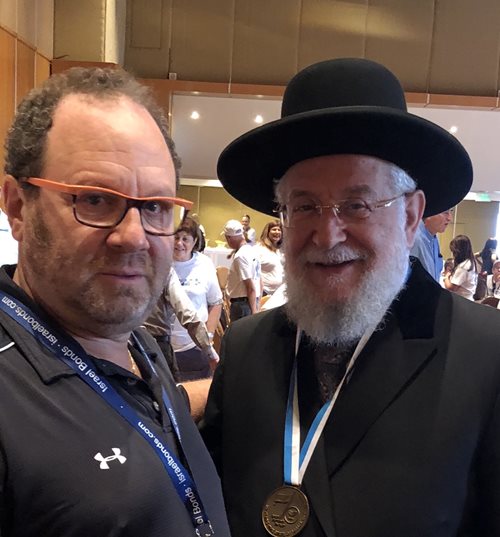 Dr. Hutter and Rabbi Yisrael Meir Lau at Yom Ha'atzmaut breakfast
Andy continues to be in amazement of the marvels accomplished by the relatively young country. Being in Israel for its 70th anniversary, he is in awe of the nation's advancement in high-tech, its collaborations with global businesses, and its evolution to worldwide renown as a "major player in the growth of technology." Looking around the cityscape of Tel Aviv, he revels in the major corporations that have established branches in Israel, and is gratified that its immense industrialization is "taken seriously on the world stage."
Now returning from his third time in Israel for Yom Hazikaron and Yom Ha'aztmaut, he takes tremendous pride in witnessing the tribute given to those who made the ultimate sacrifice for the foundation and development of the country, noting the seriousness dedicated to Yom Hazikaron as "impressive, especially with the country coming to a standstill at the sounding of the siren."
But above all Israel's winning achievements, he believes its most triumphant to be "a home for the Jewish people."  Andy further expounds, "Even those of us in the Diaspora feel that we are in our homeland when we are in Israel."  Recognizing substantial innovation has contributed to the fortification of Israel's economy and its stature as a modern pacesetter, he firmly construes, "at the end of the day, the most important thing is a Jewish homeland. Because we have a homeland, we can absorb immigrants and allow them to live freely and as Jews."
From right: Dr. Andrew Hutter and wife Barbara Hutter with Shira and Eric Lewis at Kotel 
Having an expansive history with the Bonds organization, Andy attests that his ties to the institution grew strongest when he was honored with his father by the Israel Bonds Medical Division of New Jersey. Soon after, he became co-chairman of the Medical Division and eventually chairman.  He then grew to securing the role of chairman of Israel Bonds Metro New Jersey, followed by a position on the National Board.  Andy is delighted to serve on the Board of Directors and plays an integral role in numerous committees, including chairing the Israel Bonds Executive Committee and Nominating Committee, and is honored to be a part of the New Leadership Committee, working to encourage investors to donate Israel bonds to universities.
Andy remains personally attached to the Bonds program, because in his own testament, "it is not a charity and therefore is not in competition with other Jewish organizations. I see our role as the major player in connecting the Jews of the Diaspora to the State of Israel."
Photos: Andrew Hutter, MD