Your Passover donation to the OJC can support our community and strengthen the State of Israel. Here's how:
Your Passover donation to the OJC can support our community and strengthen the State of Israel.
Here's how:
The Okanagan Jewish Community Centre (OJC) will invest all donations earmarked for this campaign in a 'Shalom' Israel bond.
When the Israel bond matures in one year, the OJC will redeem it, receiving principal plus interest, and put the funds towards the OJC operational budget.
As a donor, you will help strengthen our community, the State of Israel – and receive a donation receipt from OJC.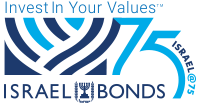 On May 14, 1948, David Ben-Gurion spoke six words that electrified the world:
"The State of Israel has arisen!"
Three years later, Ben-Gurion made another dramatic announcement: Israel Bonds, his initiative for a global economic partnership with Israel, had officially launched.
A defining moment in Israel's history, the creation of Israel Bonds reinforced the deeply-held connection between supporters of Israel around the world and the people of Israel. Together, they would build the reborn Jewish nation.
Today, the Israel Bonds enterprise has spread throughout the world. Friends of Israel on three continents continue to view Israel bonds as value-added securities — and significant acquisitions for financial portfolios and direct investments in a land of creative achievement.
Israel Bonds are backed by the full faith and credit of the State of Israel, which has always made interest and principal payments on Israel bonds since the first bond was issued.
From its launching in 1951 and continuing through the present day, Israel Bonds has played a unique role in Israel's rapid progression from struggling agrarian nation to global economic powerhouse.
Today, investing in Israel bonds supports a nation of extraordinary innovation that continues to push the boundaries of modern technology.
About the Okanagan Jewish Community
The OJCA is comprised of the unaffiliated Beth Shalom Synagogue and the Okanagan Jewish Community Centre.
OJCA members from diverse Jewish backgrounds come together to create a welcoming, pluralistic congregation that conducts services and celebrates holidays in an all-inclusive manner.
We have historically maintained an active involvement and a strong presence in the culturally diverse Okanagan community-at-large. As a result, we have evolved to be a progressive community with a growing and enthusiastic membership.
Our vision and values are intended to frame our intent for the future, in terms of our beliefs, values, member satisfaction and services.
Our Vision:
To be a welcoming and caring centre; supporting the needs, welfare and Jewish ideals of the community.
Our Values:
Reliability – Dependable and accountable.
Loyalty. – Devoted and dedicated.
Commitment – Motivated and confident to continuously fulfil our community needs.
Open-mindedness. – Human-Centred approaches, with emphasis on openness and acceptance.
The OJC functions as a non-denominational Jewish community, providing Shabbat and Jewish festival services, holiday events, and a Hebrew school. In addition, we host a variety of cultural events open to the general public, including concerts and film screenings, along with commemorative events.
Copyright © 2023 Canada-Israel Securities, Limited is registered as an Exempt Market Dealer.