News from Israel
The Israel Bonds Maimonides Delegation
(The 5th Maimonides Medical Delegation to Israel took place March 5-9. Following are the impressions and insights of delegation co-chair and national board member Dr. Andrew Hutter)
From March 5-9, 24 physicians, many accompanied by spouses, spent an exciting four and a half days touring Israel from north to south as members of the 5th Israel Bonds Maimonides Delegation. I was proud to co-chair the delegation with Dr. Burton Herbstman.
We began at the Elma Art and Music Resort near Zichron Yaakov, where we were welcomed by Bonds President and CEO Israel Maimon. The next day, we explored the north, beginning at Kfar Tikva, a kibbutz for mentally challenged adults, meeting with many residents and the management team.The entire community embraces the residents, many of whom work at local businesses.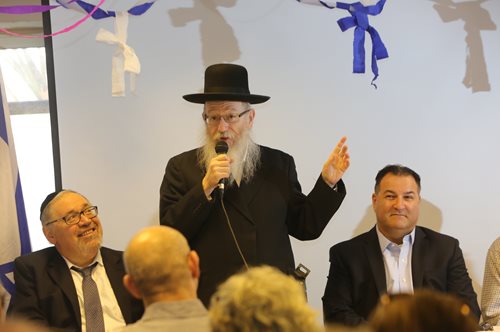 Health Minister Rabbi Yaakov Litzman speaks to the delegation at Hala: the Rachel Nash
Jerusalem Comprehensive Breast Clinic
We then proceeded to the Tulip Winery, after which we traveled to the Poriya
Medical Center
, viewing its state-of-the-art emergency room and undergtround hospital for use in case of missile attacks..The doctors then broke into groups to meet with their peers, based on specialty.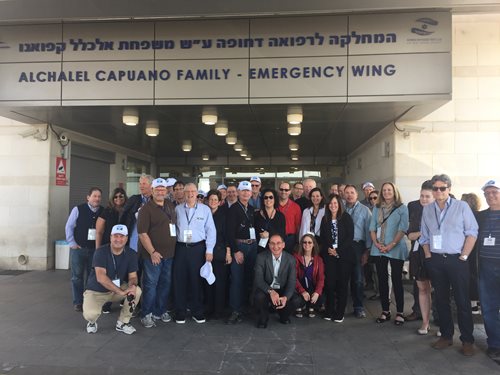 Visiting Poryia, a state-of-the-art emergency room and underground hospital
The chairman of orthopedics was an Israeli Arab, who introduced the orthopedic surgeons in our group to a patient from Syria suffering shrapnel injuries to one leg and a below-the-knee amputation on the other. He was awaiting fitting for his prosthesis and seemed very appreciative of the care he received. We completed our tour of the north by meeting with IDF Colonel (Res.) Kobi Maron of the Golani Brigade in the Golan Heights.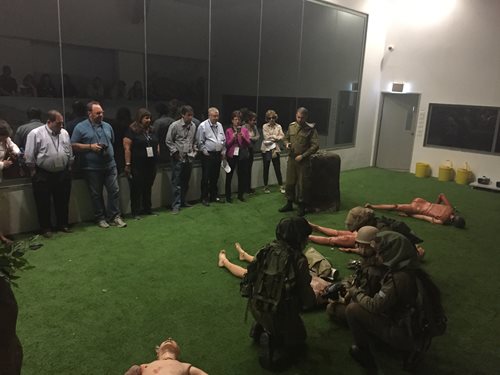 Observing training for IDF combat medics
Tuesday was spent in Tel Aviv, viewing the medical simulator at Tel Hashomer Sheba Medical Center and attending the MEDinISRAELl convention to see new medical hi-tech innovations.
The delegation's clear highlight came at Halutza, a true pioneer community just 450 yards from the Egyptian border and only a few miles from Gaza. We saw the brand-new medical center that will provide basic medical services for the community, thus avoiding traveling over an hour to Beersheba for treatment. We also saw the community's hi-tech farming, which is not only turning the desert green, but also creating a successful agricultural hub growing many different fruits and vegetables. Additionally, there was a yeshiva in Halutza for children with ADHD who work the fields in the morning and attend classes in the afternoon.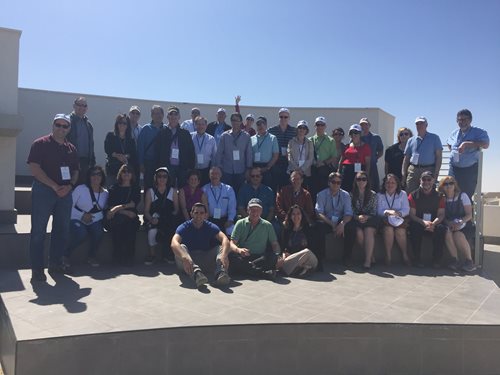 Delegates gather for a group photo at the southern border community of Halutza
The trip ended in Jerusalem, where we packed Shaloch Manot baskets at Ohr Meir and Bracha, an organization supporting over 400 families who were victims of terror. We then proceeded to Hala: the Rachel Nash Jerusalem Comprehensive Breast Clinic, to view state-of-the-art breast cancer detection and screening, where women can get testing, and, if necessary, a biopsy done in a single day. While at Hala, we had the honor of meeting with Health Minister Rabbi Yaakov Litman.
Preparing to wrap gift baskets at Ohr Meir and Bracha, an organization supporting
victims of terror attacks
Following the closing dinner, the group dispersed, some to return home and others to enjoy a few extra days in Israel. Great bonding experiences were had among the participants, all of whom pledged to share the story of this great country.
International Prime Minister's Club Weekend 2017
Israel Bonds officially launched its 2017 sales effort at the gala International Prime Minister's Club Weekend, held February 9-12 in Miami Beach, Florida. The weekend had numerous highlights, including:
'Latin Night' under the stars featuring the Miami Symphony Orchestra
An exciting New Leadership 'Blue and White Party' at Villa Casa Casuarina, the former Versace Mansion
A fond farewell to outgoing Finance Ministry Accountant General Michal Abadi and former President & CEO Izzy Tapoohi
The weekend culminated with a gala dinner paying tribute to 13 honorees from the U.S., Canada and Mexico, which was emceed by
Seinfeld's
Jason Alexander and attended by over 600 people.
Israeli Prime Minister Benjamin Netanyahu offered video greetings, observing, "Israel bonds are both a financial instrument and a fraternal instrument, a bond of brotherhood and sisterhood with the Jewish state, for Jews and non-Jews alike." He added that investors in Israel bonds are "(Israel's) ambassadors."
Israel Bonds President & CEO Israel Maimon shared a statement from Finance Minister Moshe Kahlon which read, "Since its founding, Israel Bonds has been a cornerstone of Israel's economy. Crossing the $40 billion mark (in worldwide sales) exemplifies the organization's dedication to Israel, and the way in which its message of economic support has resonated on a global scale."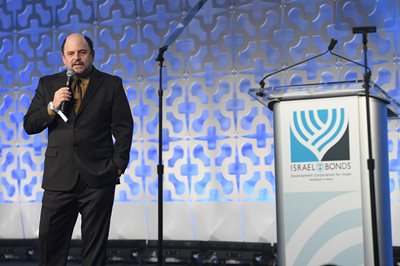 Emcee Jason Alexander shares his experiences growing up Jewish and his feelings for Israel (Photo: Shahar Azran)
Israeli dignitaries participating in the International Prime Minister's Club Weekend included UN Ambassador Danny Danon; Consul General of Israel in New York Ambassador Dani Dayan; Consul General of Israel in Los Angeles Sam Grundwerg; and Consul General of Israel in Florida Lior Haiat. The Finance Ministry was represented by Director General Shai Babad; Deputy Accountant General Yali Rothenberg; and former accountant general Michal Abadi.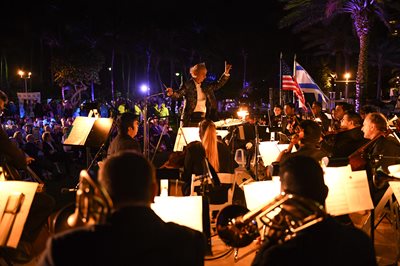 Symphony under the stars at 'Latin Night' (Photo: Shahar Azran)
Honorees recognized at the dinner were:
Sharon Azrieli, Montreal
Jeffrey Beck and Jarrod Beck, Dallas
Bonnie and Chuck Berk, Atlanta
Israel Feldman, Mexico City
Monique and Alex Halberstein, Miami
Sharon and David Halpern, Livingston, NJ
Sarah and Elie Hirschfeld, New York
Suellen and Larry Kadis, Cleveland
Melanie and Rene Moreno, Washington, DC and Curaçao
Barry Shrage, Boston
Dr. Tobi Richman Steinhardt and Rabbi David Steinhardt, Boca Raton
Diana Sager and Dr. Steven Warren, Tampa Bay
Enid and Kalman Wenig, Chicago
Two additional honorees, Alan Kantrowitz and Richard Ziman, both of Los Angeles, were unable to attend.
The scene at the New Leadership 'Blue and White Party, held at
V
illa Casa
Casuarina, the former Versace Mansion (Photo: David Heischrek
/
DHPA.com)
Sales announced that evening – encompassing individuals who had invested in Israel bonds, invested that night or indicated an intention to invest- totaled $260 million.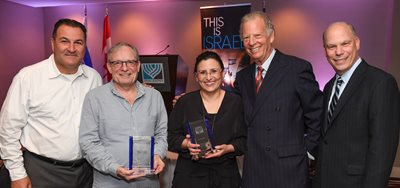 From left: Bonds President & CEO Israel Maimon; former President & CEO
Izzy Tapoohi; outgoing Finance Ministry Account General Michal Abadi;
Chairman of the Board Richard Hirsch; Vice President for Sales Stuart
Garawitz (Photo: Shahar Azran)