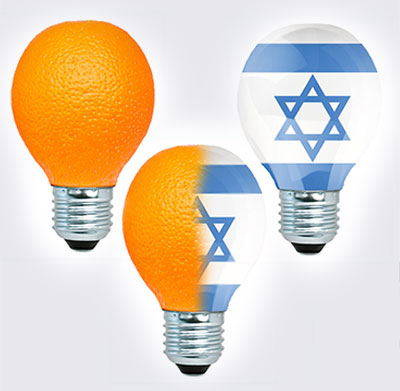 Women's Division Inducts Laura Orzy as Chairperson, Honors Shira Lewis as former Chair at Installation Ceremony during International Prime Minister's Club Weekend
February 11, 2018
Over an exhilarating weekend filled with significant events leading on through the Development Corporation for Israel/Israel Bonds annual International Prime Minister's Club Dinner, Israel Bonds' Women's Division marked the occasion by ushering in a new chairperson, Laura Orzy of Toronto, while paying tribute to now former chairperson, Shira Lewis, after her three years of service. The installation ceremony, held at the Fontainebleau hotel in Miami Beach, commemorated Ms. Lewis for her ongoing commitment to the Israel Bonds organization, who formerly served as Rockland County's General Chair, Campaign Chair of New Leadership and Women's Division Chair, and Associate Campaign Chair of the Women's Division, and welcomed Laura Orzy, who has held the position of Women's Division Chair in Toronto for the last six years. The assembly included Israel Bonds' leadership, board and council members, Women's Division and Prime Minister's Club members, in which guests heard remarks by Israel's UN Ambassador Danny Danon, Israel Bonds' Chairman of the Board, Richard L. Hirsch, Women's Division Director Michelle Klahr, and former and present Women's Division Chairs Ms. Lewis and Ms. Orzy over lunch.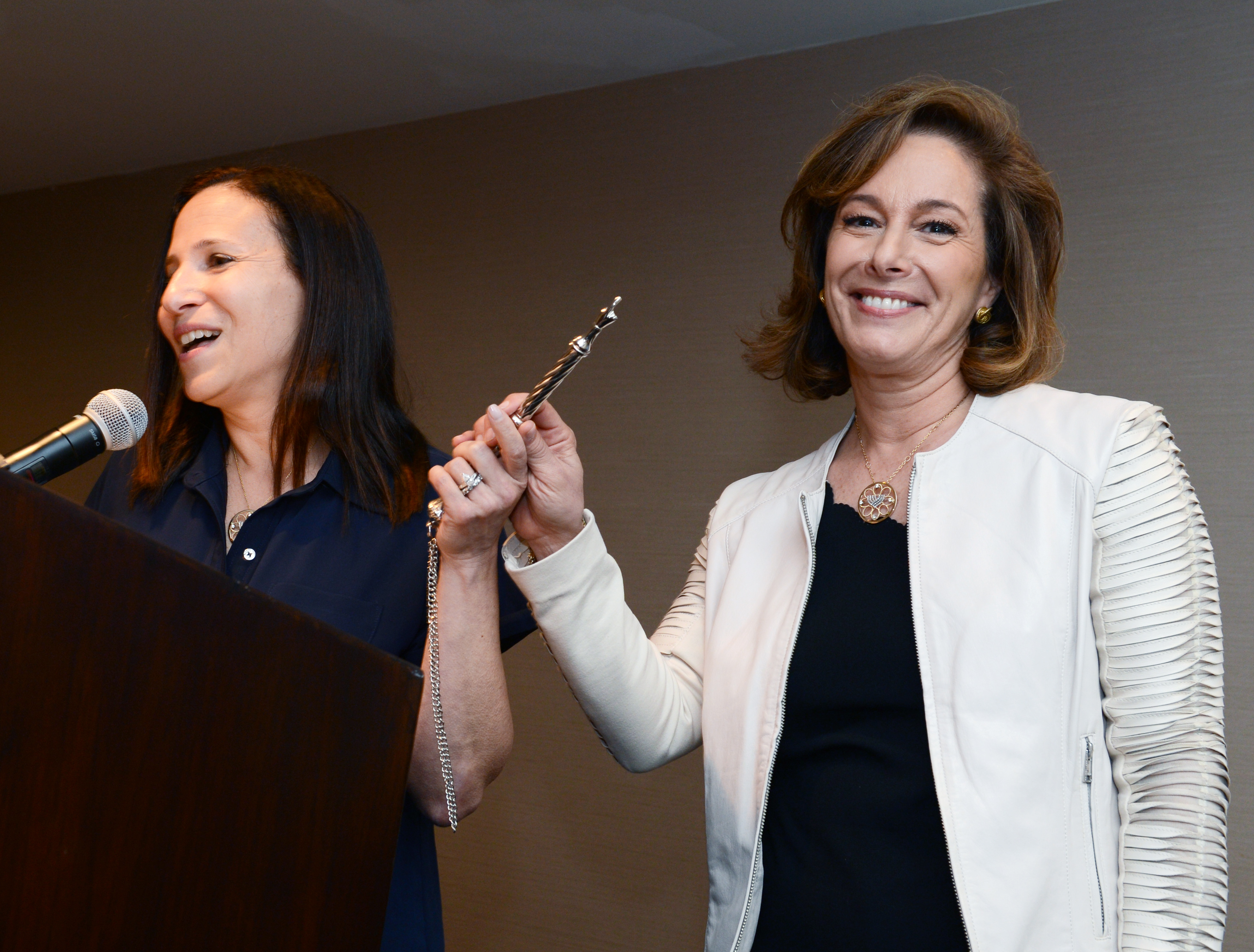 Laura Orzy, current Chair of Women's Division, accepts the traditional yad from former Chair Shira Lewis in the presence of guests at the Women's Division Installation ceremony amidst a series of gatherings during Israel Bonds International Prime Minister's Club Weekend held February 9 – 12 at the Fontainebleau hotel. (Photo credit: Peter Halmagyi)
Accompanied by his wife Talie, Ambassador Danon addressed the audience by expressing gratitude for all involved with the organization in their tireless pursuits to strengthen and uphold the Jewish nation's economy and its people. Israel Bonds' Chairman of the Board, Richard L. Hirsch, followed by acknowledging Women's Division as a key component in the successful legacy and historied tradition for which the Bonds establishment is recognized. Michelle Klahr subsequently spoke on the decades of achievement of the Women's Division over the span of nearly seventy years, then illustrated its triumphs by outlining Shira Lewis' accomplished tasks such as leading two fruitful delegations to Israel and conducting a highly productive Prime Minister's Circle Forum in New York in which women investors learned from prominent speakers such as Nancy Spielberg. In admiration for Ms. Lewis' unwavering dedication and on behalf of the Women's Division and Bonds' institution, Ms. Klahr presented Ms. Lewis the Woman of Valor pin in addition to a special, personalized award statue as a gesture of appreciation. Thankful for the praise and treasured items, Ms. Lewis spoke to the honor in which she held the Women's Division position and of victories to come through the leadership of Laura Orzy.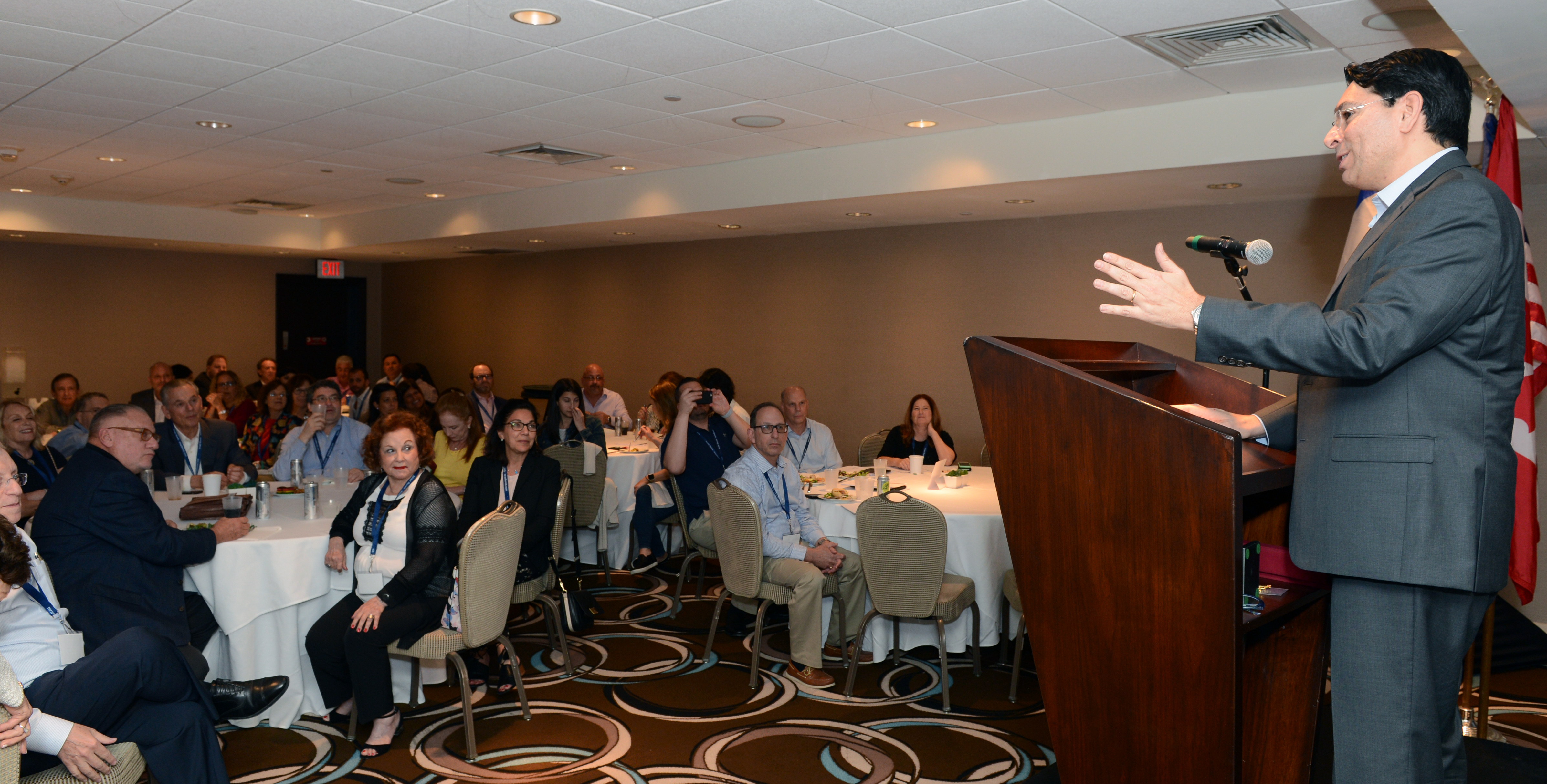 Israel's Ambassador to the UN, Danny Danon addresses attendees of the Women's Division Installation ceremony on February 11, 2018 in Miami Beach at the Fontainebleau hotel. (Photo credit: Peter Halmagyi)
In a rite of passage, Ms. Lewis passed the entrusted yad to Ms. Orzy, stating, "Just as the yad traditionally guides us through the inspirational words of the Torah, may this one point you in the direction of wisdom and truth as you accept the responsibility and privilege of leading the finest group of women in North America." Ms. Orzy, accepting the yad and a bouquet of roses from Ms. Klahr, recognized her new role by conveying to the room her pride and enthusiasm. Over the past six years in her former role as Chair in Toronto's Women's Division, Ms. Orzy contributed to the success of Golda events and the esteemed Bar/Bat Mizvah program. She served on Women's Division council for over three years, recently co-chaired a delegation to Israel in the fall of 2017, and served as the Women's Division Associate Chairperson for the past year. Ms. Orzy is known for her perseverance and passion for the Jewish homeland, and will assuredly carry on the ethos and prosperity of Women's Division through direction of innovative programs, conferences and delegations for years to come.
Israel Bonds Women's Division Director Michelle Klahr presents Shira Lewis, former Women's Division Chair a special award for her three years of service.
(Photo credit: Peter Halmagyi)