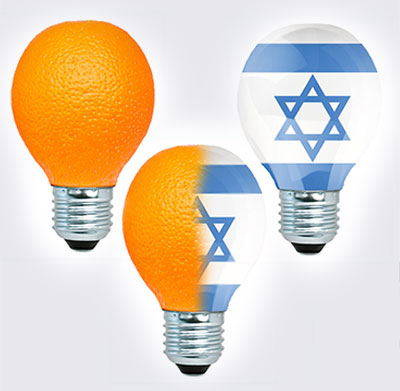 Parliament's House of Lords is Setting for Prestigious Israel Bonds Event
October 9, 2018
Development Company for Israel (International), Ltd. /Israel Bonds in the UK held a prestigious luncheon at London's House of Lords on Tuesday, October 9. The distinguished event included the presence of numerous members of Parliament, as well as Israel's Permanent Representative to the United Nations, Ambassador Danny Danon, and His Excellency Mark Regev, Ambassador of the State of Israel to the Court of St. James.

From left: Israel Bonds President & CEO Israel Maimon; Deputy Speaker of the House of Lords the Lord Simon Haskel; UN Ambassador Danny Danon; and Ambassador to the Court of St. James Mark Regev (Photo: Chiko Photography)
In presenting Danon, Regev said he was "pleased to introduce Ambassador Danny Danon at a special reception for Israel Bonds, a smart and moral investment."
Ambassador Danon also praised the Bonds enterprise, saying, "I am moved by the loyalty of the Israel Bonds organization, which has stood by Israel's side since our earliest days." Commenting on the Jewish state's standing at the UN, Danon stated, "Israel has grown stronger than ever. We have stood up for her. She continues to win at the UN. And her future is bright."
Following the two diplomats, Israel Bonds President & CEO Israel Maimon declared, "Ties between Israel and the United Kingdom are strong." In particular, he cited "the close technological collaboration between the UK and Israel," which, he noted, "has given aspiring British companies the opportunity to discover Israel's world-leading innovative technology."
At the conclusion of his remarks, Maimon called upon the Lord Simon Haskel, deputy speaker of the House of Lords and host for the Bonds luncheon. He was presented with the Israel Bonds 70th anniversary medal, which, Maimon said, symbolized the Lord Haskel's "warm support for Israel and Israel Bonds."
In accepting the medal, the Lord Haskel observed, "While celebrating Israel's 70  anniversary, let's also celebrate the fact that Israel Bonds was started just three years after Israel was founded, and, during that time, has made a massive contribution – over $40 billion – to Israel's economy."
In addition to prominent dignitaries and leaders of the UK Israel Bonds campaign, the House of Lords luncheon was attended by top-level investors from France, Belgium, Germany and Luxembourg.
The following morning, Ambassador Regev hosted Ambassador Danon and Israel Bonds leadership for a breakfast meeting at his official residence.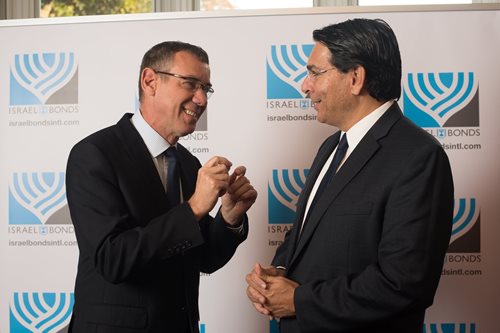 Ambassadors Mark Regev (left) and Danny Danon enjoy a mini-diplomatic summit
during an Israel Bonds breakfast hosted by Ambassador Regev at his official London
residence (Photo: Blake Ezra Photography)