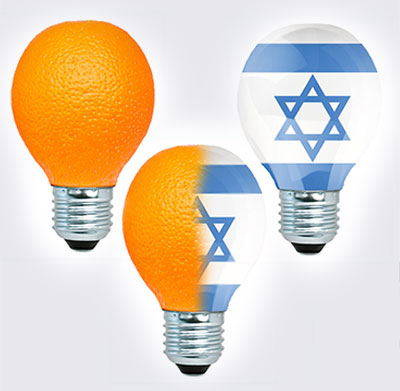 Israel Maimon Discusses Israel's Economy, Strike on Syria
December 19, 2019
Israel Bonds President & CEO Israel Maimon was a featured participant at two prestigious gatherings in recent weeks - the Israeli-American Council (IAC) National Summit, held December 5-8 in Hollywood, Florida, and the Friends of the Israel Defense Forces (FIDF) 'Night of Heroes,' which took place November 20 in Boston.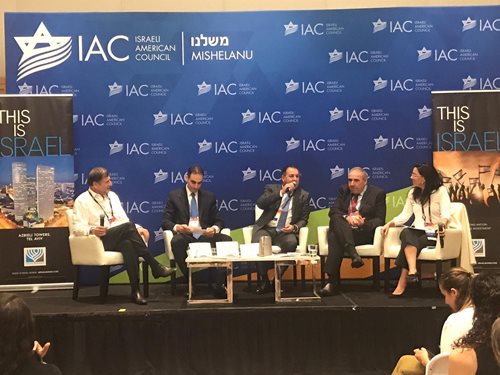 Israel Maimon (center) participates in a panel discussion on Israel's economy at the IAC National Summit in Hollywood, Florida (Photo by Zeev Rubinstein)
At the IAC gathering, Maimon was part of a five-member panel tackling the topic, 'From Developing Nation to Economic Powerhouse – How Can We Continue the Odyssey.' Maimon shared perspectives on Israel's economy, offering an overview of the nation's outstanding success story. In particular, he highlighted a November 24 assessment by Moody's, in which the ratings agency* noted, "Israel's economic growth has outpaced most other advanced industrial countries over the past decade, driven by a strongly competitive high-tech export sector and a diversified economic base that now includes energy exports."
For the FIDF event, Maimon joined Maj. Gen. (Res.) Yossi Baidatz in providing insights on Israel's previously classified 2007 strike on Syria's nuclear reactor. Maimon, who was government secretary at the time, was assigned by Prime Minister Ehud Olmert, Defense Minister Ehud Barak and Foreign Minister Tzipi Livni to interface with the Prime Minister's Office, the Defense and Foreign Ministries, the IDF, the Mossad and other relevant agencies to prepare a strategic communications plan. It was, Maimon said, "an honor and a privilege to play a role in this incredible chapter in Israel's history."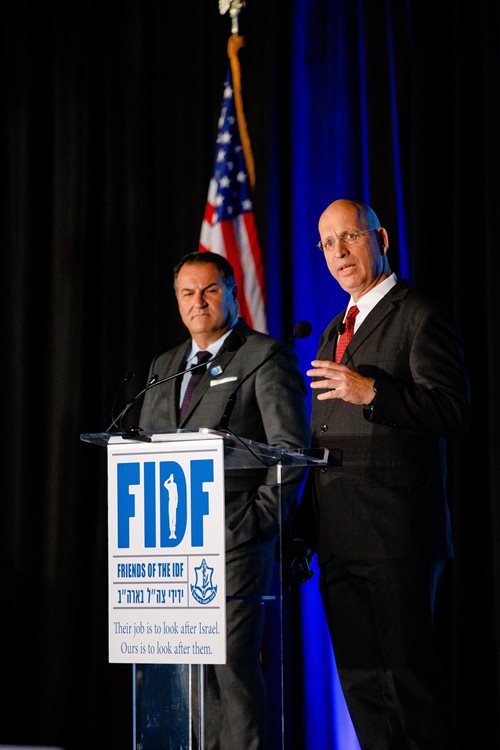 Speaking at November's FIDF gala in Boston, Israel Maimon (left) shares behind-the-scenes details of Israel's attack on Syria's nuclear reactor (Photo by Nir Landau)
(*Israel bonds are not rated)