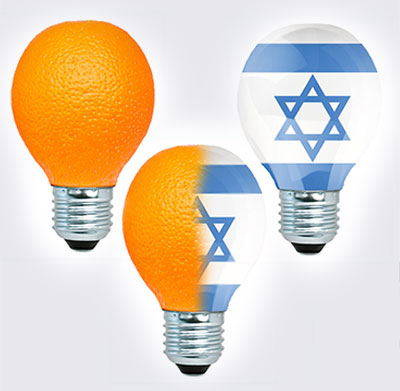 Israel Bonds Launches 2018 Sales Effort in Presence of Israel's Finance Minister; President Rivlin, Prime Minister Netanyahu Send Congratulatory Messages
February 11, 2018
Finance Minister Moshe Kahlon joined hundreds of Israel Bonds supporters from the U.S., Canada and Mexico at the International Prime Minister's Club Dinner, held February 11th at the Fontainebleau hotel in Miami Beach. The dinner marked the official launch of the annual Israel Bonds sales effort, which this year highlights Israel's 70th anniversary.
Bonds President & CEO Israel Maimon (left) and Finance Minister Moshe Kahlon
President Reuven Rivlin and Prime Minister Netanyahu sent congratulatory videos. In his message, President Rivlin stated, "You have helped us by supporting Israel, by investing in Israel and by believing in Israel. Thank you for all you do."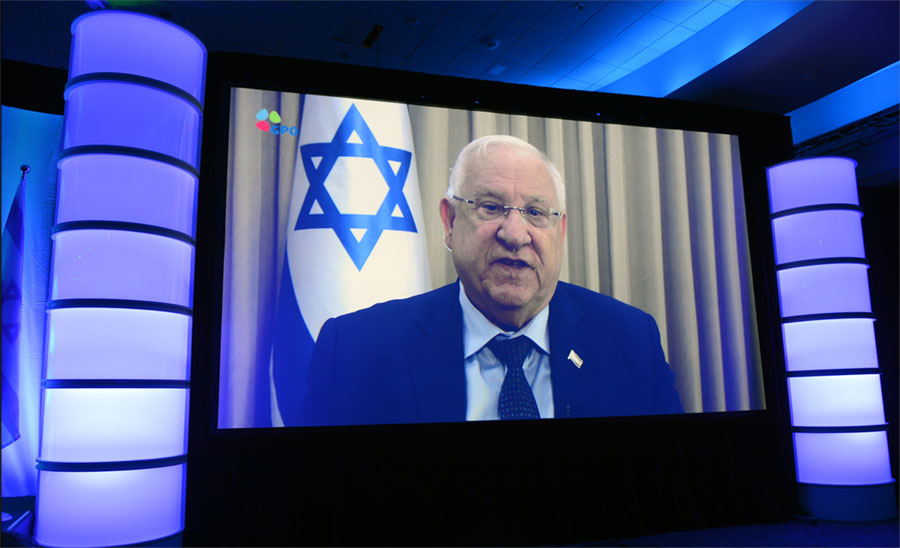 President Reuven Rivlin offers congratulations to Israel Bonds
Prime Minister Netanyahu said, "You know a good investment when you see it, and Israel's economy is a good investment, it's booming." He added: "Thank you for keeping that great bond between Israel and our friends in the Diaspora, Jews and non-Jews alike."
The evening was highlighted by the presentation of the Israel70 Award to 11 honorees from throughout the U.S.
Recipients were:
Dr. David Feinstein, Dallas
Susan and Bill Firestone, Springfield, Mass.
Emily Fried, Metro N.J.
Rabbi Gary Glickstein, Miami
Jacqueline Goldberg, New Orleans
Lorin and Alan Gottlieb, Cleveland
Lynne M. and Howard I. Halpern, Boca Raton
Joanne and Rabbi Jacob Luski, Tampa Bay
Irina and George Schaeffer, Beverly Hills
Miriam and Morton Steinberg, Chicago
Symcha and Rabbi Stuart Weinblatt, Washington, D.C.
(View photos of the Israel70 Award recipients here).
Keynote speaker Finance Minister Moshe Kahlon declared, "Tonight, as we highlight Israel's 70th anniversary, it is important to note that for 67 of those years, the Israel Bonds organization has been by our side. The unbeatable combination of Israel Bonds and Israeli ingenuity has helped make so much possible. Your investments have been utilized to build the dynamic, inspiring Jewish nation we celebrate not just tonight, but each and every day."
Bonds President & CEO Israel Maimon, reflecting on his first year in office, observed, "Since coming to Israel Bonds, I have greatly admired the way in which individuals and institutions alike have expressed pride in Israel's achievements through investments in Israel bonds. Our shared objectives for Israel," he emphasized, "compel us to view success not as an endgame, but rather as something to continuously surpass. I look forward to working with all of you in attaining ever-greater levels of achievement."
In addition to Finance Minister Kahlon, prominent Finance Ministry officials in attendance included Director General Shai Babad, Accountant General Rony Hizkiyahu and Senior Deputy Accountant General Gil Cohen.
Other participating dignitaries were UN Ambassador Danny Danon and wife Talie; Consul General of Israel in Miami Lior Haiat; Economic Attaché Eran Nitzan; and FIDF National Director and CEO Major General Meir Klifi-Amir.
Israel bond investments attributable to the dinner totaled $265 million. Moreover, it was announced that Florida Chief Financial Officer Jimmy Patronis made an Israel bond investment of $10 million,raising Florida's Israel bond holdings to $50 million.
UN Ambassador Danny Danon and wife Talie greet Finance Minister Kahlon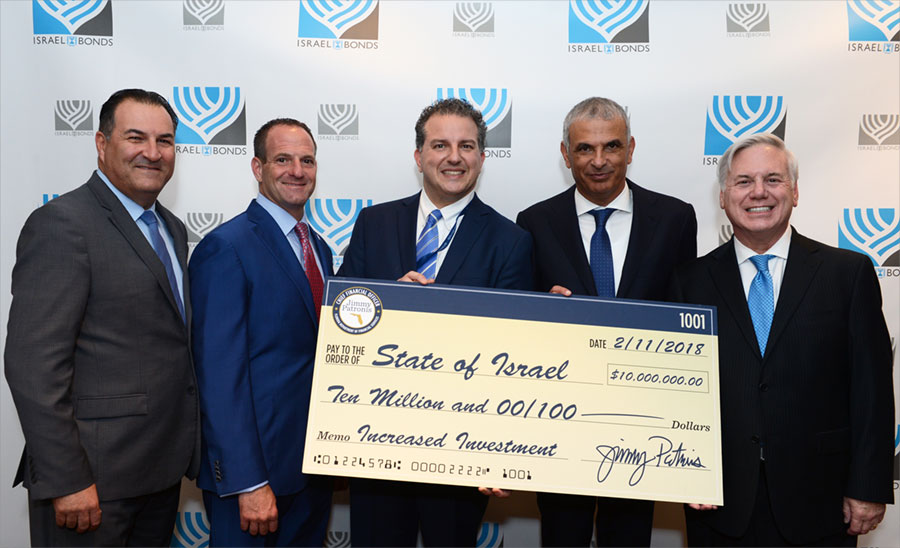 Florida CFO Jimmy Patronis (center) holds a display check highlighting the state's most recent Israel bond investment. Pictured with Patronis are, from left: Bonds President & CEO Israel Maimon; Miami Executive Director Michael Yavner; Finance Minister Kahlon; and Palm Beach Executive Director Mark Ruben
The evening was the culmination of a full weekend of events, including the annual New Leadership Blue & White party; the installation of Laura Orzy as Women's Division chair; and meetings with Israel Bonds board and councils.
Outgoing National Women's Chair Shira Lewis (left) welcomes successor Laura Orzy
Accountant General Rony Hizkiyahu expressed appreciation for the work of Israel Bonds and the organization's importance to Israel's economy. He emphasized the role Israel Bonds plays in strengthening Israel's credit rating with Moody's, Standard & Poor's and Fitch (Israel bonds are not rated), adding Israel's strong economy enables the country to build relationships with other countries, ultimately leading to peace and security.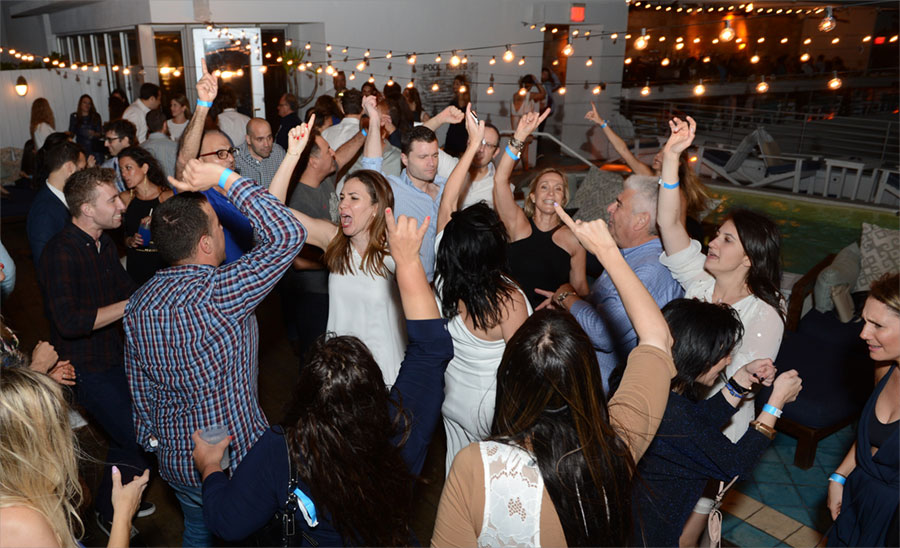 The scene at New Leadership's Blue & White Party
Emcee Lior Suchard, famed Israeli mentalist, amazes a member of the audience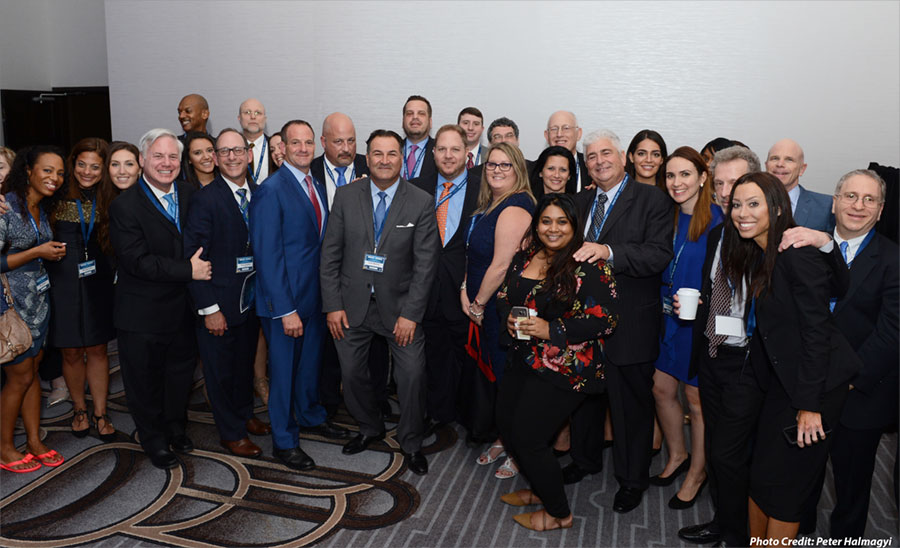 President & CEO Israel Maimon and the Israel Bonds staff gather for a post-dinner photo
A dramatic scene awaits dinner attendees
(Photos: Peter Halmagyi)