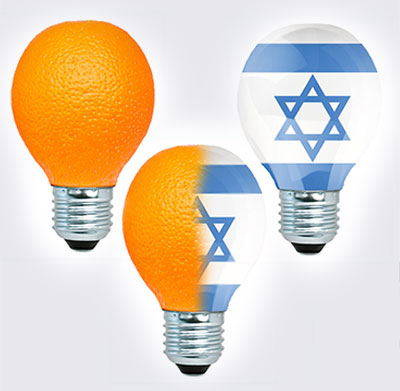 Israel Bonds' New Chairman of the Board Howard L. Goldstein Convenes with Leaders of Major Jewish Organizations
July 10, 2018
On July 10 at Israel Bonds' corporate headquarters in New York, leaders from some of the most prominent Jewish organizations were invited to attend a meeting hosted by recently elected Israel Bonds' Board Chairman Howard L. Goldstein along with Israel Bonds President & CEO Israel Maimon. The gathering was a unique opportunity which brought together key principals committed to Israel who are all members of the Conference of Presidents of Major American Jewish Organizations, a forum of 53 national organizations dedicated to addressing critical concerns facing American and world Jewry.
From left, Arthur Stark, Chairman of Conference of Presidents, Howard Goldstein, Board Chairman of Israel Bonds, Israel Maimon, President & CEO of Israel Bonds, Malcolm Hoenlein, CEO of Conference of Presidents at Israel Bonds headquarters in New York
The session, uniting leading advocates on behalf of US-Israel relations and the security of Israel, opened with Maimon communicating his appreciation to all in attendance while emphasizing the importance of the occasion to enhance cooperation to strengthen Israel and its people. Maimon highlighted the recent election of Howard L. Goldstein as Board Chairman and cited the legacy of Goldstein's commitment to the Bonds organization which began more than three decades ago starting with his role as chair of Israel Bonds' New Leadership Division of Miami.
Quoting a letter written by Israel's Minister of Finance Moshe Kahlon, in which Kahlon congratulated Goldstein in his new position and was inspired by his dedication to Israel and the Israel Bonds enterprise, Maimon affirmed, "I wish you great success as chairman of the board, and I am confident you will implement an agenda that fully reflects your great love for Israel and the Jewish people."
At a July 10 luncheon, Israel Bonds welcomed Conference of Presidents' key leaders of some of the most influential Jewish organizations
Goldstein, who previously served as Vice Chairman of the Board, lauded participants for their devotion and activism towards a stronger, more self-sufficient Jewish State. The New Jersey native, now a Miami resident, noted that he continues to marvel at the nation's triumphs achieved in every facet of human endeavor. In expressing the privilege he considers his new major responsibility to be, he stated, "There has never been a time when I sat down with a prime minister one-on-one that I was not enveloped with feelings of wonderment – that an individual who grew up with nothing could actually hold an intimate meeting with the leader of the modern Jewish nation."
CPA by profession, Goldstein was approved by unanimous vote during a meeting in May of Bonds' national Board of Directors, succeeding Richard L. Hirsch who had served as chairman of the board for nearly eight years. Goldstein, like Hirsch and other predecessors, sees the Bonds organization as indispensable to developing every aspect of Israel's economy, and he looks forward to contributing to elevating its stature in many ways, including in the broader Jewish organizational community.
Conference of Presidents CEO, Malcolm Hoenlein wished the new Bonds chairman great success as he did his friend Israel Maimon. He thanked Israel Bonds' leadership for their ongoing role in the Conference of Presidents and their vital support for Israel's economy. Hoenlein said, "By maximizing our resources and advancing the cooperation and coordination among our institutions for the betterment of Israel and Jews around the world, we are able to mobilize support for the Jewish State both within and outside of our community. It is imperative that despite any differences, we recognize the importance of unity. Our ability to meet our responsibilities to this and future generations depends on our speaking to Israel's detractors with a unified voice and message."
The recently elected chairman of the Conference of Presidents, Arthur Stark, a passionate and dedicated supporter of Israel who served as chairman of the board of Friends of the IDF, noted the crucial role Israel bonds play in enhancing Israel's economic vitality and cited the role Israel plays in advancing high-tech, green-tech, biotech, and many other cutting-edge industries that benefit the entire world.
Stark and Hoenlein stated, "This gathering, hosted by one of the Conference's most significant members, was an opportunity to establish closer working relationships with the new Israel Bonds' leadership. We hope to replicate this with other organizations in the future and enhance the ties between and among the member organizations of the Conference and to enrich our collective ability to meet the array of challenges facing us."
The group engaged in an intensive discussion of some of the challenges facing the American Jewish community and its support for Israel as well as the issues facing Israel in the international arena.
Photos: Shahar Azran