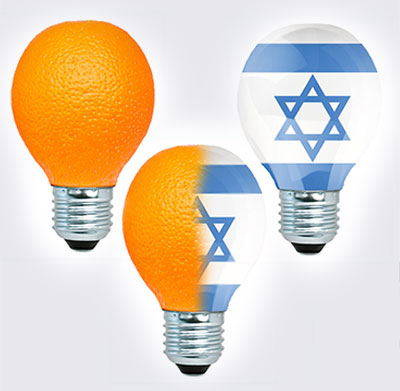 Finance Minister Moshe Kahlon Joins Israel Bonds for Hanukkah Celebration
Dec. 13, 2018
On December 3, Israel Bonds was privileged to welcome Israeli Finance Minister Moshe Kahlon, who joined Bonds staff in celebrating Hanukkah at the organization's corporate headquarters in midtown Manhattan.

Lighting the menorah at Bonds headquarters are, from left: Finance Minister Moshe Kahlon; President & CEO Israel Maimon; and Rabbi Martin Pasternak, national director of the Israel Bonds Synagogue and Rabbinic Division (Photo: Shahar Azran)
In noting that this was his third visit to Bonds headquarters this year, the finance minister said, "This is very important for me. I appreciate your hard work. Israel Bonds is the connection between Israel and Jews around the world, most especially the young generation."
Joining the finance minister were ministry Director General Shai Babad and spokesperson Omri Sheinfeld.
During the ceremony, Israel Bonds Chairman of the Board Howard L. Goldstein spoke of the organization's accomplishment of exceeding $1 billion in annual U.S. sales at the earliest point ever, thanking staff at every level for "one of the most successful years in the organization's history." This was the sixth consecutive year U.S. Israel bond sales surpassed $1 billion.
Bonds President & CEO Israel Maimon, who joined Finance Minister Kahlon in lighting a Hanukkah candle, also commented on the accomplishment, stating, "I'm so proud, not only of the $1 billion, but also in the success we realized in 2018 in securing ever-greater numbers of individuals investing in Israel bonds."