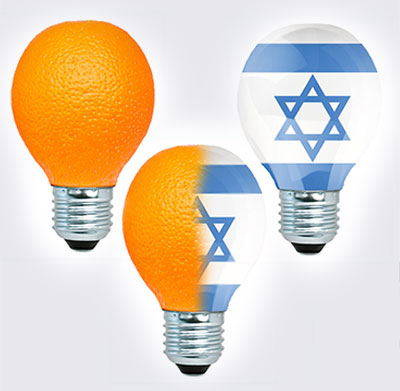 Women's Division Hosts Exclusive Archeological Tour of Ancient Talmudic Village of Korazim, Featuring Greetings by President Rivlin, Alternate Prime Minister and Defense Minister Gantz, and Diaspora Minister Yankelevitch
October 18, 2020
The National Women's Division hosted an exclusive archeological tour of the ancient Talmudic village of Korazim in the Golan Heights, led by archaeologist Achia Kohn-Tavor joined by International Women's Division Chair Laura Orzy and International Business Development Director Sara Friedman, uniting over 520 global participants on Zoom, Facebook Live, YouTube and the Jewish Broadcasting Service on October 18. The exploration of Korazim National Park was prefaced by greetings from President Reuven Rivlin, Alternate Prime Minister and Defense Minister Benny Gantz, in addition to remarks by Minister of Diaspora Affairs Omer Yankelevitch.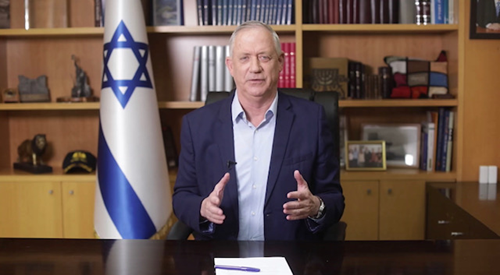 Alternate Prime Minister and Defense Minister Benny Gantz addresses Israel Bonds' supporters and investors on October 18.
President Rivlin, a longtime friend and advocate of the Bonds organization, shared his reflections on the year's challenges including the pandemic and economic setback, yet highlighted the achievements in peace attained by Israel's signing of the Abraham Accords with the United Arab Emirates and Bahrain, remaining hopeful other nations would soon follow. As he stated, "this has been a year of highs and lows, yet serves as a model of peaceful coexistence between people of all religions and backgrounds," in reference to the historic milestone.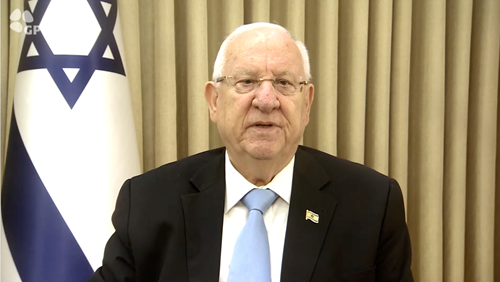 President Rivlin thanks Israel Bonds.
Alternate Prime Minister and Defense Minister Benny Gantz, while expressing the importance of demonstrating support for Israel through investments in Israel bonds, said, "I know that our ties go deeper than any one crisis, and I know that you have not let it stop you, and your important work either."
In emphasizing the impact the Bonds organization has made on Israel and its economy, Gantz pointed out Bonds' worldwide success, noting "Forty-five billion dollars in global sales, it is difficult to imagine what Israel would look like today, without that investment, and I am proud to be honoring this exceptional contribution here with you."
Minister of Diaspora Affairs Omer Yankelevitch told participants that their ongoing support of Israel by way of Israel bond investments is greatly appreciated.
Cathy Distelberger, incoming chair of Israel Bonds National Women's Division, pointed to the ways in which investments in Israel bonds help fortify the one Jewish nation, noting, "With the Bonds organization now celebrating its 70th anniversary, your support will make you part of the seven-decade legacy of achievement that has developed Israel in amazing and transformative ways."
The event shared the beauty of widely-visited Korazim National Park, with a focus on the Korazim synagogue built in the end of the fourth century, home to many religious and spiritual ceremonies and gatherings, as well as olive trees, harvesting and wine presses.
Archaeologist Achia Kohn-Tavor takes attendees through a virtual excavation of Korazim National Park near the Golan Heights.
Watch the full video here.