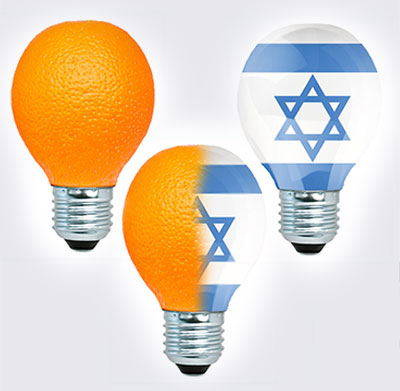 Bonds International Delegation Celebrates Israel's 70th Anniversary
April 24, 2018
An Israel Bonds delegation comprised of 200 participants from cities across three continents traveled to Israel for the momentous occasion of the nation's 70th anniversary. The delegation, which took place April 16-22, traced the historic arc of modern Israel, beginning with the heroic fight for independence and continuing on with commemorations, remembrance and a celebration of achievements past and present.
(Click here to watch the delegation highlight video)
The delegation began at the Akko Underground Prisoners Museum, where Delegation Chair Bobbie Goldstein announced, "We are about to embark on an incredible journey." Board Chairman Richard Hirsch highlighted the gathering's "feeling of family," and President & CEO Israel Maimon told delegates, "Each of you represents the ultimate fulfillment of Ben-Gurion's dream" of global economic partnership with Israel. The featured guest was Yair Stern, son of Avraham Stern, founder of the pre-state LEHI resistance movement.
Bobbie Goldstein tells delegates, "We are about to embark on an incredible journey"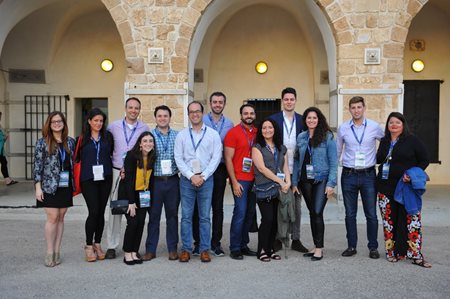 The New Leadership contingent at the Akko Underground Prisoners Museum
Board Chairman Richard Hirsch praises the "feeling of family" among delegates
Yair Stern discusses the legacy of his father, a leader of Israel's pre-state underground
Day 2 featured a look at innovative Israeli technology, beginning with a discussion led by Technion Vice President for External Relations Professor Boaz Golani and followed by a stop at Haifa University's Oceanographic and Limnological Research Center. A visit to Matam High-Tech Park, where delegates were greeted by Haifa Mayor Yona Yahav, provided an exciting glimpse of the technologies of tomorrow.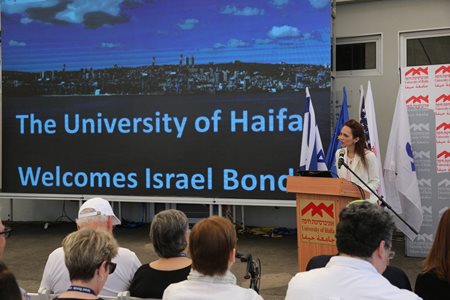 Delegates visit Haifa University for a look at innovative Israeli technologies
As the sun set, delegates joined as one for the onset of Yom HaZikaron – Israel's Memorial Day – to commemorate and honor Israel's 23,646 fallen soldiers. In a solemn ceremony at the Golani Brigade memorial in northern Israel, Bonds President & CEO Israel Maimon, a former member of the elite infantry unit, declared, "Throughout my many years as a soldier and officer, I went on dozens of combat missions with my Golani brothers, some of whom made the ultimate sacrifice to ensure the continued existence of this miraculous country." Maimon joined with his son Jonathan - himself a Golani soldier – to lay a memorial wreath in tribute to the fallen.
Bonds President & CEO Israel Maimon, a former officer and commander in the elite Golani Brigade, joins son Jonathan – also a Golani soldier – in paying tribute to soldiers who made the ultimate sacrifice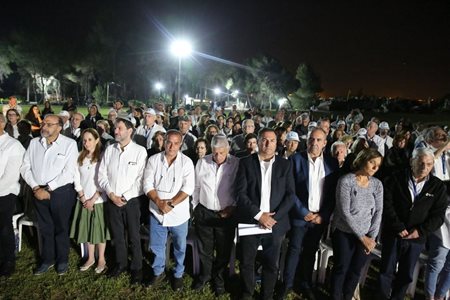 Delegates hold a moment of silence for fallen members of the Golani Brigade
The delegation's commemoration of Yom HaZikaron continued on day 3 with a respectful ceremony at Shaar Yeshuv in memory of 73 soldiers killed after two helicopters collided en route to a mission in Lebanon.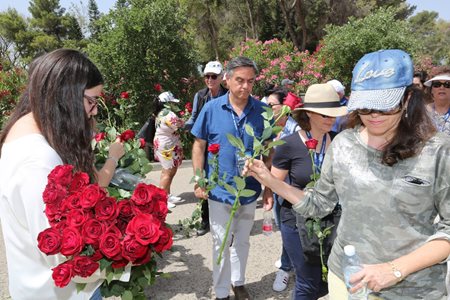 Delegates place roses in memory of 73 IDF soldiers killed en route to a mission in Lebanon when their helicopters collided
President & CEO Israel Maimon reflects on the loss of 73 fallen soldiers
That evening, as the the nation transitioned into Yom Ha'atzmaut – Independence Day – delegates kicked off their celebration of Israel's 70th anniversary with a festive party. The celebration continued the next day the Israeli way, with dancing, parades, and a rooftop barbeque that included watching a thrilling Israel Air Force display.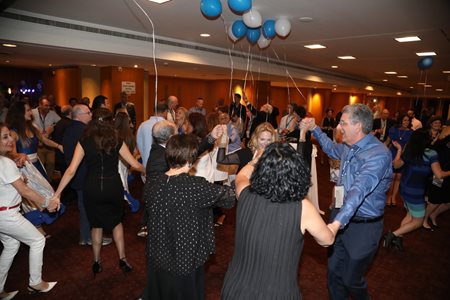 A festive party kicks off the delegation's Yom Ha'atzmaut celebration
Rabbi Yisrael Meir Lau, one of Israel's most revered spiritual leaders, is presented with a 70th anniversary medal at a Yom Ha'atzmaut breakfast
Delegates parade down Tel Aviv's promenade in celebration of Israel at 70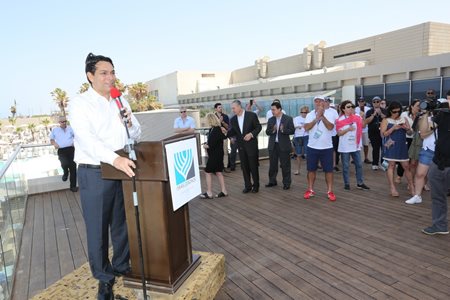 UN Ambassador Danny Danon, accompanied by several foreign diplomats, joins the Israel Bonds Independence Day barbeque
The Israel Air Force provides aerobatic thrills for the 70th anniversary delegation
Delegates culminated Yom Ha'atzmaut with a performance of 'Celebrating 70 through Song,' composed exclusively for Israel Bonds by Gil Shohat, acclaimed as "the most important and influential personality in classical music in Israel." The evening included a tribute to Dr. Uri Cohen, former executive director of the Israel Bonds Jerusalem office, who served in the position for over a decade.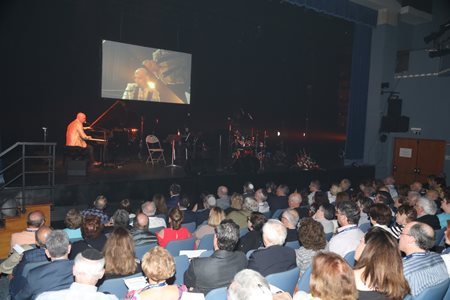 Delegates attend a 70th anniversary concert composed especially for Israel Bonds
Uri Cohen (left) is presented with a 70th anniversary medal by board member Andy Hutter, MD
The 70th anniversary journey concluded Sunday with high-profile meetings with President Reuven Rivlin, Prime Minister Benjamin Netanyahu and Transportation and Intelligence Minister Yisrael Katz. Bonds President & CEO Israel Maimon said, "If a single word could sum up this delegation, it would be 'pride.' From day one, we took enormous pride in stirring examples of the greatness of Israel – its history, its accomplishments, and most especially, its strong, determined people."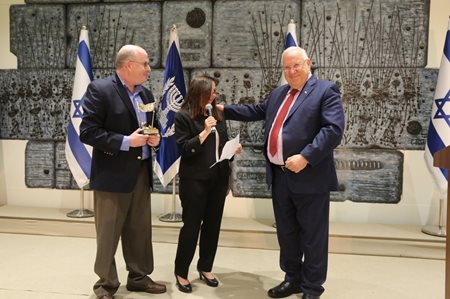 Board member Shira Lewis and husband Eric present President Rivlin with a commemorative 70th anniversary award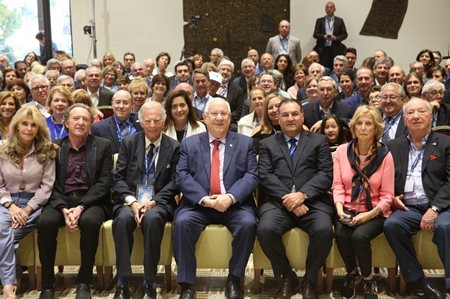 President Rivlin joins the Bonds delegation for a group photo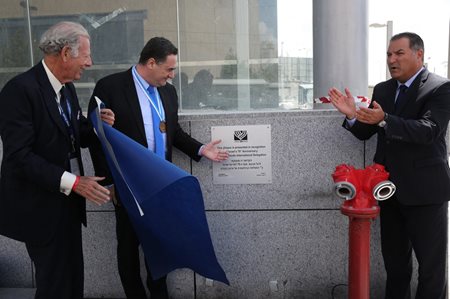 Transportation and Intelligence Minister Yisrael Katz (center), Board Chairman Richard Hirsch and President & CEO Israel Maimon admire the newly unveiled Israel Bonds plaque at a Jerusalem station for the soon-to-be operational fast rail line (Photos: Doron Golan, Yossi Zamir, Gideon Markowitz)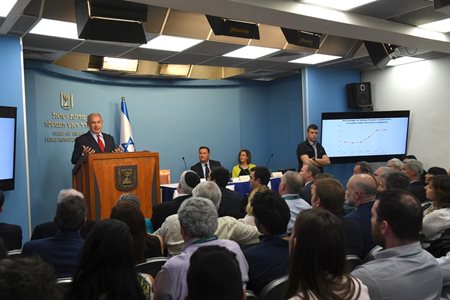 Prime Minister Netanyahu briefs Bonds delegates on regional geopolitical developments
The Prime Minister poses with the Bonds 70th anniversary delegation
(Photos: Prime Minister's Office)