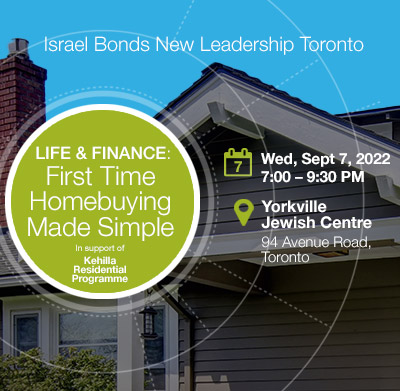 Join us for an interactive evening with experts in the real estate, finance and mortgage industry to help you navigate purchasing your first property.

Rebecca Klaczkowski
CPA, CA,
Sales Representative


Benjamin Singer
Real Estate Lawyer

Leah Zlatkin
Mortgage Broker


Moderator: David Gasch
Sales Representative
Hors-d'œuvre and refreshments will be served Kashrut observed
Please register below for the Israel Bonds New Leadership Toronto event on Sept. 7, 2022
Questions? Please contact Athena Kay, Director, New Leadership, Toronto
Canada Israel Securities, Limited has invited these speakers to make presentations as part of this event but has not done any analysis or investigation of the financial condition, business prospects, technology or any other matter relating to any possible business opportunities discussed by them. CISL makes no representations, warranties or assurances regarding such opportunities. Before you make an investment, you are strongly encouraged to retain your own legal, accounting and business advisors. CISL has not and will not serve as an underwriter, advisor or consultant to any of the entities discussed and is receiving no payment from any of these entities relating to this presentation. 2022 E/OE Top image: Noam Chen.
Canada-Israel Securities, Limited is registered as an Exempt Market Dealer.