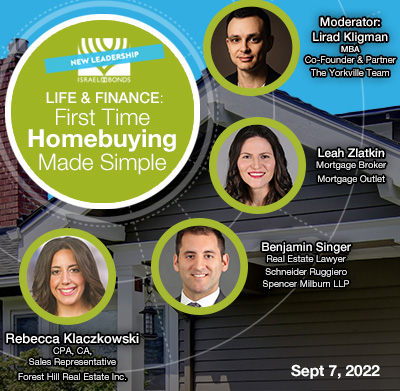 "What an insightful panel! Thank you to the panelists and real estate experts Leah Zlatkin, Rebecca Klaczkowski, Ben Singer and Lirad Kligman for painting such a comprehensive picture of the real estate landscape and for sharing great tips and advice on things we should all know when buying our first home!
As Chair of New Leadership in Toronto, it was so nice to connect with the 40 young professionals who joined us for Israel Bonds Toronto New Leaderships' second in-person event, especially in support of Kehilla Residential Program. A big thank you to our event chair David S. Gasch and the Israel Bonds Canada team for all their help in making our 'Life & Finance: First Time Homebuying Made Simple' event happen. I'm already counting down to the next event after the holidays!"
Thanks,
Aliza Fagen
Member of the Board
Canada-Israel Securities, Limited
Chair, New Leadership Toronto
"Very nice event! Israel Bonds does a wonderful job of organizing high quality networking functions, mobilizing young leaders and focusing relevant and interesting topics that engage the community! Thank you to our exceptional panelists and it was a pleasure to participate!
On behalf of the Kehilla Residential Programme we sincerely appreciated the support and exposure Israel Bonds generously provided. They are a great organization to collaborate with and excel at finding opportunities blending strengthening ties with Israel while supporting the local community."
David S. Gasch
Event Chair
"Our New Leadership Division has done it again! Over 30 young professionals, all interested in getting tips to help navigate the real estate market, were grateful to our panelists for sharing their insights.
Thank you to our Co-Chairs, David Gasch and Aliza Fagen for all your hard work and efforts to ensure the evening was a success!"
Raquel Benzacar Savatti
Chief Executive Officer
Canada-Israel Securities, Limited
Click or touch photos to share
Photos courtesy of Liora Kogan
Canada-Israel Securities, Limited is registered as an Exempt Market Dealer.