Dear Israel Bonds Family: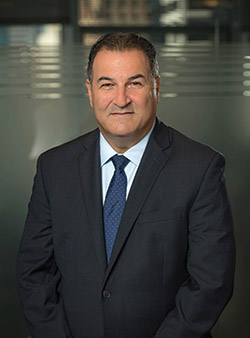 Five years flew by like the wind, and I am about to conclude my term as president and CEO of Israel Bonds.
People ask me if I enjoyed my time at Bonds. 'Enjoyed' is not a strong enough word to express what it has meant for me to work at Israelnbsp;Bonds and serve this great organization. One would think that at a financial entity (even one that resides in the Jewish world), you would measure your satisfaction or impact by the numbers – how much you sold and at what cost, how much funding was secured, etc.
Well, I am measuring it in different ways. For me, it was, first of all, a spiritual journey, one that inspired me, deepening my Jewish identity and enhancing my commitment to Israel and its people. You who live outside of Israel – as a collective or individuals - instilled that in me. For that, I am forever grateful.
For me, Israel Bonds is not merely a financial resource. It is one of the important efforts aimed at securing the State of Israel and the continuation of our people - a proud legacy of thousands of years. In these times, it is our responsibility to perpetuate that legacy, and Israel Bonds is fulfilling this mission with immense enthusiasm.
The Bonds enterprise spans continents and countries: United States, Canada, Europe, Mexico, Brazil and Israel. I tried my best to ensure that the Bonds campaign would be worldwide in scope – international delegations and events, the global staff retreat, international leadership conferences, sharing best practices from different communities and more. My approach has always been that the Bonds endeavor should not be an isolated effort in individual communities. Rather, I wanted it to be united, as the Jewish people should be when it comes to the State of Israel.
My highest priority has been expanding the Bonds base of support, placing particular emphasis on growing the retail base. I am very pleased and proud that this year we had great success in that regard, even in the face of challenges presented by the pandemic.
Our efforts are focused on bringing more individuals – especially young people – closer to Israel. This way, they can deeply appreciate the full meaning of the reborn Jewish state after thousands years of exile - people with no land, scattered and dependent on the will of monarchs and rulers.
What differentiates one entity from another, and defines the success of an enterprise, is a staff that wakes up each day to go work at a place which they see as a mission. Israel Bonds has them! You, Jewish and non-Jewish employees alike, work shoulder-to-shoulder, in good times and challenging times, working from the heart, fully understanding that we are not just selling bonds but securing the State of Israel for generations to come. I was honored to be part of this incredible team for the last five years.
The leadership of Israel Bonds is an outstanding phenomena that I wish every Israeli could know. The depth of commitment you have demonstrated for Bonds and Israel is endless. You are the continuation of a longtime tradition of volunteers who give their time, thoughts, creativity, connections, skills, wisdom, experience, resources, and much more to Israel Bonds. We in Israel owe you a huge debt.
We all know the story of Moses in the Torah. When he grows up, Moses goes out and sees his people in their misery, laboring as slaves. He witnesses an Egyptian beating one of them. In Exodus 2:12, the text says: "He looked this way and that, and saw no one." And Moses struck down the Egyptian.
The late Rabbi Lord Jonathan Sacks, z"l, has written* that it is difficult to read the text literally (how come there is no one at a building site and, two sentences later, the text states two Israelites saw what Moses did). Therefore, the Rabbi suggests, the phrase almost certainly means: "He looks this way and that, and saw that there was no one else willing to intervene." No one else was prepared to come to the rescue. Rabbi Sacks is saying, "It took a Moses to act. But that is what makes a leader. A leader is one who takes responsibility."
In the context of Israel Bonds leadership, the State of Israel and our people are also facing challenges in our time. There are those who care, but nonetheless look right and left to see who will take responsibility and act.
You, on the other hand, embrace the challenge, take responsibility and assume leadership roles - and not for the sake of being rewarded. For you, nothing is nobler than giving your all on behalf of Israel. It was a privilege to work and serve with you. Each of you touched my heart and inspired me to do more for our people and Israel.
When COVID swept the globe, Israel Bonds rose to the challenge. We rolled up our sleeves, quickly understanding that we had to shift to a different mode of operation and be there for the needs of the State  of Israel. We led the organization to a record $1.5 billion in 2020 U.S. sales, and overall global sales of $1.8 billion – an historic achievement in the face of a once-in-a-century pandemic.
In a way, everything we collectively did before, year after year, prepared us to serve the additional economic needs of Israel due to the pandemic. The Moody's ratings agency** said, "Israel benefits from exceptional access to funding markets including through the Israel Bonds program, which provides an established alternative source of non-market financing in a time of crisis." Through hard work and determination, we proved it is right!
I want to thank and commend Israel's accountant general team in the Ministry of Finance, which worked with us hand-in-hand, set our goals, directed us according to Israel's needs, and provided necessary resources.
Finally, the investors in Israel bonds – buyers of $180 or $1 million; old and young; from different streams of Judaism and diverse faiths; liberals and conservatives; U.S. states that invested in bonds to express their support for Israel; municipalities; Jewish and secular organizations, financial institutions –all of you are acting as one for a collective mission we all follow – securing the world's only Jewish state.
I cannot thank you enough for the privilege of serving with you on this mission.
Israel Bonds became part of my soul, my family, a home - and a home is where your heart always goes. So I say - Le'Hitraot, see you, and Toda Raba, thank you, for this once in a lifetime journey.
Yours respectfully,
President & CEO
*Rabbi Jonathan Sacks, Lessons in Leadership, A Weekly Reading of the Jewish Bible, Genesis, Bereshit: Taking Responsibility, 4-5.
**Israel bonds are not rated
---
Development Corporation for Israel
Canada-Israel Securities, Limited. Registered as an Exempt Market Dealer.
Development Company for Israel (Europe) GmbH
Development Company for Israel (International) Ltd.