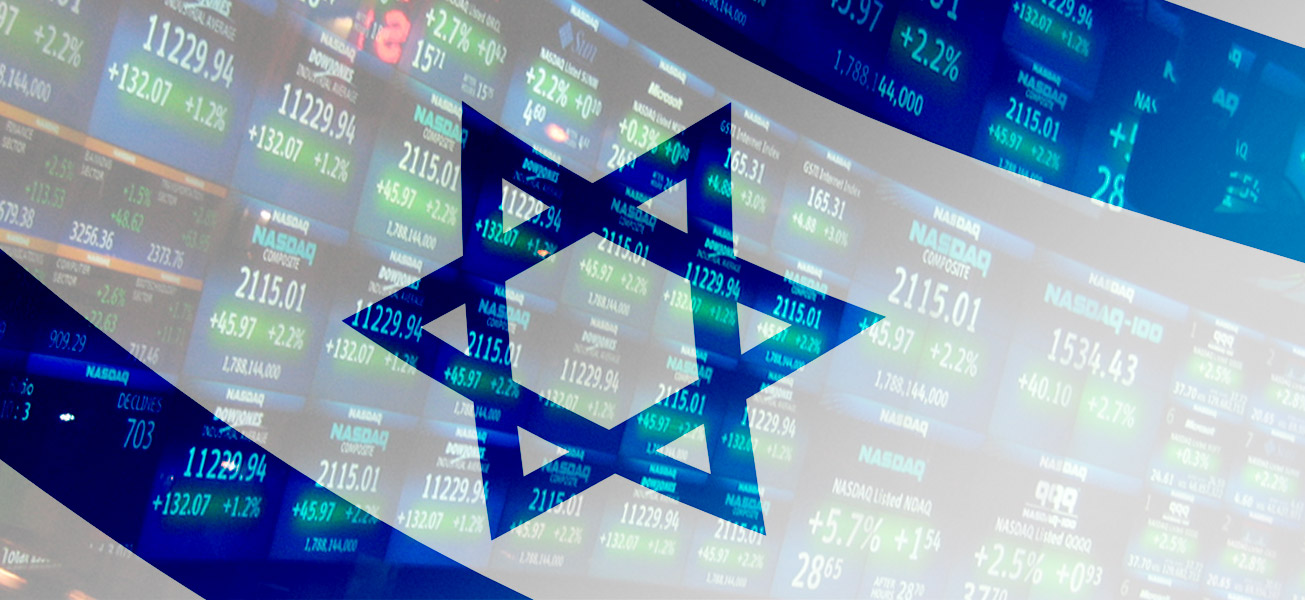 A Remarkable Journey: Israel Maimon and the Path to Israel Bonds
By James S. Galfund
November 20, 2017
Israel Maimon, president and CEO of Development Corporation for Israel/Israel Bonds, is returning from an event at which four generations of Bonds supporters were present.  As he marvels over the loyalty Israel Bonds generates, he reflects on the remarkable journey that led him to an organization that, since launching in 1951, has realized over $40 billion in worldwide economic support for Israel.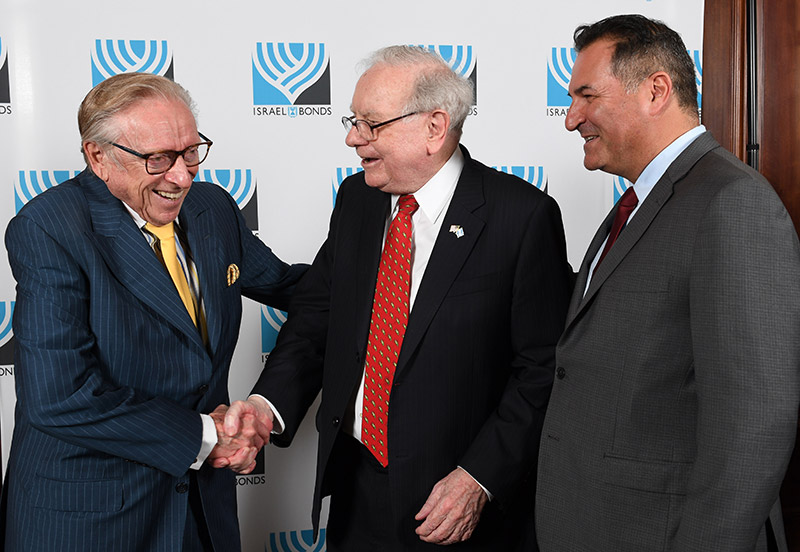 Israel Maimon (right) with famed investor Warren Buffett and prominent real estate developer Larry Silverstein at a June 2017 Israel Bonds dinner in New York. (Photo: Shahar Azran)
Although a Sabra, Maimon explains the road to Bonds did not begin in Israel, but rather in Iraq and Tunisia, birth countries of his parents.
Maimon, who in October marked his first anniversary as president & CEO, says his mother and father immigrated to Israel in the early '50s, arriving "with little to nothing."  They met at a Tel Aviv bus station (it took his father several tries to summon up the courage to speak to his future bride), married and started a family.  Maimon was the first of three children.
Protecting Israel's Northern Border
After graduating high school, Maimon, like most Israeli 18-year-olds, went directly into the Israel Defense Forces.  When asked to give three preferences for his service, Maimon responded, "Golani, Golani, Golani." He was attracted to the Golani Brigade not only as an elite fighting unit, "but also as a brotherhood."
Maimon went on "dozens of missions in enemy territory in Lebanon" and moved steadily up the ranks, ascending to company commander.  He taught the Golani's squad commanders course, "training the next generation of Golani commanders how to lead, prepare attacks and be ready for all kinds of combat - in fields, in tunnels, in villages."
After four years of active duty, Maimon entered the reserves as a captain, and was subsequently promoted to major, becoming an operations officer in a reserve brigade, planning missions and directing combat operations.
The Path to Government
Post-IDF, Maimon studied law.  He began working at a firm, first as an intern, then as an attorney and finally as a partner.  Among the firm's biggest clients was the Likud party, setting the stage for the next phase of his career.
Over the next several years, he assisted Likud with legal matters "covering the entire spectrum.  I was up to here in politics," he says, raising his hand over his head.
He got to know two of Likud's biggest luminaries, Ariel Sharon and Benjamin Netanyahu and, in 2002, was tapped to be legal advisor for the Prime Minister's Office.
It was a post he never filled.  Sharon decided to call new elections, following which he appointed Maimon government secretary instead.
It was a role Maimon calls "among the most influential positions in government, other than prime minister. I had a full picture because so many key issues were channeled through me. This was due to my close relationship with Sharon."
"The Fateful Calls"
Maimon was tasked with negotiating agreements with parties seeking to join the governing coalition.  He was especially proud of being in a government with Shimon Peres.  "Imagine what it was like," he says, "to be sitting between two lions of Israel – Peres on my left, Sharon on my right."

Then-Government Secretary Israel Maimon with "two lions of Israel," Ariel Sharon and Shimon Peres (Photo courtesy Israel Maimon)
As government secretary, he was involved in significant decisions, including disengagement from Gaza and four communities in Samaria, which in turn led to Sharon leaving Likud and forming Kadima.
No decision, however, was as critical as the one Maimon had to make the night of January 4, 2006.  Sharon had suffered a massive stroke at his Negev ranch, slipping into a coma from which he would never emerge.
An ambulance raced from the ranch to Jerusalem's Hadassah Hospital, where Maimon was waiting. "I was the most senior member of Sharon's team. It fell to me to assess the situation."
After consulting hospital doctors and Sharon's personal physician, Maimon knew he faced an unprecedented challenge.  "The world was watching. I couldn't leave Israel with a leadership vacuum."
An expert on government and Israel's Basic Law, Maimon knew "if the prime minister cannot function, the law requires his responsibilities to be transferred to the deputy prime minister."
And so, he made what he termed "the fateful calls" to Deputy Prime Minister Ehud Olmert and Attorney General Menachem Mazuz. "I was devastated. I knew it was the end of an era."
Facing Tomorrow and Israel Bonds
After Kadima's subsequent win in national elections, now-Prime Minister Olmert asked Maimon to remain as government secretary.  Eighteen months and 4 ½ years of total service later, Maimon decided "it was time to move on."
Back in the private sector, he began a seven-year relationship with Shimon Peres, who had recently been elected Israel's ninth president, on the Facing Tomorrow conference.  It was, says Maimon, "the biggest, most important international conference in Israel."  Facing Tomorrow was "a celebration of the mind, attracting thousands of participants from all over the world."
In March 2016, his life took another turn when Finance Minister Moshe Kahlon, who knew Maimon from his tenure as government secretary, suggested recommending him to the Israel Bonds board for consideration as president & CEO. Kahlon wanted someone, Maimon recalls, "who was not only a doer, but who could proudly represent Israel. I met with him over the following days and said yes." The board subsequently approved Maimon for the position.

Israel Maimon welcomes Finance Minister Moshe Kahlon to Washington, DC, for a July 2017 Israel Bonds event (Photo: Freed Photography)
One year in, Maimon articulates his vision going forward:  "First, I will focus on young people, using all tools at my disposal to establish the next generation of Jewish leadership. Next," he continues, "I want to increase awareness of Israel Bonds, both domestically and internationally.
"Finally," he says, "while Israel bonds represent a good investment, there is another part to the story.  The most important thing is securing the future of the world's only Jewish state. This will be achieved not only through a powerful army and global alliances, but also through a robust economy supported by the Israel Bonds organization.
"The stronger Israel is," Israel Maimon states emphatically, "the stronger the Jewish people will be, wherever they may live."

Israel Maimon addresses the prestigious Israel Bonds Prime Minister's Club Dinner, attended by hundreds of Bonds supporters from three continents (Photo: Shahar Azran)
Exploring 'Israel's Biggest Infrastructure Project of All Time,' 82 Feet Below Street Level
By James S. Galfund
In convening the Israel Bonds founding conference at Jerusalem's King David Hotel in September 1950, Prime Minister David Ben-Gurion assured assembled delegates of "a much brighter future that is not far away."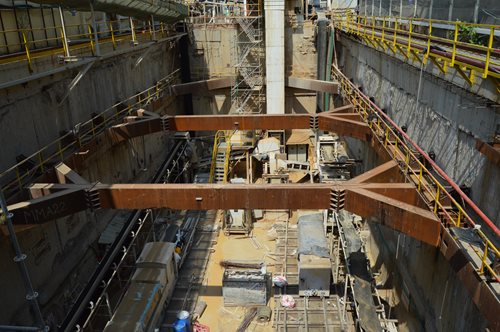 Looking down at the Allenby Street construction site, 82 feet below ground level
Arriving in Israel in July as a representative of Development Corporation for Israel/Israel Bonds, I embarked on a quest to uncover the myriad ways in which Ben-Gurion's vow achieved fruition.
My journey of discovery began with a look at the progress of the Tel Aviv Metropolitan Mass Transit System. For residents of the traffic-choked region who have endlessly sought a better way, Ben-Gurion's promised "brighter future" has been long in coming.
Overcoming Skepticism
Now, however, relief is finally in sight. Construction of the Red Line, the first phase of an ambitious transportation project that one day will be part of a sophisticated network of above-and-below ground rail lines, commenced August 2015 and is scheduled for completion by October 2021.

A massive 1,800-ton boring machine excavates a Red Line tunnel
Galit Porat, spokesperson for NTA – the government-owned company responsible for the design and construction of the system – describes initial reaction to the announcement as "pessimistic." After all, plans for a rail line – some of which never got off the ground, while others were partially implemented and subsequently abandoned – were floated as far back as 1892, long before the establishment of Israel, or, for that matter, Tel Aviv.
No wonder then, that Porat emphasizes that "communication with the public was very important. It was very strict company policy to answer every question or complaint, and offer solutions if possible." She explains CEO Yehuda Bar-On "was committed, from the very beginning, to the October 2021 deadline," which, Porat confirms, "is progressing on schedule."
"Israel's Biggest Infrastructure Project of All Time"
Of course, mollifying a skeptical public was only one aspect of embarking on what Porat terms "Israel's biggest infrastructure project of all time," one that will ultimately employ the skill sets of over 10,000 people.
Considering the sheer scope of the initiative, the NTA published international open tenders for contractors and consultants to tap into their knowledge base and solicit their participation. Companies from countries including Canada, China, France, Germany, Italy, the UK and the U.S. are currently involved in the project.
With 34 stations, 10 of which will be below ground, the Red Line is projected to cost $4.34 billion, due in part to unique challenges inherent in constructing tunnels in close proximity to the Mediterranean Sea. Unlike the Tel Aviv – Jerusalem fast rail, which entailed digging through hilly, rocky terrain, engineers in Tel Aviv had to tackle sand and water. Porat says wet sand makes it "easy to excavate but hard to stabilize, and we've had to cope with a lot of water at every worksite." At one point, she relates, scuba divers were sent in to cast a concrete floor when the shaft was covered by water.
A more conventional approach was the utilization of massive tunnel boring machines, each stretching nearly 500 feet in length and weighing 1,800 tons. Eight were used in the excavation of Red Line tunnels.
82 Feet Below Street Level
Now, it was time for a look. Hardhat firmly affixed, I follow Porat down into the Allenby Street tunnel, part of a continuous 7-mile underground stretch of the Red Line's nearly 15-mile length.
Before descending, I glance up at a mural of Theodor Herzl looking down on the site. His watchful gaze seemed appropriate, since the Tel Aviv mass transit project, is, in its own way, like another manifestation of Herzl's famous prophecy, "If you will it, it is no dream."
Eighty-two feet below street level, the site buzzes with activity. The banging of tools and hum of machinery echo throughout the tunnel. Sparks fly from acetylene torches. Seemingly endless quantities of sand are efficiently removed. Workers of various nationalities are busily excavating tunnels and constructing stations. "It's exciting," observes Porat, "to see how they work together."

"If you will it, it is no dream" – a watchful Theodor Herzl gazes down on a Red Line construction site, the culmination of over 100 years of searching for transportation solutions in Tel Aviv
"It will Change the Lives of Many People"
When the Red Line opens, it will be a transformative moment for the Greater Tel Aviv region. It is projected 70 million people will utilize the system annually, with daily ridership approaching a quarter of a million passengers. Trains over 55 feet long, with a 450-person capacity, will stop at stations every 3-5 minutes, depending on the time of day. It's estimated the Red Line will inspire between 80,000-100,000 liberated drivers to leave their cars behind.
Porat asserts the project will have a positive impact not only on transportation, but also "urban development and lifestyle," noting the large number of commercial projects being built all along the line.
She says this initial success has prompted authorization for construction of the next phase of the master plan, the purple and green lines, budgeted at a combined $8 billion.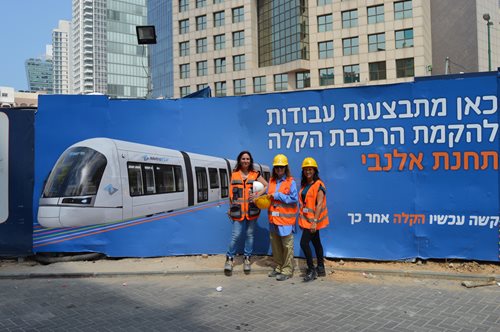 From left: NTA Spokesperson Galit Porat, visitor Diana Shoemaker and Israel Bonds International Business Development Director Sara Friedman next to a sign promising better days ahead
Porat tells a story about Meir Dizengoff, legendary first mayor of Tel Aviv, who would often be seen riding his horse down the streets of the new city. When asked about building a tram, Porat relates, Dizengoff dismissed the notion, saying a cultural center would better serve the city's needs.
More than a century after Dizengoff's brushoff, Tel Aviv abounds in cultural centers. And soon, it will also have a state-of-the-art transportation system. When that happens, Porat predicts confidently, "It will change the lives of many people."
And with that, phase one of my Israel Bonds journey of discovery was complete.
Photos: James S. Galfund
My Passion for Israel and Vision for the Future of National Women's Division
By Shira Lewis, Chair of Israel Bonds National Women's Division
I began my career as an analyst at a financial firm on Wall Street after earning my undergraduate degree at Columbia University and later received my MBA in Finance from NYU Stern. As the years went by, I made the move to the suburbs and established residence in Rockland County, NY, where a local Development Corporation for Israel/Israel Bonds representative and I connected over our love for Israel and pride in our Jewish heritage.

From right, Shira Lewis, Chair of Israel Bonds National Women's Division, pictured next to MK Sharren Haskel and Laura Orzy, Associate Chair, Israel Bonds Women's Division
Not long after, my involvement with the organization rapidly grew, and throughout my years as a lay leader and board member I have held several local positions.  On the national front, I have been a member of the DCI Board of Directors for several years, served as Associate Women's Division Chair and most recently, Chair of National Women's Division. I also became involved with our New Leadership Division, and since this division didn't exist when I began my relationship with Bonds I'm thrilled that this new area of development was initiated to introduce new investors and unite council and delegate members who are equally inspired to contribute to the success of the State of Israel and its people.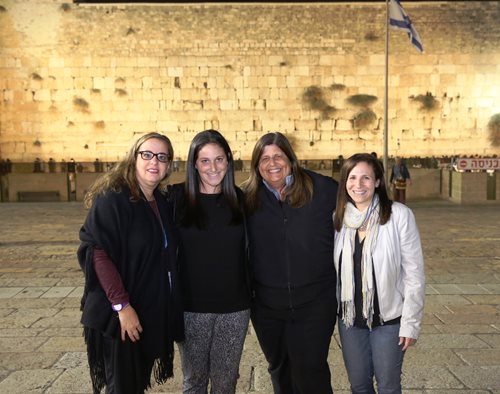 Shira Lewis (far right), stands next to Barbara Hutter, Barbara's daughter Jessica Hutter and Lauren Kramer in front of the Western Wall
In January 2018 I will be stepping down from my role as National Women's Division Chair, and I am extremely proud to have witnessed the division and organization grow over the years.  I will be celebrating my last event as Chair at the New Leadership Division expedition to Austin, TX in December of this year.
Bringing people to Israel is my true passion. I feel a rush of excitement when I get to show people who have never been there the beauty and vigor of this great nation, and I enjoy learning from their perspective as they experience Israel through unbiased eyes with new friends.  I have been privileged to lead two delegations to Israel during my term as National Women's Division Chair, and during my first delegation in November of 2015, I had the honor of presenting the Israel Bonds Woman of Valor pin to Nechama Rivlin, Israel's first lady, at a special meeting in which Mrs. Rivlin hosted fellow delegates at Beit HaNassi, official residence of the president of Israel. Connecting people closer to Israel and uniting the Jewish people through the Bonds organization and joining in its mission will always be dear to my heart.  I have been to Israel countless times, and my adoration for the Jewish homeland continues to grow as I experience new landmarks and developments as the country rapidly evolves.
Every place is so outstanding, every person is unique and each has their own personal, emotional and spiritual goals as they embark on their journey to Israel.  Israel bonds not only enhance Israel's economy but they also provide support for the achievements of Israel's dynamic people.  The works of innovators, thought leaders, industrial pioneers and entrepreneurs alike are enabled by Israel bonds investors, as Israel bonds support every aspect of Israel's economy.  Support of the Bonds organization by global investors is so important to the prosperity of the Jewish homeland.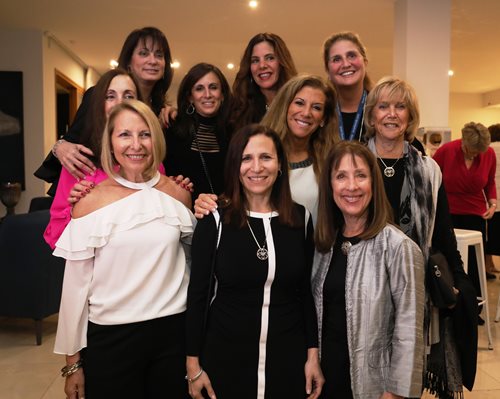 Shira Lewis (front center), stands with Israel Bonds National Women's Division Israel delegates from Israel Bonds Rockland County, NY office
Israel is doing so many remarkable things including immigrant absorption. During the recent delegation we visited an Ethiopian Village by the name of Beit Ambousa, located in Gedera just outside of Tel Aviv. Beit Ambousa is home to Ethiopian Jews who departed Africa due to persecution and have sought refuge in a community that allows them to thrive and freely express their culture and practice the Jewish faith.  We were fortunate to be invited to the womens' homes where they prepared authentic Ethiopian meals and encouraged us to learn from their ways in caring for their families as matriarchal leaders.
We also met with female IDF soldiers on the delegation who were most welcoming, and there was a mutual appreciation and connection. We also met with dignitaries such as Nathalie Mimoun, Honorary Consul of France in Israel, MK Sharren Haskel and other Knesset leaders, and legacy visionaries such as Dalia Rabin, daughter of Israeli Prime Minister Yitzhak Rabin z'l as we toured the Yitzhak Rabin Center in Tel Aviv. All of these individuals are making a difference through their tremendous work and the National Women's Division is honored to share in their accomplishments.
From the moment I assumed the role of Chair three years ago, my vision for the Israel Bonds National Women's Division has always been to think broadly and creatively to appeal to new women rather than viewing expansion through a myopic lens. We must cultivate a new generation of female leaders, and in order to achieve this we must take care and consideration in the notion that we will not hold these positions forever and our successors' preparedness is vital to the efficacy of their tenure and to the Bonds organization.  During my term as Chair we have initiated a joint Women's Division/New Leadership group in order to develop and nurture the next generation of women leaders.  We also carefully selected outstanding younger leaders to join us on our past two delegations to Israel so that they can experience first-hand the important role of women as supporters of Israel Bonds and in Israeli society as a whole.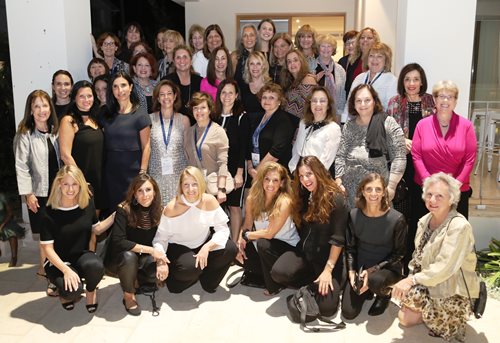 Shira Lewis pictured with Israel Bonds National Women's Division 2017. Israel Delegation participants and Nathalie Mimoun,Honorary Consul of France in Israel, at the home of Ms. Mimoun
My joy of sharing Israel with others, exploring historic sites and illustrious landscapes together, and bringing them closer to their heritage and to the people of this great land will always be a part of who I am, as a woman and as an enduring advocate of the State of Israel. I always say, nothing sells Israel quite like Israel itself, and it becomes easy for many individuals to solidify their connection when they experience the magnificence and celebrated grandeur of this extraordinary country I am proud to call my second home.
Shira Lewis is the volunteer Chair of Development Corporation for Israel/Israel Bonds National Women's Division.
Photography by Yossi Zamir
Witnessing Israel's Development through the Prism of Israel Bonds
By James S. Galfund
As he convened the historic September 1950 conference leading to the creation of Israel Bonds, Prime Minister David Ben-Gurion told delegates, "You will have an opportunity to see something of what is being done in this country, (which) you will see on the slopes of Jerusalem, in Galilee, on the shores of the Mediterranean, in the vast spaces of the Negev."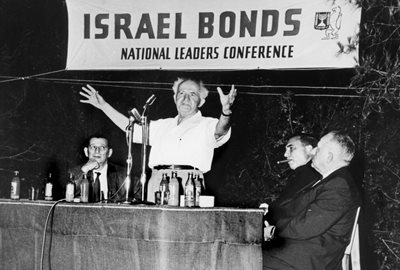 Prime Minister David Ben-Gurion welcomes Israel Bonds leadership to Jerusalem
Renowned as a visionary, even Ben-Gurion could not have foreseen the sheer scope of Israel's development in these regions, and Israel Bonds, the organization he founded, played a significant role in making it possible.
Earlier this year, Finance Minister Moshe Kahlon congratulated Israel Bonds on exceeding $40 billion in worldwide sales since inception, stating, "Since its founding, Israel Bonds has been a cornerstone of Israel's economy.  Crossing the $40 billion mark exemplifies the organization's dedication to Israel, and the way in which its message of economic support has resonated on a global scale. On behalf of the government and people of Israel, I wish to thank Israel Bonds and its worldwide client base for helping to build every sector of our economy."
Warren Buffett, the world's most famous investor, has also praised the partnership between the Bonds organization and Israel. In June, participating in his second Israel Bonds event in less than a year, the 'Oracle of Omaha' declared investing in Israel bonds represents "a deserved endorsement of a wonderful country."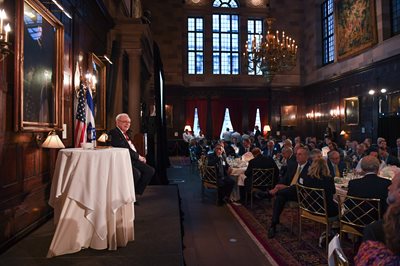 Warren Buffett calls Israel bonds "a deserved endorsement
of a remarkable country"  (Photo: Shahar Azran)
Witnessing Israel's rapid development is an extraordinary experience for Israel Bonds supporters.  National Women's Division Chair Shira Lewis says, "It seems like the world today revolves around Israeli technology and the Israeli concept of making the world a better place. One is hard pressed to go through daily life without being affected by Israel in some way, large or small."
Israel Bonds member Dr. Andy Hutter is also a frequent visitor to Israel: "I have had the privilege of co-chairing five medical delegations on behalf of Israel Bonds.  Seeing how Israeli technology is saving lives and changing the world has been an unforgettable memory for every participant."
I recently had my own opportunity to visit Israel for a look at three areas in which the country has exceled – water solutions, sustainability and transportation.
Water Solutions
The National Water Carrier, a frequent stop for Israel Bonds delegations, is arguably Israel's most iconic undertaking. Begun in the late 1950s, the carrier stretches from the Sea of Galilee to the Negev, and was instrumental in the realization of Ben-Gurion's determination to "make the desert bloom."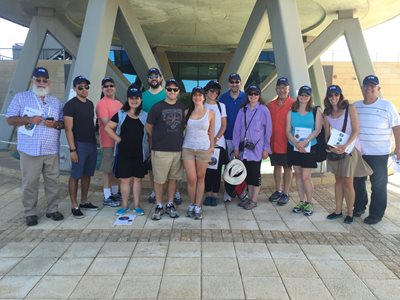 Members of the Israel Bonds staff delegation pay a visit to Israel's iconic National Water Carrier, the nation's most ambitious infrastructure project (Photo: James S. Galfund)
But there was a problem.  As Israel's population grew, the amount of water needed for drinking rose exponentially.  Increasing amounts of Israel's scarce water resources had to be diverted from agriculture to the growing requirements of its citizens.
That's where Israel's well-established reputation for innovative solutions came into play.  With the Mediterranean Sea as the country's western border, desalination became an obvious answer. Now, eighty-five percent of Israel's drinking water comes from the sea.
Today, Israel's water supply is no longer dependent on nature. Even in the event of a major drought, Israel still would have sufficient resources to meet the needs of its population.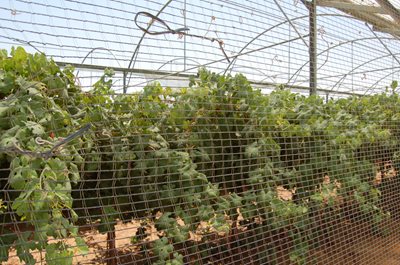 Vineyards in the desert region of Arava highlight Israel's successful approach to innovative water solutions (Photo: James S. Galfund)
Sustainability
Israel is at the forefront of groundbreaking technology and innovative environmental solutions.  An outstanding example of the way in which Israel combines the two is the Shafdan wastewater treatment plant, located five miles south of Tel Aviv.
Over the course of a year, Shafdan treats 35.6 billion U.S. fluid gallons of wastewater that supply fully 70 percent of the irrigation needs of the Negev and 10 percent of the water needs of the entire country.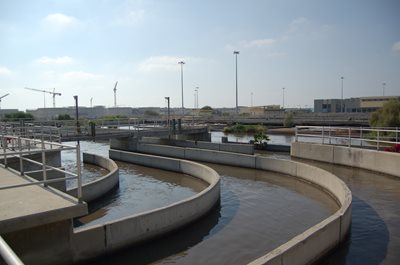 The Shafdan wastewater treatment plant provides 70 percent of the Negev's irrigation needs and 10 percent of the water needs of the entire country (Photo: James S. Galfund)
Another example of Israel's cutting-edge approach to green solutions is Ariel Sharon Park, once a massive landfill that is now a model of sustainability. At one time, the huge landfill contained so much trash that it rose to a height of nearly 200 feet and was dubbed 'Trash Mountain.'
Today, thousands of Israelis flock to Ariel Sharon Park to enjoy its hiking trails, bike paths, artificial lakes and groves of trees. International representatives from countries including China, Sri Lanka and Mexico have also come to the park seeking advice that will enable them to benefit from yet another example of Israeli ingenuity.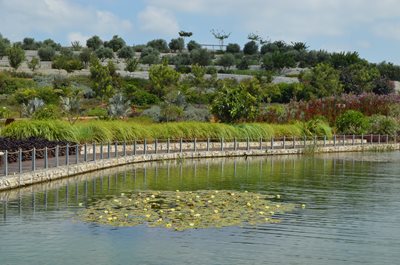 Ariel Sharon Park's tranquil lake, complete with floating lily pads and a border built from recycled concrete, is a far cry from the waters of the former landfill that were once referred to as 'garbage juice' (Photo: James S. Galfund)
Transportation
During an Israel Bonds delegation to Israel, New Leadership Council member Jason Langsner listened intently to Jerusalem Mayor Nir Barkat. "I vividly remember Mayor Barkat discussing planning goals associated with construction of the new high speed train connecting Tel Aviv and Jerusalem. He predicted that as a direct result of the project, Jerusalem would construct 13 new towers, adding over 10 million square feet of office space in the coming years."
The high-speed rail project is indeed a game-changer. After overcoming the kinds of delays inherent in an enterprise of this magnitude, the Capital Express is expected to become fully operational next year.

Custom-made boring machines carve  tunnels out of formidable terrain. Every tree, and even the rocks, are carefully moved and then placed back exactly as before (Photo: James S. Galfund)
When that happens, passengers will race from Tel Aviv to Jerusalem on trains reaching speeds of 100 mph. The journey, currently a tedious 1 ½ hours each way, will be whittled down to just 28 minutes.
The high-speed electric trains will speed along a complex network of bridges and tunnels being hailed as one of the largest infrastructure projects in Israel's history.

Israel's high-speed trains will race 100 mph along a network of eight bridges and six tunnels (Photo: James S. Galfund) 
"An Extraordinary Success Story"
Seeing Israel's amazing advances in so many fields always inspires the nation's supporters.  Israel Bonds Chairman of the Board Richard Hirsch sums it up: "Every time I've been to Israel, I've never failed to be moved by the scope of development.  The fruition of Ben-Gurion's vision of a worldwide partnership with the Diaspora through Israel Bonds can be seen throughout the country. Together, every Israel bond investor has played an important part in this extraordinary success story."