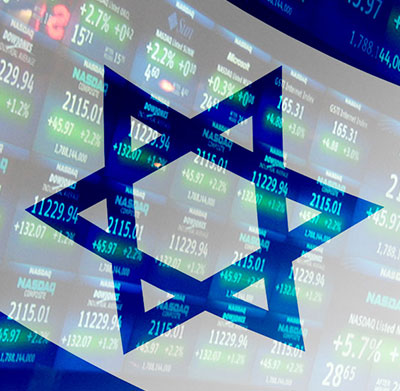 Israel Bonds International News
Israel Bonds International holds global event with Major General Elyezer Shkedy, former Commander of the Israel Air Force
On April 20, Israel Bonds International held a global event with Major General Elyezer Shkedy, former commander of the Israel Air Force, in commemoration of Yom HaShoah, international Holocaust Remembrance Day. Maj. Gen. Shkedy spoke to Bonds leadership across three continents highlighting his personal testimony "From Son of Holocaust Survivors to Commander of the Israel Air Force: an Israeli Story," as he recounted his more than 30 years of service in the Israel Air Force including four years as commander.
This worldwide event, in collaboration with Israel Bonds in the U.S., reiterated the shared unity and affirmation of 'Never Again' across the expansive and rapidly evolving Israel Bonds network, and emphasized the importance of perpetuating the memory of the six million Jews who lost their lives in the Holocaust in addition to recognizing the heroism of those who managed to survive. The briefing, an installment of the ongoing series 'B'yachad We Bond: Israel Bonds in Your Home,' brings together global supporters of the Jewish nation and is part of a strategic effort focused on organizing insightful, thought-provoking discussions led by inspirational Israeli visionaries who have overcome challenges with bravery and resilience.
---
Pioneering Property Lawyer Lady Ruth Morris speaks at Israel Bonds Women's Division International Event
On January 22, 2020, the trailblazing legal expert spoke about 'sisterhood, mentoring and women's empowerment,' at a panel discussion chaired by Jewish journalist Sandy Rashty, that featured Justine Zwerling, head of Israel Primary Markets at the London Stock Exchange, and British Business Bank marketing director Rebecca Simon. Lady Ruth Morris, who retired in 2017 after 60 years on the roll, discussed her 1960s battle to become one of the first female partners at her law firm at the event hosted by Israel's Bank Leumi in London.
---
Israel Bonds Among Sponsors of 14th Pan American Maccabi Games
Israel Bonds was a proud sponsor of the 14th Pan American Maccabi Games that took place in Mexico City July 5- 15. The quadrennial games showcased Jewish athletes from North, Central and South America, as well as Israel and additional countries, who competed in dozens of sports.
Speaking at the gala opening ceremonies on July 7, Bonds President & CEO Israel Maimon declared, "It is an honor for me, and the global enterprise I represent – Israel Bonds – to share this special day with you. These games, and the competition and camaraderie they inspire, represent the finest ideals of the Jewish spirit."
---
International Delegation Visits Poland and Israel
An international delegation of Israel Bonds leaders from seven countries convened in Poland for the International March of the Living on May 2, marching with thousands of others along the somber route from Auschwitz to Birkenau. Bonds President & CEO Israel Maimon took part in a ceremony at which six torches were lit in honor of the six million victims of the Holocaust. Maimon joined in lighting the fourth torch, in memory of the rabbis, scholars, and teachers lost in the Shoah. He later declared, "A proud Jewish nation and its powerful armed forces are the ultimate guarantee that the words 'Never Again' will forever be an unbreakable promise."
Many delegates continued on to Israel to observe the commemoration of Yom HaZikaron (Memorial Day) and participate in the festive celebration of Yom Ha'atzmaut (Independence Day). Delegates also journeyed south to pay a solidarity visit to the border community of Sderot, which, throughout the years, has been subjected to thousands of rockets and mortar rounds launched by Gaza terrorist groups.
---
Israel Bonds/Canada-Israel Securities, Limited co-host star-studded event to sing peace anthem "One Day"
On April 2, 2019 at an event co-hosted by UJA Federation of Greater Toronto and Israel Bonds / Canada-Israel Securities, Limited, close to 2,000 people came together from across Toronto's vibrant Jewish community, joined by Canadian Prime Minister Justin Trudeau, Toronto Mayor John Tory and numerous other dignitaries, at The Westin Harbour Castle, Toronto, to sing Matisyahu's peace anthem "One Day" with Israeli musical social initiative, Koolulam. Israel's President Reuven Rivlin joined the special occasion by video.
---
Israel Bonds European Women's Division launches on International Women's Day
Israel Bonds France, Israel Bonds Deutschland and Israel Bonds UK held events in Paris, Frankfurt, and London to mark International Women's Day on March 8, while kicking off the launch of the Israel Bonds European Women's Division. Israel Bonds Women's Division Chair Laura Orzy who is heading the initiative that will bring interesting and topical events to women investors commented, "Israel has an exemplary history of female leadership and we are proud to be able to recognize that on International Women's Day."
---
Israel Bonds Round Table discusses trade relationship between the UK and Israel post Brexit
The second 'Israel Bonds Round Table' was held in London on February 26 and addressed by Minister Yariv Becher, Head of Economic and Trade Mission to the UK for the Embassy of Israel. The conversation was based around the trade relationship between the UK and Israel post Brexit. These forums, hosted by Israel Bonds UK, Israel Bonds Deutschland, and Israel Bonds France, aim at bringing relevant content to the international community and illustrate the global scope of the Bonds organization.
---
Israel Bonds Round Table kicks off in Paris
On February 21, Israel Bonds France launched the 'Israel Bonds Round Table' - a series of forums aimed at connecting Israel Bonds supporters around the world to explore themes and values passed on by the association. The inaugural session, hosted in Paris, had the privilege of receiving former director of investments at Edmond de Rothschild Asset Management Philippe Uzan. Throughout the year, this global initiative invites select guests and attendees from Paris to London, Berlin, Dusseldorf, Frankfurt, Geneva, Munich and Toronto.
---
Israel Bonds UK sponsors first ever Jewish Women's Business Network conference at the London Stock Exchange
Israel Bonds UK proudly sponsored the first ever Jewish Women's Business Network conference on January 22 at the London Stock Exchange which culminated with a prestigious market opening attended by hundreds of women along with other Bonds leaders including Bonds President and CEO Israel Maimon and Women's Division chair Laura Orzy.