NOTE: Keep your Israel Bonds pitch down to a maximum of 3 minutes.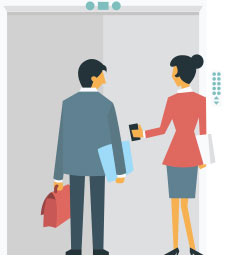 You're doing the bonds pitch for the High Holy Day campaign – and guess what? On the way to a meeting, you're standing in an elevator with a member from your congregation.
Guess what, you ask. I'm doing the Israel bonds speech this year at our synagogue. Your co-member says, Ok, nice. But what's an Israel bond and why should I buy them?
It's time to roll out your big elevator pitch.
You have an elevator pitch, right? Right?
Now you do, below. Use this sample speech to help keep your Israel Bonds pitch to a maximum of 3 minutes.
Hit the high points and don't forget to mention that this year - FOR THE FIRST TIME EVER - Canadians can now buy Israel Bonds ONLINE!
Big News!
---
Sample speech:
The very first Israel bond signed by David Ben-Gurion, read:
"The State of Israel, for Value Received, Hereby Promises to Pay the Owner…"
With these words, in May of 1951, the State of Israel began a remarkable promise, and forged an indelible Bond between the people of Israel and friends of Israel around the world.
You might think that an Israeli financial product, sold only in the Diaspora for over 68 years, would be familiar to almost everyone.
But many still don't know. So here it is:
Israel Bonds are investments issued directly by the State of Israel.
When you invest in Israel bonds, you are lending money to Israel, which uses the funds to help strengthen a modern, innovative and diverse economy.
In return for the loan, Israel agrees to pay interest to you, the bondholder, and repay the loan at the end of its term. Simple!
And by the way, this is an investment vehicle that has gained significant traction on Bay Street (and Wall Street, for that matter). Israel bonds are recommended by more and more Financial Advisors, held by major Canadian banks and Pension Funds.
"The State of Israel, for Value Received, Hereby Promises to Pay the Owner…"
Imagine its 1951 and think about that crazy promise for a moment. Israel was a very different country. Economically disadvantaged. Fighting for survival. No real natural resources to speak of. Hardly any infrastructure… Ben-Gurion and other champions of Israel bonds were undeterred.
The Israeli Treasury placed an ambitious goal of selling $25 million dollars in the first year. To the government's amazement, first year sales soared to $52 million. But the promise to repay was yet to be tested, and history tells us that many early investors said if they ever saw their money again, it would be a miracle.
Well, as we know, it was Ben-Gurion who famously said, "In Israel, in order to be a realist, you must believe in miracles!" Sales now routinely surpass $1 billion dollars per year, and total sales since inception have crossed $43 billion dollars worldwide. Israel has never missed a payment!
And yet, these bonds are defined by more than a positive balance sheet. By buying Israel bonds, you are also making a direct connection with the people of Israel.
The magic happens when you write a cheque made payable to the "State of Israel." Not Israel Bonds. Not the Israel bonds organization… directly to the "State… of… Israel."
And the magic happens this year, in a new way. For the first time ever, Canadians can now buy Israel bonds online. And when you buy Israel bonds online through the Israel Bonds Canada eCommerce website, you also make your payment directly to the State of Israel.
Over and above the financial rates of return, this direct connection with Israel is the real payment, the real dividend, the deeper value.
The beauty of Israel bonds is that they facilitate a level of durable engagement through meaningful financial investments. If you believe in the future of the State of Israel, there is no better way to express that belief than by creating your own stake in that future. That's why Israel welcomes a $36 Israel eMitzvah bond with the same enthusiasm as a 5 thousand, 25 thousand or 1 million dollar Israel bond; a $36 bond for you and every member of your family represents a personal relationship with the world's one and only Jewish state.
"The State of Israel, for Value Received, Hereby Promises to Pay the Owner…"
As bondholders, as investors in Israel's future, let us return that promise with one of our own:
That our connection is unshakeable;
That our bond with Israel is unbreakable:
And that we stand with Israel now and forever.
Todah Raba. Am Israel Chai!
We wish you, your family, loved ones and the people of Israel a peaceful, sweet and prosperous new year.
Shana Tova U Metukah!
Raquel Benzacar Savatti
Chief Executive Officer and the entire staff of Israel Bonds
ISRAEL BONDS/CANADA-ISRAEL SECURITIES, LIMITED.
Israel bonds must be held to maturity. Canada-Israel Securities, Limited disclaims the right to the exclusive use and registration of the Crest of Israel. This is not an offering. Investment amounts, interest rates and maturities available on all bonds will vary according to current offerings by the State of Israel. Rates, terms and bond issues as listed and/or advertised are subject to change or be discontinued without notice. As with any part of your financial plan, you should always consult with your financial advisor and/or accountant to ensure the plan is suitable for your situation. E/OE.
Copyright © 2019 Israel bonds are sold all year in Canada exclusively by Canada-Israel Securities, Limited.