Help spread the word about the ease and efficiency of buying Israel bonds online
The banners below help spread the word about a significant change that has made it easier to buy Israel bonds than ever before - buying Israel bonds online. Starting at a lower purchase price of only $36, this makes giving Israel bonds as meaningful gifts both easy and affordable — not only during the High Holy Days but all throughout the year.
We offer 2 sizes:
Full size Standing Banner: 31 x 84 in
Table-top Banner: 11 x 17 in
Order one or two and find a place to display them for your congregants.
In the order email, please indicate the name of your synagogue, the size of the banner(s) as well as the quantity.
Full size Standing Banners: 31 x 84 in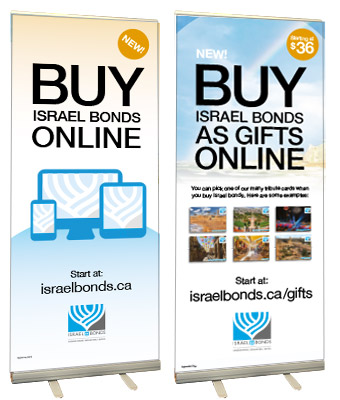 Table-top Banner: 11 x17 in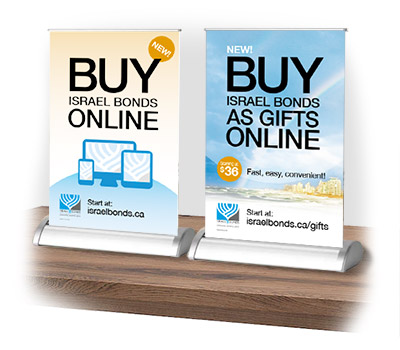 ISRAEL BONDS/CANADA-ISRAEL SECURITIES, LIMITED.
Israel bonds must be held to maturity. Canada-Israel Securities, Limited disclaims the right to the exclusive use and registration of the Crest of Israel. This is not an offering. Investment amounts, interest rates and maturities available on all bonds will vary according to current offerings by the State of Israel. Rates, terms and bond issues as listed and/or advertised are subject to change or be discontinued without notice. As with any part of your financial plan, you should always consult with your financial advisor and/or accountant to ensure the plan is suitable for your situation. E/OE.
Copyright © 2019 Israel bonds are sold all year in Canada exclusively by Canada-Israel Securities, Limited.