Warren Buffett Welcomes Israel Bonds Back to Omaha
June 7, 2018
Globally renowned investor Warren Buffett, chairman & CEO of Berkshire Hathaway, welcomed Israel Bonds back to Omaha on June 7 for the second Bonds event in his hometown and his third with the organization in the last 18 months. The event with the internationally-renowned investor and philanthropist helped secure $80 million in Israel bonds investments and intentions to invest at a gathering in which he met with individuals who each made a new, minimum $1 million Israel bond purchase to attend. The event took place at the University of Nebraska Medical Center's Fred & Pamela Buffett Cancer Center.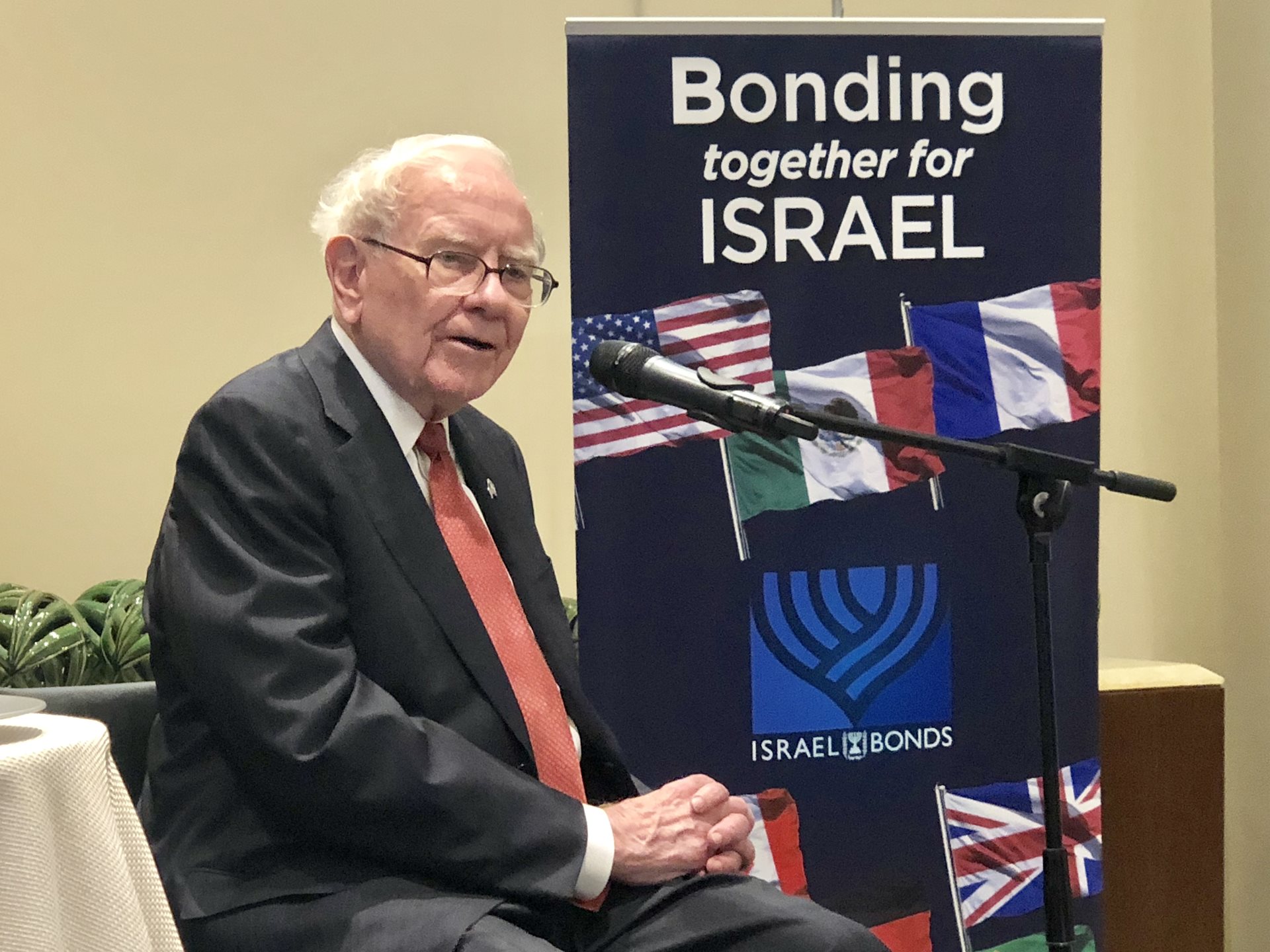 The exclusive evening with the famed 'Oracle of Omaha' included a dinner reception and Q&A session attended by over 70 investors from the U.S. and Canada, in addition to Israeli dignitaries and members of the diplomatic corps, among them Finance Ministry Director General Shai Babad; Israel's Permanent Representative to the United Nations, Ambassador Danny Danon; and Consul General of Israel in New York Ambassador Dani Dayan.
Buffett, who in 2006 made Israeli tool company ISCAR Metalworks his first major overseas acquisition, spoke warmly of the Jewish state, noting, "I've lived through Israel's entire 70-year history and I believe it is one of the most remarkable countries in the world." He emphasized, "I'm delighted to own Israel bonds."
When asked why he remains committed to Israel and the Bonds institution, Buffett stated, "I have nothing but good feelings about what I am doing. The United States and Israel will always be linked. It is a good thing for Israel that there is an America, and it is a good thing for America that there is an Israel." He added that May 14,1948, the date Israel declared independence, "was a good day for the world."
Israel Bonds President & CEO Israel Maimon observed, "The Israel Bonds organization has played a significant role in the realization of one of Israel's most remarkable accomplishments – the building of a robust, resilient economy. Investors the world over, including Warren Buffett, have taken notice."
Bonds Vice President of Sales Stuart Garawitz announced sales associated with all three events – two in Omaha and one in New York – totaled $290 million, declaring, "This could not have happened without the full support of Warren Buffett."
Finance Ministry Director General Shai Babad, in citing positive economic markers for Israel including record foreign investment, low unemployment and consistent GDP growth, said, "We don't just see you as investors, we see you as great friends of Israel."
In addition to Buffett's own Israel bond holdings, Berkshire Hathaway's portfolio has included Israel bonds since the company's acquisition of GUARD Insurance in 2012, now known as Berkshire Hathaway GUARD Insurance Companies. GUARD is a holder of Israel bonds in its portfolio.
(Photo: David Radler)
You can do so much with Israel bonds!
| | |
| --- | --- |
| | Diversify your investment portfolio |
| | Maximize your RRSP, RRIF, TFSA, RESP, RDSP or Cash Account |
| | Enrich your Family Foundation or Pension Plan |
| | Donate to your synagogue or favourite charity |
| | Celebrate simchas by gifting a Mazel Tov bond |
| | Hold a bond jointly with your spouse or another loved one |
We wish you, your family, loved ones and the people of Israel a peaceful, sweet and prosperous new year.
Shana Tova U Metukah!
Raquel Benzacar Savatti
Chief Executive Officer and the entire staff of Israel Bonds
ISRAEL BONDS/CANADA-ISRAEL SECURITIES, LIMITED.
Israel bonds must be held to maturity. Canada-Israel Securities, Limited disclaims the right to the exclusive use and registration of the Crest of Israel. This is not an offering. Investment amounts, interest rates and maturities available on all bonds will vary according to current offerings by the State of Israel. Rates, terms and bond issues as listed and/or advertised are subject to change or be discontinued without notice. As with any part of your financial plan, you should always consult with your financial advisor and/or accountant to ensure the plan is suitable for your situation. E/OE.
Copyright © 2018 Israel bonds are sold all year in Canada exclusively by Canada-Israel Securities, Limited.