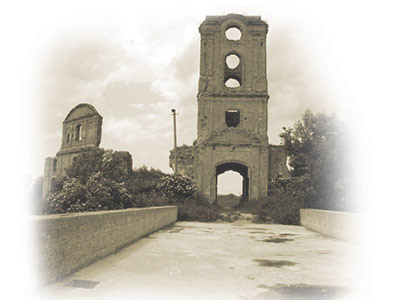 The story of Fania (Fanny) Wedro is one of hope, determination and hard work. In a time of ruin and despair, Fanny survived against all odds.
Fania Hellman, from Korzec, Poland was just 14 years old when the Nazis came and took away her father and all the Jewish men in the village. About a year later, Fanny, her mother and those Jews who remained were rounded up, marched to the market square, and placed in a ghetto. Fanny's mother lied and told a Nazi soldier that Fanny was 16 – old enough to work. Later, when word spread that a massacre of everyone living in the ghetto was about to happen, the Jews decided to set fire to the buildings, creating a diversion. Fanny was one of those able to escape. She survived the Holocaust by hiding in the forest after the Jews of Korzec (in eastern Poland, now Ukraine) were liquidated. She was too young to join the Jewish partisans but miraculously managed to survive on her own, in the forest, until the Russians liberated her in 1944.
In 1945 she was smuggled across numerous borders until she reached a Displaced Persons camp at Linz, Austria. Since Fanny had received an excellent Hebrew education, she was able to serve as a teacher in a camp school. In Linz, she met her love, Leo (Leib) Wedro who was from the town of Miedzyrzec, not far from her own town of Korzec. They were married in the camp and immigrated to Canada in 1948.
Fanny came to Canada on a contract as a domestic for a blind, elderly woman. After her contract ended Fanny plucked chickens for the Superstein family at Edmonton Produce. Fanny learned English as she went along watching the same (Western) movie at 25 cents a time again and again in the cinema. Fanny then moved on to work as a Store Manager for Service Department Store in the early 50s. When the store was sold, Fanny moved on to work for The Man with the Axe. Fanny and Leo Wedro bought their first grocery store located on 118 Avenue and 126 Street in 1956. In 1966 they opened a new store, The Wedro's Store in the CN Tower, then the tallest building west of Toronto. In 1972 they purchased the Cascades Inn on Main Street, Banff, Alberta.
The Wedro family lived in Edmonton for a total of 25 years and raised a son, Ben who lives with his wife and two daughters in Wisconsin. Fania's daughter Eleanor and her husband live in Calgary and their daughter Celina, lives and works in Los Angeles. Fanny and Leo worked in the hotel until they retired, 18 years later. They acquired a family home in Calgary in 1974.
In 1980 Fanny participated in a Women's mission with UIA and flew on the inaugural flight by El Al, from Tel Aviv to Cairo. In 1992 Fanny worked with the Miedzyrzec Town Association and Israel to put a Holocaust memorial in place and fought for a similar memorial for Korzec in 1993, restoring the desecrated Jewish cemeteries.
Since retiring Fanny has volunteered for many organizations. With her husband Leo they created numerous funds at the Jewish Community Foundation of Calgary to support Holocaust Education in Calgary. To this day Fanny Participates in the Holocaust Symposium held annually at MRU with Grade 12 participants, telling the story of her survival in Ukraine during the Holocaust. As part of her mission to raise awareness on the Holocaust Fanny worked tirelessly to make sure that the story of her family and the massacre of Jewish villagers in Eastern Europe would not be forgotten. Fanny and so many other survivors lost their whole families; when she heard of Father Patrick Desbois' mission to identify the location of mass graves and interview living witnesses, she realized that the history of her home town would be confirmed. His book, The Holocaust by Bullets, brought her comfort and hope that the forensic evidence of the Holocaust in Eastern Europe is finally being documented for future generations to understand. In 2012, Fanny was personally interviewed by Father Desbois in Detroit, Michigan.
In honour of Fanny's 87th birthday, her many friends came together and created the Fanny Wedro Holocaust Education Fund for the purpose of bringing Father Desbois to Calgary to share his work and the evidence he found, with the stories of eye witnesses he has interviewed in his mission to uncover the number of victims who perished in Eastern Europe.
Among other involvements were setting up the local chapter of CMDA here with Nava Wainer and Debbie Halpern. Fanny remains deeply invested in the organization to this day.
Fanny has visited Hawaii for many years with her beloved husband and continues to do so since his passing. Each winter Fanny would engage with her fellow Soroptimists who were involved in major philanthropic gifts for organizations on the island.
In 2009 in memory of her beloved husband, Fanny purchased a Torah for Congregation House of Jacob- Mikveh Israel. The whole community was present with family members and friends, and organizations being invited to inscribe a letter in the Seyum of the Torah.
At 92, Fanny continues to support many organizations and advocates strongly on Jewish issues and causes. She continues her philanthropic ventures through various Funds at the Jewish Community Foundation of Calgary. Fanny enjoys Mah-Jong, reading with the Book club and still travels annually to Hawaii. Fanny remains actively engaged in a fulfilling social network and continues to enrich the fabric of life in our Calgary community.
Photo credits: wimimedia.org.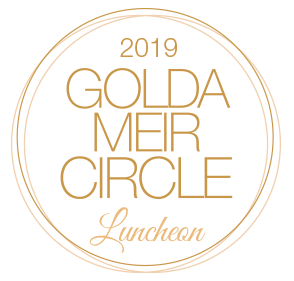 You are invited to receive your
Israel Bonds
Women's Division Honour Pins
at an intimate high tea
as we honour a woman of courage
Fania Wedro
with the
2019 Golda Meir Leadership Award
at the home of
Helmi & Ron Switzer
Sunday, September 15, 2019
2:00 pm - 5.00 pm
(Address to be provided upon RSVP)
Kashrut Observed