The Honourable Rona Ambrose
Deputy Chairwoman – TD Securities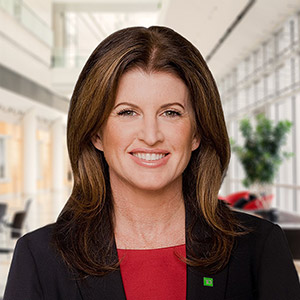 The Honourable Rona Ambrose is a dynamic national leader, a champion for the rights of women and girls, the former leader of Canada's Official Opposition in the House of Commons, and the former leader of the Conservative Party of Canada.
By the time she announced her retirement from politics in 2017, she had served as a cabinet minister across several government departments, including serving as vice-chair of the Treasury Board and as chair of the Cabinet Committee for public safety, justice and aboriginal issues.
Her service includes developing federal policies in military procurement, industrial strategies, health innovation and improvements to sexual assault laws. As the former environment minister, Rona was responsible for Canada's GHG regulatory regime in place across several industrial sectors today.
Rona is a passionate advocate for supporting and protecting disadvantaged women and girls. Her commitment to this fight led the global movement to create the "International Day of the Girl" at the United Nations. Rona serves on the board of directors for Plan International Canada and is the co-author of a best-selling children's book "International Day of the Girl: Celebrating Girls Around the World", Rona's proceeds from the book are donated to Plan International Canada.
Her efforts were recently recognized by the U.N. Women's She Innovates initiative as 1 of 100 women who are "Impossible to Ignore". Currently, Rona continues to press the Canadian government to ensure her legislation for mandatory sexual assault law training for judges becomes law. As an advocate for diversity, Rona is proud to be the first leader of her Party to march in a Pride parade.
Rona is a global fellow at the Woodrow Wilson Centre Canada Institute and served on the Government of Canada's advisory council for the renegotiation of NAFTA, and the advisory board of the Canadian Global Affairs Institute. Rona is also the recipient of the Famous Five Nation Builder Award, Public Policy Forum's "Service to Canada" Award, Friends of Africa Humanity Award, the U.N. Women Canada National Committee Award, and the Canadian AIDS Society leadership pin.
When she's not working, Rona is usually found in the Rockies horseback riding, hiking or skiing with her husband, JP, and three kids.
The Honourable Linda Frum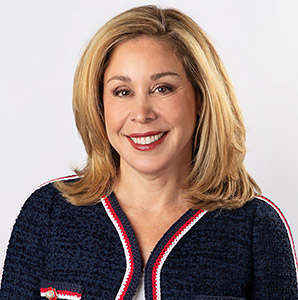 Senator
The Honourable Linda Frum was appointed to the Senate of Canada in 2009 by Prime Minister Stephen Harper. She represents the Province of Ontario.
She is a member of the Conservative Senate Caucus and is the former Conservative Senate Caucus Chair. She has served on the Senate Legal and Constitutional Affairs Committee, the Internal Economy, Budgets and Administration Committee, and the Banking, Trade and Commerce Committee. She currently sits on the Committee of Rules, Procedures and the Rights of Parliament and the standing Committee for the Library of Parliament.
A fierce advocate for human rights in Iran, Senator Frum has co-sponsored Iran Accountability Week on Parliament Hill. She is also known for her legislative efforts to eliminate foreign funding in Canadian elections. Introduced in the 42nd Parliament, the Eliminating Foreign Funding in Elections Act (Bill S-239) sought to close a loophole that allows Canadian third party groups to use foreign funds for election purposes.
Senator Frum also successfully introduced Canadian Jewish Heritage Month Act (Bill S-232) which designates the month of May as an officially recognized month to honour the contributions of Canada's Jewish community.
Senator Frum is also an active member of her community. Currently, she serves as Chair of the Board of Directors for the United Jewish Appeal of Greater Toronto and serves on the board of the United Israel Appeal. She is a member of the International Auschwitz-Birkenau Foundation Committee and is an Honourary Board member of NGO Monitor. She is also a director of the Conservative Fund of Canada.  She also serves as a board member for the Foundation for Defense of Democracies.
She has previously served as the vice chair of the board of Upper Canada College, as well as a board member with Bishop Strachan School, the Art Gallery of Ontario Foundation and Mount Sinai Hospital.
In recognition of her civic contributions, Senator Frum has received the Golda Meir Leadership Award from the State of Israel Bonds, an honourary Doctor of Humane Letters from Yeshiva University, and the Rothschild Humanitarian Award from Shaare Zedek Hospital. Last year she was awarded an honourary degree from Hebrew University for her leadership based on the principles of equality, freedom and human rights.
A former journalist and author, Senator Frum was a columnist with the National Post, a contributing editor to Maclean's Magazine, and a Gemini-Award winning documentarian. She lives in Toronto with her husband Howard Sokolowski and together they have five children and two grandchildren.
'Trust yourself. Create the kind of self that you will be happy to live with all your life. Make the most of yourself by fanning the tiny, inner sparks of possibility into flames of achievement."
— Golda Meir
THE GOLDA MEIR CIRCLE is named in loving memory of the late Israeli Prime Minister. This Honour Society consists of women who invest, through Women's Division, a minimum of $5,000 annually in Israel bonds.
EVENT CHAIR
Kimberly Cohen
GOLDA EVENT HONORARY CHAIRS
Ora Stolovitz
Montreal
Fania Wedro
Calgary
Dodi Weill
Toronto
WOMEN'S DIVISION CHAIR TORONTO
Brenlee Gurvey Gales
CEO ISRAEL BONDS/CANADA-ISRAEL SECURITIES, LIMITED
Raquel Benzacar-Savatti
DIRECTOR WOMEN'S DIVISION TORONTO, COMMUNITY ENGAGEMENT
Shaindy Nathanson
Past Golda Meir Circle Honourees
In celebration of Israel Bonds at 70, we will also be recognizing our past Golda Meir Circle Honourees from across Canada:
| | |
| --- | --- |
| Tobie Bekhor | 1995 |
| Florence Cooper z'l | 1995 |
| Barbara Amiel | 2001 |
| Marvelle Koffler z'l | 2002 |
| Dr. Risa Freeman | 2003 |
| Yetta Freeman | 2003 |
| Cindy Freeman Gordon | 2003 |
| Debbie Kimel | 2003 |
| Sandra Waldman | 2004 |
| Wendy Eisen | 2005 |
| Carole Herman Zucker | 2005 |
| Toby Feldberg | 2006 |
| Dodi Weill | 2007 |
| Gabi Weisfeld | 2008 |
| Sherry Cooper | 2009 |
| The Hon. Linda Frum | 2010 |
| Julia Koschitzky | 2011 |
| Fran Sonshine | 2012 |
| Elise Kalles | 2013 |
| Elizabeth Wolfe | 2014 |
| Leslie Gales | 2017 |
| Lesley Binstock Offman | 2019 |
| Rona Ambrose | 2021 |
Saidye Bronfman, O.B.E. z'l
Rose Milner z'l
Sally Raicek
Anita Sager z'l
The RT Hon. Jeanne Sauvé

Deceased
Judge Barbara Seal, C.M.
Julie Tauben z'l
Doris Weiser Small

| | |
| --- | --- |
| Lucia Kroo z'l | 2001 |
| Marcia Gurman | 2003 |
| Julie Gniwisch | 2004 |
| Sue Carol Isaacson | 2006 |
| Etty Bienstock | 2008 |
| Judith Rossdeutscher | 2009 |
We apologize for any errors or omissions.
Israel Bonds Women's Division Honour Pins
As a gesture of appreciation, Israel Bonds Women's Division honors its members with a pin and an initial charm upon their first bond investment at the $5,000 and $10,000 levels.
After each year of subsequent investments, a new charm is added as an expression of gratitude for their enduring commitment to the land of Israel and the fortification of its economy.
The Golda Meir Club Pin is available with an Israel bonds investment of $5,000 or more.
The Diamond Trustee Pin is available with an Israel bonds investment of $10,000 or more.
You can do so much with Israel bonds!
Diversify your investment portfolio
Maximize your Self-Directed RRSP & TFSA
Enrich your Family Foundation or Pension Plan
Hold a bond jointly with your spouse or another loved one
Celebrate simchas by gifting a Mazel Tov bond
Donate to your synagogue, church or favourite charity