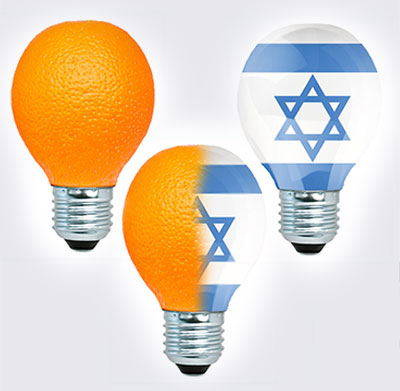 A Global Leader in Innovation and Technology
Intel's Haifa-based team led the development of its new line of eighth generation processors, unveiled in April 2018, including what the company calls its 'best processor ever' for laptops.
This is not the first time that Intel's R&D team in Haifa has led the design of the US giant's processors. In 2016, the company, Intel's largest outside the United States, launched its 'strongest and fastest ever' processor, Kaby Lake, also sired in Haifa, while in September 2017 it unveiled a new family of desktop computer processors with its 'best ever' gaming processor for desktops.
Intel has been operating in Israel since 1974 and employs around 10,000 workers in its Kiryat Gat production center and in four development centers, in Haifa, Yakum, Jerusalem and Petah Tikva.
_______________________________________
Tel Aviv began hosting Google's new start-up accelerator in March 2018, marking the first time Google has taken its machine learning program outside the United States.  
The accelerator is part of Google's Launchpad program created to assist start-ups that specialize in machine learning, artificial intelligence and data science. When asked, "How can Google take its first steps in Israel?", Roy Glasberg, founder and general manager of the Google Global Acceleration programs and the Google AI Studio, said "Silicon Valley is the leading, most mature tech ecosystem in the world. But after five years of traveling the world, I came back to Israel, which is our best sandbox for experimentation."
Almost every major tech company in the world has expressed interest in opening a start-up accelerator in Israel, from Microsoft to Facebook to Amazon.
_______________________________________
Israeli start-ups raised more than $5 billion in 2017, exceeding last year's record of $4.8 billion.
Start-ups raised a record $3.8 billion in the first nine months of 2017 and another $1.3 billion in the fourth quarter according to IVC Research Center.
_______________________________________
Two major 2018 US surveys rank Israel among most powerful, innovative countries.
US News and World Report named Israel as the 8th most powerful nation in the world, surveying more than 21,000 people from four regions around the globe. Meanwhile Bloomberg News,  hailing Israel's high-tech industry and technological advances, listed the Jewish state as the 10th most innovative, above the US and UK, using an index that annually ranks economies by analyzing seven contributing factors such as research and development, spending and the concentration of public hi-tech companies.
_______________________________________
Israel establishes first innovation lab to boost tech for elderly aid.
The 'start-up nation' is taking aim at increasing the life expectancy of the nation's elderly with what is said to be the first ever innovation lab designed to boost technologies utilized to meet the challenges faced by today's senior citizens, as reported by the Times of Israel in December 2017.
_______________________________________
Israel to launch world's first flight of nano-satellites by end of 2018.
A group of three nano-satellites developed by scientists from Haifa's Technion-Israel Institute of Technology will be the first autonomous spacecraft in the world to be flown in formation.
"Israeli technology is breaking boundaries and proving its innovation again and again," commented Science and Technology Minister Ofir Akunis. "We are proud to be part of this flagship project, which is a significant contribution to the advancement of space in Israel and to the training of students in the field."
_______________________________________
IDF increases effectiveness of its troops on the battlefield with a unit in Military Intelligence that has revolutionized how soldiers receive and understand critical information.
IDF increases effectiveness of its troops on the battlefield with a unit in Military Intelligence that has revolutionized how soldiers receive and understand critical information.
Unit 3060's mission is to use modern data science for operational and visual intelligence for commanders and intelligence officers to increase combat effectiveness of the IDF.
The army unit, comprised of over 400 soldiers, has developed several applications that can function on tablets and other portable devices allowing troops to fully understand the geographical imprint and topography of an area where they will be operating, as reported by the Jerusalem Post in January 2018.
_______________________________________
DowDuPont, conglomerate of two major U.S. corporations formed in 2017, expanded operations in Israel in the same year.
"Israel is one of the economies with the swiftest growth in the world and many of Israel's companies are leaders in technologies and services that will help companies and communities to prosper worldwide," said Dow Chemical Co. EVP and president of Dow Europe, Middle East, Africa & India, Heinz Haller at a ceremony in Tel Aviv in October 2017.
_______________________________________
Intel has completed the first stage of the $15.3 billion purchase of Mobileye, an Israeli technology company that specializes in producing sensors and cameras for autonomous cars, as of August 2017.
The acquisition is expected to accelerate innovation for the automotive industry and positions the global microchip giant as a leading technology provider in the fast-growing market for highly and fully autonomous vehicles.
_______________________________________
BlackRock, Inc., an American global investment management corporation based in New York City which oversees $5.4 trillion in assets, opened its first office in Israel in 2017, tapping into the country's engineers and programmers to help improve the firm's global platform in a changing asset-management indus­try.
_______________________________________
Israeli high-tech companies closed 104 deals in 2016 worth $10 billion, up 12% from 2015, according to the IVC - Meitar High-Tech Exits Report.
The figure includes 93 mergers and acquisitions worth nearly $8.8 billion, including the $4.4 billion Playtika acquisition, eight buyouts that generated $1.22 billion and three small IPOs totaling $15.1 million.
---
Pioneering the Environmental Revolution
General Electric (GE) partners with Israeli BrightSource Energy to develop Ashalim Solar Thermal Power Station, the first solar thermal or concentrated solar power (CSP) plant in Israel.
Combining GE's experience in the field of turnkey power plants with BrightSource's advanced solar technology, the project, set to open in the summer of 2018, will increase Israel's energy security by reducing its dependence on fossil fuel imports, and will also avoid 110,000 tons per year of CO2 emissions, helping the government achieve its goal of generation 1 percent of its electricity from renewable sources by 2020.
_______________________________________
Israeli tech begins production on the world's first commercial-scale wave energy power station in Ghana.
Utilizing the force of crashing waves to turn hydraulic pressure into electricity, the $180 million station located along the coastline near the capital city of Accra, will be designed to generate up to 150 megawatts and will benefit 10,000 households.
The project will be completed in stages over the course of three years, with an initial phase beginning at 10 megawatts, as reported by Israel21c in January 2018.
_______________________________________
By 1967 around one in twenty households in Israel heated its water with the sun and 50,000 solar heaters had been sold. Following the 1970s oil crisis, Harry Zvi Tabor, the father of Israel's solar industry, developed the prototype of the solar water heater now used in over 90% of Israeli homes.
_______________________________________
The Jerusalem Ring is a metropolitan park that extends over some 1,500 hectares (3700 acres), surrounding Israel's capital to the north, west, and south.
Closed to traffic and entirely accessible to the disabled, the project still in development includes a host of environmentally-friendly cycling routes, hiking trails, picnic areas and coffee shops.
---
A Growing Nation of Continued Well-Being and Prosperity
In a statement issued April 17, 2018, credit rating agency Fitch Ratings has affirmed Israel's grade of 'A+' with a stable outlook.
"Israel benefits from high financing flexibility, has deep and liquid local markets, good access to international capital markets, an active Diaspora bond program [emphasis added], and US government guarantees in the event of market disruption," the agency noted.  Israel's economy was also acknowledged in the report as having a "robust macroeconomic performance and solid institutional strength" and was recognized as being "diverse and advanced" due to its "well-developed institutions and education system."
The Bonds organization is proud to be a vital partner in the fortification of Israel's economy and is appreciative of all Israel bond investors for helping to reach this accomplishment. (Israel bonds are not rated).
_______________________________________
Israel remains 11th happiest country for the fifth year running, according to 2018 UN World Happiness Report, ranking ahead of United States, Britain, France, and Italy in the survey of global societal well-being that ranks 156 countries by happiness levels using variables such as GDP per capita and healthy life expectancy. An investment in #IsraelBonds is an investment in a dynamic nation of continued well-being and prosperity. 
_______________________________________
Israel's Gross Domestic Product (GDP) continues to outperform its OECD peers, growing by 3 percent in 2017.
Private consumption was the primary driver of growth in 2017 followed by investments, public consumption and net exports. The 10-year average GDP growth rate of Israel, 3.3 percent, is in line with the Ministry of Finance's Chief Economist's growth potential of 3-3.5 percent.
_______________________________________
Tourism to Israel reaches highest record in 2017 with revenues believed to generate roughly NIS 20 billion.
A reported 3.6 million tourist visits in 2017 represented an increase of 25 percent from 2016,also a record year.  More than 700,000 tourists came from the U.S., a 21 percent increase from the year prior.  Russia was in second place, followed by France, Germany, and the UK.  Fifty nine percent of the tourists were first-time visitors.
_______________________________________
Israel's Technion ranked #1 worldwide in digital education.
A leader in providing students with digital skills, the Technion-Israel Institute of Technology in Haifa ranks in the Times Higher Education 2017 survey as the world's top academic institution in terms of preparing students for leading positions in the digital revolution.
_______________________________________
Israel leads the world in the number of researchers per capita, it is second in research and development and the third in high-tech density.
Overall, the 'start-up nation' ranks at #10 globally as 2017's most innovative nation in the world, according to Bloomberg Innovation Index, moving up one notch from 2016.
_______________________________________
With a growth rate standing at 1.8 percent, the highest in the Organization for Economic Cooperation and Development, Israel's population topped 8.7 million on Erev Rosh Hashanah 5777.
Israel's birth rate was 3.11% on the year, with 181,405 babies being born, and the country saw 27,000 people move to Israel over the last year of whom 25,000 were new immigrants.
_______________________________________
In a statement issued August 4, 2017, credit rating firm Standard & Poor's raised the outlook on Israel's debt profile to "positive" from "stable," and held Israel's debt rating stable at A+, which means it could raise the grade a notch in the next two years.
"The rating action reflects our opinion that Israel's improved fiscal framework and strong economic growth could enable further progress on fiscal consolidation over the next few years," the agency remarked.
The Bonds organization takes pride in the role it has played in strengthening Israel's economy and thanks every Israel bond investor for helping to make this achievement possible (Israel bonds are not rated).